New Year's Eve parties in London
See in the New Year in style at one of London's best NYE parties and club nights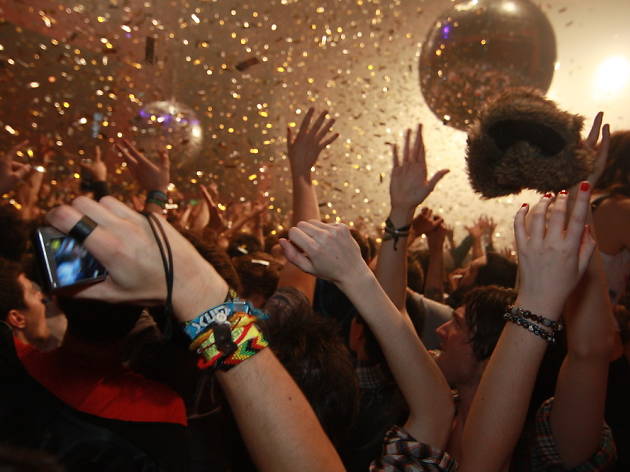 London is chock-full of incredible New Year's Eve parties, from quirky fancy dress events to heads-down raving. Our definitive list of events rounds up the many nights taking place, making it easy to track down your perfect NYE bash, whatever you're looking for. And remember that once you've made it through New Year's Eve into 2017 and maybe caught a few fireworks on the way, you can do it all over again on New Year's Day.
RECOMMENDED: Find New Year's Day parties in London
Tunes for your NYE pre-party
You're having a party, you say? Not sure what to cue up on your iPhone? Rest assured, we've got you covered. In fact, we're worried that our playlist of the 100 greatest party songs may actually cause your dancefloor to spontaneously combust in an explosion of pure joy and body-moving ecstasy.
Read more
Sponsored listing
Mommi
Clapham High Street's a great place to meet up for a drink, with a couple of dozen bars and pubs vying for your attention like plaintive puppies in a dog's home. But what many of them lack is ambition in the kitchen. They often start out well, but within months they become weekend drinking holes, with the food as mere ballast. Mommi is different. Although its large corner site superficially seems like a dozen others in the street – outdoor tables, sturdy-looking doorman, prominent bar counter – the grill and 'raw bar' have been set up to attract all-week custom, drinkers or not.  Most passers-by will, like us, be drawn in by curiosity, and a drinks list that offers something a little different. There's a Japanese-style (but Belgian-brewed) white ale called Kagua, with a distinctive citrus aroma; wines by the glass that are all South American, including a tannat from Uruguay; and pretty cocktails, all helpfully pegged at £8.50. Then you notice the open kitchen, with its dozen or so international staff wearing Japanese-style chef headbands. There's a charcoal grill and sushi counter, preparing Japanese-Peruvian dishes (not an improbable fusion, as many of Peru's best restaurants reflect the strong Japanese influence there). The small plates are beautiful to behold, Japanese tableware with artistic ingredient assembly. Raw tuna is seared (tataki), leaving the inside ruby-red, and featured the non-Japanese truffle oil along with toppings of perfectly crisp fried garlic sliver
"Thirstday? Add bottomless house-pour wine/bubbles to any bespoke set dining menu for £15pp. Thursday reservations, 7pm and 9pm. #Feasting..."