Things to do on New Year's Day in London
Discover London's most festive events taking place on New Year's Day 2019, plus which well-loved institutions are open too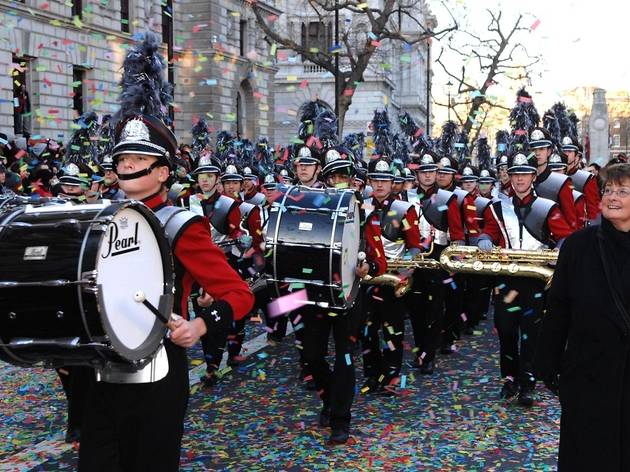 Happy New Year! January 1 2019 is here, and chances are it's bought a powerful hangover and a pounding headache with it. But, whether you're full of energy or feeling a little worse for wear, there is plenty of things to do in London on New Year's Day. There's the New Year's Day Parade, for starters as well as dances, walks and fun runs for the energetic. Plus, it's business as usual for most of London's museums and attractions, so peel yourself out of bed and start your year as you mean to go on. Just be aware that some venues will have reduced opening hours on New Year's Day, so be sure to check details in advance.
If you're not quite ready to say goodbye to the festive season, don't fret. There are plenty of high-spirited events taking place on Tuesday January 1 2019 too, so keep the festivities going!
We'll be updating this page with events for New Year's Day 2019 as they are announced.
RECOMMENDED: Read our full guide to New Year in London
Great things to do on New Year's Day
London's New Year's Day Parade will celebrate its 33rd year in 2019. More than 8,500 performers representing 20 countries usually take part, including Pearly Kings and Queens, cheerleaders, marching bands, dancers and representatives from West End shows.
Read more
Kew's mile-long, twinkling trail will lead visitors past singing trees, a flickering Fire Garden, kaleidoscopic projections and giant flora-inspired lights.
Read more
Museums and attractions open on New Year's Day
Looking to party on New Year's Day?
There are loads of great New Year's Day parties happening across London, meaning that the NYE fun doesn't have to stop on January 1.
Read more
Sponsored listing
Pizza Street
Start spreading the news: for a spot that's at least a six-hour flight from Manhattan, this little joint in the middle of Chiswick has, surprisingly, nailed it. The wood-fired pizzas are epic – thin and crispy, with chewy crusts, and graced with layers of sharp tomato sauce, oozing mozzarella and a tasty mess of toppings. Then there's the venue. Just like New York, everything about Pizza Street is straight to the point. The dark wood and metallic interior makes dining in not the worst idea in the world, though with just the radio for entertainment, hard seats and plastic cutlery, there's not much of a vibe (except in the funky, fake-grass-clad loos). This place is great for takeaway, and there's even a massive sign above the till that tells you how to grab your grub and go. Dinnertime is busy, with a constant stream of locals collecting a single slice for £3.50, a large pizza for a tenner or X-large for £15. I opted for an X-large, as it's the only way you can get a half and half, which will cost you an extra three quid. The Buffalo is wonderfully spicy and meaty, heaped with pepperoni, smoked ham, sausage, jalepeño, chilli flakes and lots of oregano. The Anchovy – a classic combo with capers, olives and mixed peppers – is equally grand, if a little too salty. That's nothing that a good cocktail can't cure, but sadly the only drinks here are your typical fizzies, beers and cheap wine. Forget about the sides too. An avocado salad (£3.50) was pretty bland. But fancy isn't th
Venue says: "Come and try the best artisan, New York-style pizza in Chiswick! Offering super thick shakes with our new recipes and flavours."