Paul Foot – Words review
Underbelly, Cowgate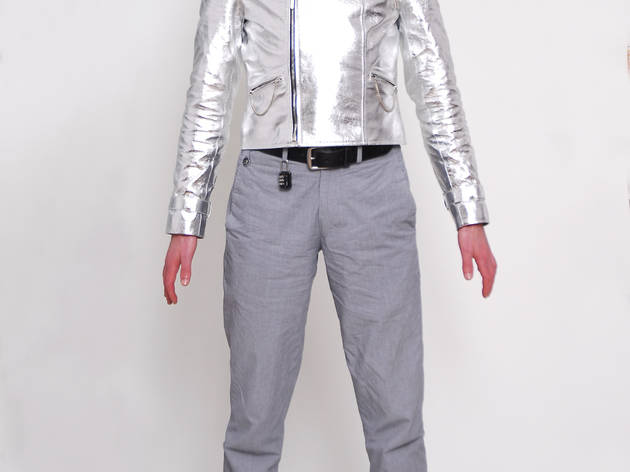 It's hard to be a daft. Sometimes you need a degree in mathematics from Oxford to pull it off. Well, you don't, but Paul Foot has one, and it feels like he's put it to good use in his new stand-up show, 'Words'. What he intones in his congested, nasal manner is nonsense, by anyone's definition ('You know who's making a comeback? Horse Jesus.'), but the terms and tropes of his jokes fit together in complex ways, like equations beyond the reach of our understanding.
He seems to be striving for a new language of the absurd – prancing from idea to idea like an over-enthusiastic supply teacher enduring a glam-rock freak-out. Yet, even at the peak of his spitting, vibrating, mock-insane fervour, he's back in control again at a moment's notice.
'You will laugh for about seven minutes, but you will not know why,' Foot says, showing his more masterful side, before launching into a particularly obtuse stream of gobbledegook. There are a few moments like this across the hour, where we get a peek into the science behind the art. But they're fleeting – only enough to allow the comedian to worm his way into the audience's trust, and establish an entire room full of flabbergasted people as giggling subscribers to his baffling logic.
Then he's back into some first-class ranting on extremely quotidian topics: pub bores, hotel toast, peacocks etc. In fact, the more Foot ventures into romantic territory ('I've had quite a lot of success really, sexually,' he claims) the more it becomes obvious how in touch he is with those critical nodes of Britishness that every homegrown comic is trying to tickle. Then come his 'disturbances' – epigrammatic statements designed to rip small holes in the fabric of human knowledge – that elevate things to an even higher level of intellectual perversion.
The apparent ease with which he achieves all this is deceptive – it's taken a while for Foot to get this good. He's largely moved on from kind of wordplay favoured by his ex-director Noel Fielding, and only occasionally resorts to blurting out mindless non-sequiturs in the way that, sadly, has become Fielding's trademark.
What Foot does is better, because it connects in unusual ways with what we think we know to be true. His genius is making the audience – and their inner strangeness – part of the equation. You've got to expect that by next year he'll have it all worked out perfectly.
See 'Paul Foot – Words' at the Edinburgh Fringe
The latest Edinburgh Fringe comedy reviews
It's near impossible not to have a good time at this disco with a comedy twist
Read more
A hugely impressive debut show crammed full of inventive ideas
Read more
The king of British anti-comedy's back with more shambolic brilliance
Read more
Munnery's sequel to 'Fylm-Makker' is as inventive as ever
Read more
Sophisticated, beautifully written misanthropy from a superb newcomer
Read more
MOR observations about rage from a mild-mannered comic
Read more
An ambitious slow-burner that just about pays off
Read more
Honesty and heart behind self-loathing silliness
Read more
A smart, assured debut from a refreshingly nonchalant, deadpan talent
Read more
Show more
See all Edinburgh Fringe comedy reviews