Outdoor cinema in London
The best places to see open-air movies in the capital this summer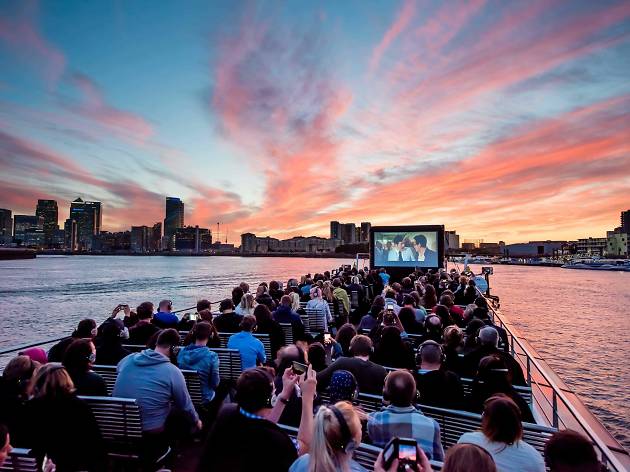 Life is short, and so is the summer. On a balmy London evening, nothing beats watching a movie under the stars. Whether you want to shriek-along to 'The Shining' in a graveyard or catch a romcom in a gorgeous Royal Park or palace, add outdoor cinema to your fair weather bucket list. This list of London's outdoor cinemas is arranged by month and Time Out's film team will be keeping it updated all summer long.
Outdoor cinema in September
For a perfect London night out, sail along the Thames while watching a movie on a giant screen.
Where Along the river – starting and finishing at Tower Pier.

September highlights 'Jaws', 'Clueless'
Read more
Watch a film in the clouds on top of the Bussey Building in Peckham with a 360° panoramic view over the city
Where Peckham

September highlights 'Dunkirk', 'The Godfather', 'Donnie Darko 15th anniversary restoration'
Read more
The beauty of Luna Cinema is walking into a Royal Park or some other date-perfect location with a picnic just as everyone else is leaving.
Where Venues across London

September highlights 'La La Land' at Alexandra Palace, 'Pulp Fiction' at Kew Gardens, 'The Graduate' at Regents Park.
Read more
Directors' chairs, wireless headphones and blankets – the Rooftop Film Club have perfected the art of outdoor cinema
Where Stratford

September highlights 'Fantastic Beasts and Where to Find Them', 'Get Out', 'Beauty and the Beast'
Read more
Shout-at-the-screen favourites in London park at the nice price of £12

September highlights 'ET' at Hammersmith, 'Whiplash' at Fulham.
Read more
The Rooftop Film Club's HQ on top of the Queen of Hoxton pub in Shoreditch screens a mix of '80s faves and recent hits
Where Shoreditch

September highlights 'Silence of the Lambs', 'Mean Girls', 'The Big Lebowski'
Read more