Heads up! We're working hard to be accurate – but these are unusual times, so please always check before heading out.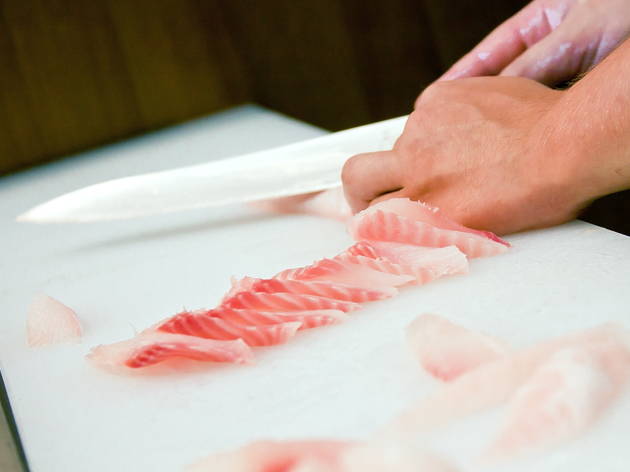 Saturday Catch at Billingsgate Market
From filleting to scaling, skinning and more, Time Out tests a fish course in the Isle of Dogs
Celia Plender
headed to Billingsgate Seafood School on the Isle of Dogs to try her hand at fishwifery. But, after a net-full of filleting and scaling, was she hooked?
The class
Saturday Catch at Billingsgate Market

The score
4 stars

The aim
Brush up on fish prep skills and get a few new recipes ideas. You can also mooch around London's seafood wholesale arena, Billingsgate Market – though you have to arrive before 8.15am for that.

Cost
It's £100 for a five-hour session (8.30am-1.30pm). Bargain!

They claim
'Split between hands-on practical fishmongering and an innovative cooking demonstration, this is an informal but informative course which is designed to inspire you to cook more fish at home.'
Who goes?
Anyone who wants to have a go at stripping-down whole fish. There's space for 15 students in each class.
Isn't an 8.30am start a bit early for a Saturday?
Codswallop! The market's in full swing at 4.30am, so by fishmongers' standards,getting there for 8.30am is a lie-in.
What we did
After a brief introduction to the workings of the market and the cookery school, we went into the kitchen for a mackerel-gutting demo, which is not for the squeamish. Next, we were let loose on one gilt-head bream each, to be scaled, gutted and filleted. We also worked our magic on some prawns, mussels, a squid and a plaice – which was beheaded and 'pocketed', a nifty technique of peeling the top fillets back from the bone to create a pocket for stuffing. All the while our friendly instructor, Eithne Neame, gave us tips on judging freshness, differences between farmed and wild fish, and sustainability. Prep over, the team demonstrated a few fish recipes while we had a glass of wine.
We tasted
Coconut and seafood soup (laksa); grilled, marinated mackerel; sea bream baked en papilotte with a fennel stuffing; sautéed squid in a smoked paprika sauce; and baked plaice with a tomato and mozzarella stuffing.
Extras
Eithne also showed us how to sharpen our knives properly – essential for efficient filleting and skinning, and divulged a few interesting bits of information about fish anatomy. I didn't know fish had internal GPS, or anal fins.
Best tip
When washing your hands, start with cold water and then move onto hot, otherwise the proteins get cooked on and you end up with fish fingers.

Takeaway
Our bream fillets and skeleton (for stock-making), a squid – cut into bite-sized pieces, a 'pocketed' plaice, a recipe booklet, and a few stray fish scales – they're sticky little blighters.

Where do I find it?
Office 30, Billingsgate Market, Trafalgar Way, E14 5ST. 7517 3548, www.seafoodtraining.co.uk. Poplar DLR.