Children's theatre in London
Keep the kids quiet with a bit of culture at one of London's family-friendly shows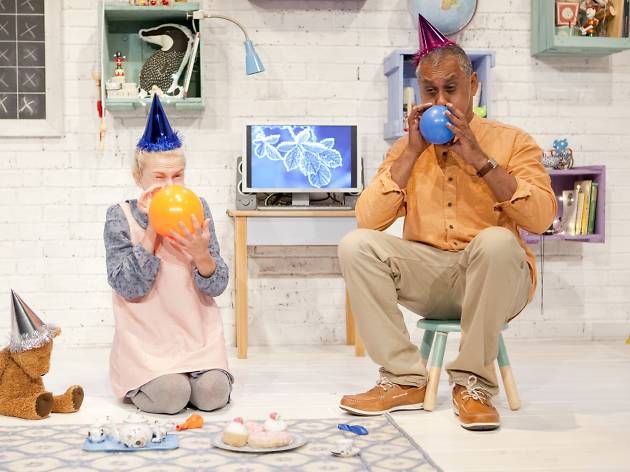 Theatre for young children (0-4)
Iris has a brand new friend, but she knows her family and friends won't love him quite as much as she does. This story of a girl trying to hide a lion in all sorts of devious ways is adapted by Peter Glanville from Helen Stephen's children's story, and will feature songs by singer-songwriter Barb Jungr. There are two versions: one for todders ages 1-2, and another for kids ages 3-6. Check the Polka Theatre website for full details. 
Read more
There's a wasp on the loose, and the inhabitants of Itching Down have come up with a seriously sticky way to trap it. This kids' show form New Perspectives brings the beloved picture book to life. Ages three to seven.
Read more
Journey through China's Min Mountains in this puppet-filled family show from HodgePodge Theatre. It's the story of a homeless panda who has to go in search of love - and bamboo - and meets a host of animals along the way. Ages three-plus.
Read more
CBeebies stars 'Sarah & Duck' hit the stage for the first time at Wimbledon's Polka Theatre. They're holding a big top birthday party for the scarf lady who lives in the garden, in a giggle-worthy adventure with puppets, stories and songs. Aimed at ages three to six, all ages welcome.
Read more
See more of the best London shows for little ones
Theatre for all the family
'My mummy says I'm a miracle,' lisps a pampered mini-me at a purgatorial kiddies' birthday party at the outset of this delicious, treacly-dark family show. The obnoxious ma and pa of its titular, gifted, pint-sized heroine are not, of course, quite so doting. But 'Matilda' must be making its creators, playwright Dennis Kelly and comedian-songsmith Tim Minchin, a very pair of proud parents. Opening to rave reviews in Stratford-upon Avon before transferring to the West End in 2011 and snatching up Olivier Awards with all the alacrity of a sticky-fingered child in a sweetshop, Matthew Warchus's RSC production remains a treat. With hindsight, Kelly and Minchin's musical, born of the 1988 novel by that master of the splendidly grotesque Roald Dahl, is a little too long and, dramatically, a tad wayward. But like curly-haired little girl in the famous nursery rhyme, when it is good, it is very, very good. And it's even better when it's horrid. The past few months have seen some cast changes, including, alas, the departure of Bertie Carvel's tremendous Miss Trunchbull, headmistress of the dread Crunchem Hall School, former Olympic hammer-thrower and a gorgon of monumental nastiness, complete with scarily Thatcher-esque tics of purse-lipped gentility and faux concern. David Leonard doesn't quite match the squirm-inducing, hair-raising detail of Carvel in the role, but his more butch, granite-faced version is fantastically horrible nonetheless. And if Paul Kaye as Matilda's loathsom
Book now
Read more
They may share a name, but Ted Hughes's Iron Man is about as far from Marvel's as you can get. Whereas Tony Stark is all about money and snide humour, Hughes's 1968 story veils its anti-war message behind the story of a scrap metal-eating robot and a boy whom he befriends. In his stage adaptation, using a mixture of puppetry, silhouette and animation, Matthew Robins finds the story's playful heart. He summons a world of imagination and play by using every trick in the book, but chief among them is the restless, shifting sense of perspective throughout. One minute the Iron Man is barely a foot tall, a collection of matchbox-sized bits of cardboard and sticky tape as if made by an imaginative child; the next he's 13 feet, a towering, dopey-looking robot with torchlight eyes. For the first 20 minutes or so Nima Taleghani's narration comes only in short bursts, interspersed with silent puppetry - seeing the scattered limbs of the Iron Man pull themselves into a gargantuan whole is thrilling - or crude Rorschach smudges of animation projected onto the back wall. But when the story gets into full swing and the 'Space-Bat-Angel-Dragon' invades Earth the show becomes completely captivating. With so many different techniques Robins risks making it too bitty, unbound by any one single approach. But by the end, as our solar system is conjured in miniature with a twinkling orrery of empty tin cans and lampshades, the thrust of Robins's interpretation is clear. From this fable about d
Read more
See more recommended family shows