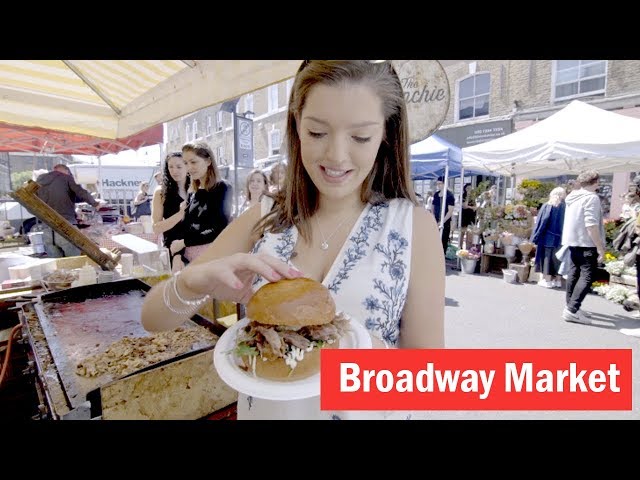 For a small street, Broadway Market's got a big reputation. Neatly connecting London Fields to Regent's Canal, it was home to a busy fruit and veg market from the 1890s until trade petered out in the early '00s. On May 8 2004 the market was relaunched by the local community, and has since grown into a booming Saturday spectacle that's famous across London.
Each weekend people flock to buy fresh produce, vintage clothes, flowers, coffee, books, groceries, street food and handmade goodies – and to generally hang out. On a sunny Saturday, the market can be almost too busy to walk through. But the rest of the week, despite the coffee shops, restaurants and chic boutiques, it still feels like a local high street complete with a kebab shop, post office (the best place to get cash), Costcutter, old-school barber shop and excellent hardware store. Even off market day, you'll find it buzzing with people pottering about, nattering over coffee and doing their weekly shop.
On summer evenings, the pubs overflow on to the pavement and throngs of Londoners grab takeaway pizzas to scoff in the park. But make sure to visit in the colder months for Christmas trees, steamy café windows, quirky presents and as cosy a festive vibe as you'll find anywhere in the city.
Drink this
A glass of wine upstairs at The Cat & Mutton, a classic East End boozer overlooking London Fields.
A few pints of craft beer in The Dove pub, with some chips and a game of Scrabble. The perfect way to lose an afternoon.
A flat white at roastery and coffee shop Climpson & Sons. Bag one of the few alfresco tables for some people-watching.
A cup of fancy loose-leaf char at tea haven Tiosk.
A julep at Kansas Smitty's basement bar below Off Broadway, where the house band and guests play live every weekend.
Eat this
Pie and mash (or jellied eels if you're feeling adventurous) at traditional East End purveyor F Cooke.
Freshly shucked oysters outside Fin + Flounder.
Dinner and a spritz at Market Café, an all-day eatery next to the canal.
Steak and lashings of red wine at Buen Ayre Argentinian grill.
Tempura and teriyaki at Japanese restaurant Okko.
Do this
Take a beginner's sewing class at Fabrications haberdashery.
Pick out fresh produce at London Fields Farmers' Market, just past The Cat & Mutton every Sunday.
Go for an open-air swim at London Fields Lido – once it finally reopens after refurbishment, that is.
Buy this
A rare art tome at Donlon Books, or a beautiful vintage poster at its sister shop 77 Broadway Market.
A loaf of sourdough and a cardamom bun at Pavilion Bakery. The coffee is also excellent here.
Beautiful photography and art books at Artwords or guides and fiction at The Broadway Bookshop.
A prime cut of organic meat at independent butcher Hill & Szrok.
Treats for your larder at French deli and café L'Eau à la Bouche.
And if you only do one thing…
Hit Broadway Market itself. Each Saturday 135 stalls take over, selling everything from soy candles and vintage baby clothes to mid-mod furniture and reindeer sausage. (Sorry, Rudolph.)
Love London? Sign up here to get Time Out tips in your inbox every week.