'Cut me open,' you announce dramatically to your gal pals, 'and I bleed prosecco.' You may know the ailment well, when the fizz becomes your life force. When you're all about that bubble. Once you've popped, you literally can't stop.
So you're probably well aware of London's very first prosecco festival taking place this weekend, which has sold out (unsurprisingly, amirite?!). If you missed out on tickets to – let's face it – the best festival since Woodstock was invented, why not spend your wine time elsewhere. Visit these London bars and hangouts where the prosecco game is stronger than your aching, needy fizz-thirst.
1. Indulge in prosecco on tap at Homeslice
I mean, need we say more. Oh yeah, £5 for a glass of frizzante. There's pizza, so it shouldn't get too messy.
2. Celebrate spritz happy hour at Polpo
How do you make the best thing in the world even better? Add Aperol, that's how. Get your spritz fix at Polpo venues across London, where they sweeten this already awesome deal with a happy hour from 4-6pm, when a spritz will set you back a fiver.
3. Pinkies at the ready for bottomless prosecco afternoon tea at Drink, Shop & Do
You probably won't want to 'do' an awful lot after unlimited prosecco, which comes for a £15 supplement with glitter-filled afternoon tea at Drink, Shop & Do (uhuh, glitter + prosecco. Mind blown).
4. Knock back stunning sgroppinos at Swift
*Could you be, the most beautiful drink you in world?* You'll be singing too once you try Swift's gorge sgroppino, a classic prosecco drink topped with lemon sorbet for £7.
5. Binge on truffles and prosecco at... duh, Trufflesecco
So you like truffles too, eh? You fancy old tart. Treat yourself at Camden's Trufflesecco (groan, what a name), where the two get on famously on a menu of rich food and fizzy booze.
6. Drink in the view and then the negroni sbagliatos at Frank's Cafe
Know what 'sbagliato' means? 'Messed up'. A negroni messed up with prosecco. You messed up on a roof in Peckham.
7. Have ALL THE PROSECCO at Bunga Bunga
Drink it every which way – perhaps even in ways you didn't know possible – at a Battersea bar named after a Berlusconi-style sesh. This kitsch Italian place has an eight-strong menu of prosecco and frizzante by the bottle. Plus, prosecco cocktails come in all the right-shaped vessels (see above).
8. Check out the best bellini in town at Bar Termini
Think bellinis are hella simple? Think again. Bar Termini pimp up their poison with almond blossom and it's one pro-sexy drink. Quite simply the most bella bellini going.
Like this? You'll love London's first bar dedicated entirely to the fizzy stuff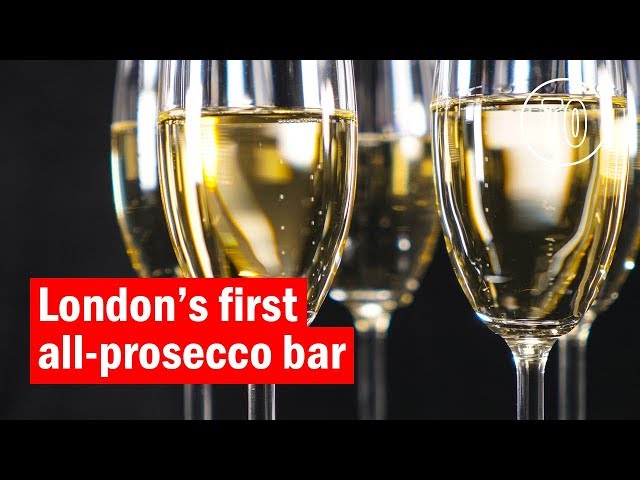 Still thirsty? Find even more amazing mixed drinks with Time Out's list of the 50 best cocktail bars in London.