Word on the street is that London is about to experience an eight-day long 'mini heatwave' with temperatures above average for the next week. While that means balmy evenings in beer gardens and sunny visits to the lido, it also means that the tube is about to become the kind of stiflingly hot hellhole even Dante couldn't have envisioned.
Yep, we're all familiar with the way the tube becomes a deep-level sauna in the warmer months. But which line holds the grim title of being the hottest of all?
Thanks to a canny FOI request put out by the Gizmodo website a few years ago, TfL finally gave us an official answer.
Top of the hot list, with an average temperature of 27C in 2016, is the baking hot Bakerloo line. In fact, in August of that year, it reached a sizzling 31C. Whew.
Coming in second was the Central line (no surprises there) with an average temperature of 26.1C, while the Northern line came in third with a toasty average temp of 25.2C.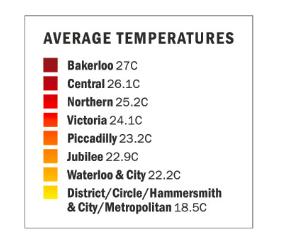 So, what lines should you take if you don't want to arrive at work looking like you've cycled up Mont Ventoux? Well, according to TfL's 2016 figures, the District, Circle, Hammersmith & City, and Metropolitan lines were the coolest, each with an average temperature of 18.5C.
Since these figures were released, though, all four of these lines have gained air-conditioning, a welcome feature that's also on the brand new Elizabeth line. So better make a beeline for those cool carriages when you're planning your commute this summer.
Discover the new London Underground map with the Elizabeth line included.
*Another* tube strike is planned for Tuesday June 21.