Heads up! We're working hard to be accurate – but these are unusual times, so please always check before heading out.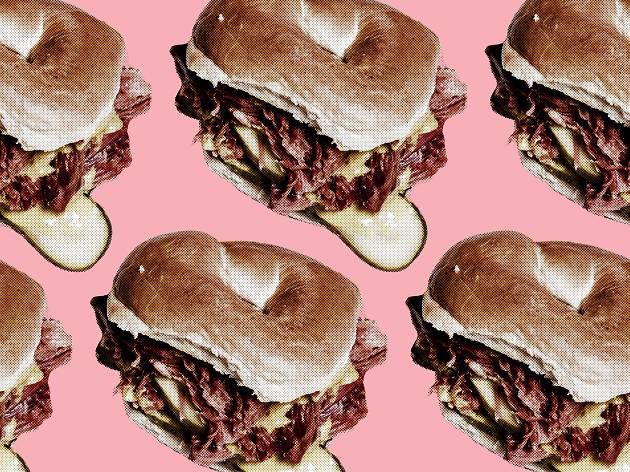 Why London beigels are the best damn bagels in the world
London's roll-with-a-hole beats New York's and Montreal's any day, argues Time Out's Eddy Frankel
To really understand true love, you must first have that same love questioned, attacked and denigrated. Through facing adversity, you will finally grasp what it means to truly adore something. That's me and beigels.
And if your first thought was 'Don't you mean "bagels"?' then you and me have a problem, bub.
For decades, I've had to listen to North Americans whinge about how it's impossible to track down a decent bagel in this city. You'll hear them claim that everything is chewier, yeastier and rounder back in New York and Montreal: the two cities you'll most often hear associated with bagels. New York's bagels are soft, chewy and pillowy; Montreal's are harder, sweeter and breadier. But our beigels – pronounced 'bye-gulls' – are special.
Pumped out by a handful of shops for the hungry masses of Brick Lane, Stoke Newington, Stamford Hill and Golders Green, London's perfect specimens mingle the breadiness of Montreal's bagels and the chewiness of New York's. They're the best of both bagely worlds.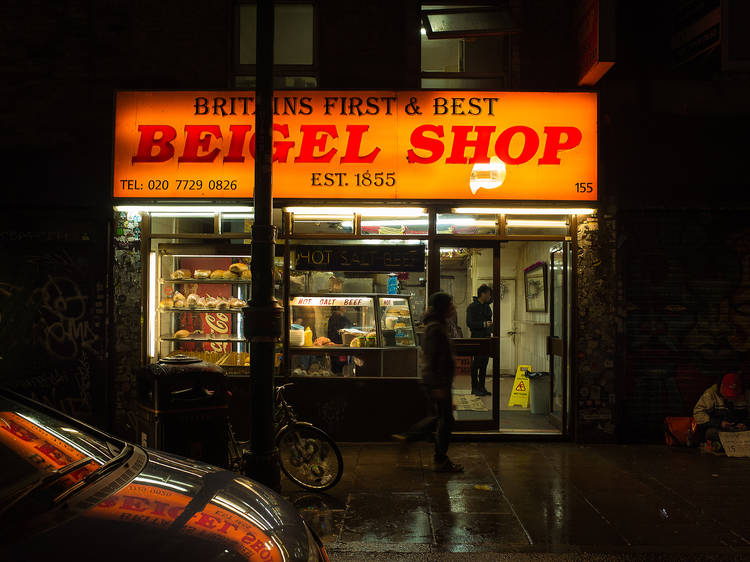 Brick Lane Beigel Shop. Photograph: Mark Chase-Brown/Shutterstock.com
'Beigels are woven into the fabric of this city'
Nothing beats the ritual of London's most famous beigel shops: the twin 24-hour joints Beigel Bake and Beigel Shop, two doors apart on Brick Lane. The I-don't-give-a-tossness of the staff behind the counter! The joy of gorging on a huge serving of barely contained salt beef – dripping with mustard – at 2am after too many pints! Not to mention the thrill of taking home a paper bag full of freshly baked beigels, then almost slicing your hand open midway through the weekday rush. (If in doubt, slice then freeze.)
This isn't just about eating, either: beigels are woven into the fabric of this city. They came to England – long before they made it to America and Canada, thank you – in the mid-nineteenth century, thanks to Jewish immigrants from Poland. The beigel is a symbol of refugees fleeing oppression for the drizzly embrace of our city. Every bite is a taste of what it means to overcome adversity. Part of me likes to imagine my great- grandparents sending the kids out to fetch fresh beigels. But mostly, I'm too busy enjoying them for what they are: perfect, sticky, chewy bread rolls… with holes.
So if an American ever tells you how bad our bagels are, just remind them that we don't do bagels. We do beigels, and they're amazing.

Eddy Frankel is Time Out London's art & culture editor and lives for hot salt beef.
Discover London's best beigels (and bagels)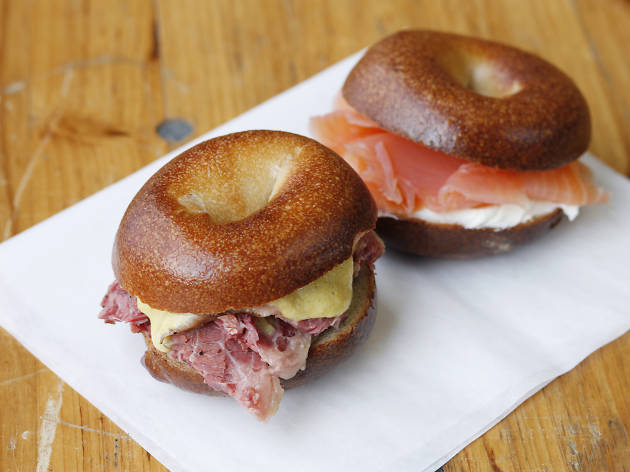 There's a hole lotta love for bagels in London right now, whether they're filled with lashings of salt beef or smoked salmon, or they're rainbow-coloured creations stuffed with cream cheese.