Christmas shopping services in London
Forget Lapland – London's got a sleighload of super services to help you glide through Christmas with the greatest of ease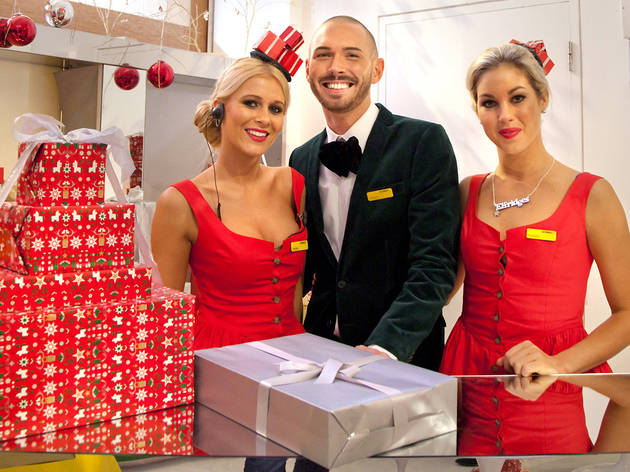 At Selfridges you can enjoy the free company of an Elfridge: a personal shopper in a daft outfit with a mission to make your shopping stress free (book online or by phone). Armed with a comprehensive knowledge of the store, they will trot you on a targeted tour, making suggestions for finicky gift recipients, helping with wrapping, hailing you a cab and lugging your bags around. (Elfridges available until Dec 24.)
Read more
Hands-free shopping
The better your shopping is going, the bigger the haul. At both Westfield malls you can register for a Handsfree Shopping Passport with the concierge desk for £10. Flash it wherever you make a purchase, and a minion will spirit away your bags. When you're shopped out, you can pick up your purchases from the central secure checkout. (£10, £5 extra for ten bags or more.)
Home delivery
The people of Westfield really are spoiling us. Their same-day home delivery service means those without cars can gather goods then have them brought to their London address by midnight – as long as customers drop them off at the concierge before 5.30pm. You can even send parcels abroad from Westfield. (From £24 for three bags.)
If you take no pleasure in curling ribbon and fashioning perfect corners, let the pros at Fortnum & Mason take the tape and scissors out of your hands. Spend a pretty penny (more than £100) and their excellent wrapping service is free. If you don't meet the minimum spend, your goods will be expertly packaged, decorated and tied for just £5.
Book now
Read more
The Cambridge Satchel Company offers an inhouse embossing service in its Covent Garden store, with four letter styles in a range of colours. The service costs £7 per letter with a cap of £28 for four or more, so it's an affordable way to personalise a bag for someone and look far more generous than you are.
Read more
To beat the Christmas queues (known to snake down the road), Neal's Yard Dairy now offers a collection service. Pre-order with the help of an expert and then skip to the front of the line to pick up your Stilton, without running the risk of your favourite having sold out. Cheeses will be presented in a gift box for free.
Read more
Need the perfect dress to finally snag that bloke from Accounts at the Christmas party? Pioneering fashion boutique Browns is offering a personal shopping experience where a stylist can be sent to your home for a one-to-one makeover session. If buying for a fashion-conscious female, you can also use the service to get ideas for what to give.
Read more
Spend more than £50 in Harrods' Food Halls or Wine Shop (unsurprisingly easy to do) and get free home delivery of your goods. While in store, pop to the Ice Cream Parlour to create a flavour to your recipient's taste – whether their poison be champagne, pear or, er, mushroom. And have it produced within 24 hours at £18.95 a litre. A great gift for the gourmand who has everything.
Book now
Read more
If you've left it to the last minute to buy for a sartorialist, let the specialists in contemporary tailoring at Mr Start help you out. They are running a made-to-measure voucher scheme that allows you to give a bespoke shirt or suit. The gift voucher lets your recipient create a piece completely tailored to their personal requirements – you can't go wrong. (£200-£795.)
Read more
More Christmas shopping in London
Looking for gift inspiration? Look no further than London's Christmas markets and fairs. Among a raft of special festive events you'll find foodie gifts, hand-crafted pressies and a glug of glühwein to ease you into that merry spirit.
Read more
We round up the best Christmas shops in London where you will find original gift ideas, beautiful baubles and the most spectacular decorations. Don't do Christmas in London without it!
Read more