The best Christmas shops in London
Whether you like to get your Christmas shopping done early or you leave it till the last minute, you're guaranteed to find everything you need in these stores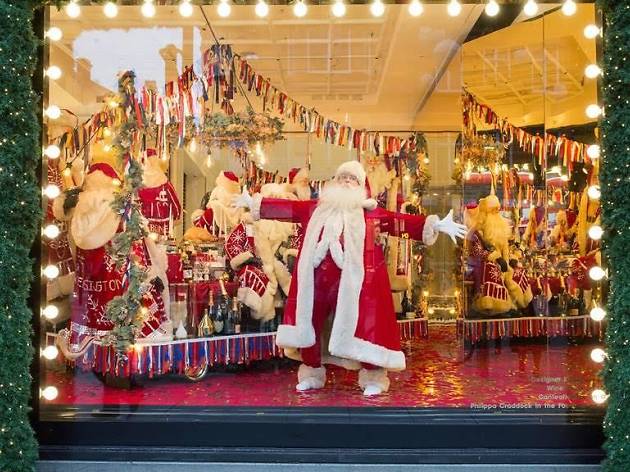 Christmas is fast approaching so it's time to start planning your festive shopping. We round up the best Christmas shops in London where you will find original gift ideas, beautiful baubles and the most spectacular decorations. And don't forget to pay a visit to London's Christmas markets and fairs and our Christmas gift guide while you're at it.
RECOMMENDED: Find more festive fun with our guide to Christmas in London
One-Stop Shops
Forget rainbow rubbers and giant pencils, Tate Modern's gift shop is full of lovely things you'd actually use, from Tracey Emin Christmas cards to Grayson Perry cushion covers. You don't even need to pretend you're a modern art fan to shop here – thanks to its handy position at the museum's entrance.
Buy tickets
Read more
For casual streetwear and quirky homeware that doesn't take itself too seriously, take a trip to this game-changing concept shop, full of handpicked items for Goodhood's very hip customers, from hand-carved skateboards and affordable accessories to branded tees. It's all good in the 'hood.
Read more
You know you've made it when your Christmas tree is covered in silk-panel baubles from Harrods. Gloriously grandiose, with its famous grotto, this London institution really comes into its own at Christmas. You could easily lose hours here floor-hopping from Toy Kingdom to the heavyweight fashion brands to the elegant beauty halls. This is London shopping at its most decadent.
Buy tickets
Read more
With nine floors' worth of designer goods, a well-stocked beauty hall and a wealth of price points, you could tick off your entire Christmas shopping list here. Sick of shopping? Try a panto in the basement theatre. Plus, the Christmas window displays always make a pretty addition to your Instagram account.
Check prices
Read more
Fashion
This multi-coloured mecca for the fashion-obsessed houses some of London's brightest stars, from Grace Wales Bonner's elegant tailored menswear to Molly Goddard's dreamy dresses. Besides, where else can you find polka-dot Converse alongside a beautiful menagerie of stuffed birds?
Read more
You'll need to set aside an entire afternoon to browse the beautifully arranged racks of fashion-forward pieces that occupy this airy 10,000- square-foot space, formally an art-deco garage. There's even an in-store spa for you to take a breather before the allure of a ruffled blouse by Alexander McQueen pulls you back to the shopfloor.
Read more
Anyone with an eye for vintage should head to this fabulous old furniture factory. It's filled with rails of coloured denim, silk kimonos, seersucker blazers and shiny, lace-up brogues, plus a floor for accessories and a great book collection. You won't find that musty charity shop smell here: all the stock is cleaned, steamed and folded before it hits the racks.
Read more
Not all girls are Barbie-pink glitter fiends, and those who aren't will appreciate the relaxed, boyish clothing, eclectic jewellery and pastel ceramics sold at Pam Pam. With a front room dedicated entirely to women's trainers, it's the ideal shopping destination for anyone who isn't a girly-girl.
Read more
For wearable labels with a creative twist that will almost certainly provoke a 'I love your top, where did you get it?' from fashion-savvy mates, it has to be Other. The uncluttered, industrial-style space provides a cool backdrop for unfussy designs from the likes of Lemaire and Peter Jensen.
Read more
Lifestyle
Heal's puts its 42,000 square feet to good use with an aspirational edit of fancy furniture, Nordic dinnerware and Tom Dixon fragrances and candles. If you're short on gift-getting inspiration, its gift-laden ground floor is sure to provide a eureka! moment or two, and its customer service has been a virtue throughout its long history.
Read more
Sir Terence Conran's eye for dazzling design is as sharp as ever judging by the offerings at his Fulham Road flagship. Bringing together trendy investment pieces, ornaments and cookware, it's the ideal place to pick up gifts and goods for the home. The art deco building itself was formerly owned by Michelin, and there's a Michelin-starred restaurant, Bibendum, and oyster bar housed within.
Read more
Cross the threshold of this Shoreditch emporium and you'll be greeted with an audacious array of prints – from '70s-style Palmeral to dusky Dalston Rose – which adorn fabric, mugs, wallpaper and garments. Minimalism is not the vibe here, nor downstairs where you will find statement furniture and ahead-of-the-curve accessories.
Read more
Fancy one of these Christmas jumpers?
Christmas jumpers are hot stuff. Whether you're wrapping yourself up in a vintage sweater or you're rocking a comedy pullover, there's no better way to show your appreciation for the festive season (or cover that Christmas excess).
Read more