Heads up! We're working hard to be accurate – but these are unusual times, so please always check before heading out.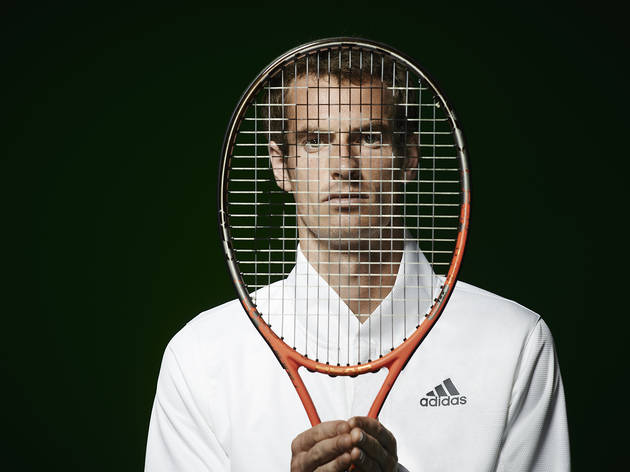 Andy Murray interview: 'I understand how much this means'
Expectations are greater than ever for Andy Murray. He tells us how he copes and what part Ed Sheeran plays in match preparation. Now we're worried...
You might have watched a tennis match about this time last year. Two tennis matches actually – one ending in heart-wrenching failure, the other in national triumph. Both featured Roger Federer and Andy Murray, and both were played out in the genteel cauldron that for two weeks every summer is the centre of the world's attention: Wimbledon.
The pressure to become the first British men's Wimbledon singles champion since 1936 has broken lesser men and seemed to get the better of Murray when he publicly sobbed after losing the 2012 final. 'I was very upset,' he happily admits today, a tall, muscled presence draped over a chintz sofa that appears to shrink beneath him.
'It was a really tough loss for me. I played well, I had chances, I gave everything I had on the day. And it just wasn't enough.' So how did he recover so well and reach the Olympic final? 'Because I'd played a good match, I'd played well. Because,' he says with finality, 'I hadn't let myself down.'
Murray's been at Wimbledon, hitting balls, before meeting Time Out in a Shepperton studio where he is filming a commercial. His shorts have been kicked off into the middle of the floor and his socks are scattered around the dressing- room. He eats strawberries from a punnet, each one disposed of in a single chomp. Between bites he recalls that crazy second match, the riotous Olympic final, where Wimbledon decorum and recent defeat were so spectacularly turned on their heads. 'It was different to any atmosphere I have played in on a tennis court,' he says, as if he still finds the experience overwhelming. 'The flags all over Centre Court, all the colours, people singing. Completely different.' Now he's about to re-enter Centre Court and once more, I suggest, carry a potentially crushing burden of expectation. 'You can either deal with the expectation or you can't,' he shoots straight back. 'That hasn't been an issue for me because I have the highest expectations of myself. Some people have greater expectation than the public has – they put more pressure on themselves.' He fulfilled some of that expectation by winning his first Grand Slam title at the US Open a month after taking Olympic gold. But when Murray walks out at Wimbledon it won't be his first time back since London 2012. He's a club member and sometimes sits quietly in the arena where he has experienced so much. 'Yeah, it's cool to do that. I went to Centre Court before and after Wimbledon last year and the Olympics,' he reveals. 'When there's nobody there, you wouldn't think that so many matches – not just my own but some of the best matches in the history of tennis – have been played there. I've had great moments there. You understand how much the tournament means to you when you go through those moments.'
As you read this, the Wimbledon atmosphere will be less contemplative. Hundreds of players and attendant coaches will be packing the club that Murray first knew as a 15-year-old junior. 'It wasn't frightening, it was very exciting. You don't understand the history, you just know it's a huge tennis event. It's massive.') And Murray will seek out calm. 'Last year I went into a room before games and just sat and listened to music.'
What music? 'Nothing really, just what's on the radio.' Heavy metal? Beethoven? 'No,' he scoffs, 'not motivational music. Really, really mellow, calming music, a lot of Ed Sheeran. You're nervous anyway; listening to stuff that's pumping you up too long before the match starts isn't good.' So the trick is to have just the right amount of nerves. 'If I'm feeling butterflies in the stomach, I know I'm ready,' he says, 'focused on what I'm going to try and accomplish on the court. If you aren't nervous before playing on Centre Court at Wimbledon, maybe you're doing the wrong job.'
It's hard to imagine him quaking. Murray has undergone a tremendous transformation since those earlier gawky Wimbledon appearances, all Adam's apple and outrageous talent. Now, after six years of constant gym work, Murray is undoubtedly buff. Does he enjoy the admiring glances? 'No, it's not for that attention; I like being in good shape to wind up the guys I work with, seeing who can do the most chin-ups, the fastest 100 metres.'
At ease with his team now, he admits to struggling when he was younger. 'You're the boss of people who are a lot older and more experienced. I found that really hard. When you're 19 and you're working with someone who is 40... No one is ready for that.'
Even so he can occasionally remind us that he was once regarded as a moody youth. During his Queens semi-final victory over Jo-Wilfried Tsonga a couple of weeks ago, he returned a cry of 'keep going, Andy' from his own box with the same words but adding a top-spin of scorn, suggesting the 26-year-old Scot – once offered a contract by Glasgow's Rangers Football Club – is not natural Timbledon material. But he refutes any suggestion that SW19 was slow to understand him. 'Watch my matches here when I was 18 – Court One and Centre Court, absolutely packed. When I played David Nalbandian there were ten-and-a-half million people watching on TV. The support was there from a young age.'
He didn't feel forced to accept the London institution's slightly smug valuation of its own importance? 'It wasn't something that was forced upon me, it came from playing there, from walking through the hallways and seeing all the players who had competed there. Being around past champions in the locker room. You start to understand, the older you get and the more times you play there, how important it is.'
Does it hurt all the more to lose there then? 'The thing that hurts most, for any athlete, is if you think you could have done better, you didn't give everything that you had that day on the court, be it first round or final. The first couple of times I played in a grand slam final, I didn't play as well as I could have done. I maybe had a bit more to give; that's why it took me a long time to recover from them.'
Had he feared he'd never win a slam? 'Not fear, but there was a period where I thought: Maybe I'm not going to win one. I wasn't as consistent as I should have been. But if I hadn't done it then, I would have got my head around it by saying, "I wasn't good enough to do it." That's fine, not everybody can be the best. Not everyone can win the major competitions. What would be disappointing at the end of your career is if you hadn't got the most out of your potential. But I was losing to two or three of the best players ever to have played the game. I feel like my accomplishments, because I am competing against those guys, are good.'

As Wimbledon progresses, Murray will not only find himself playing those guys but, in one of tennis's many quirks, sharing a dressing-room with them. 'Everyone's different,' he says, 'but most of the players speak to each other; we have to see each other every single week.' Even to Rafael Nadal, just before a semi-final encounter, say? 'Well, it's definitely not the same. If I bumped into Nadal this week, I'd speak to him pretty openly and have a good chat, you know, about anything. But if was playing him on a match day, I'd say, "Hi, how you doing?" and that would be it.' You keep something of yourself back? 'I think everyone does. It's only natural. You need to go out there and compete against each other. You do whatever you have to do to win; you don't want to give anything away to the person you're just about to play against.'

Then, in another of those tennis quirks, there's the presence of your family in a box directly above the court. 'That's the thing with tennis,' Murray admits, 'the family are there the whole time. They are always in your eyeline. I've been playing in front of my parents since I was 11 or 12 years old.' Does it add to the pressure? 'They obviously want me to win and do well, but if I lose the match? They don't really care if I lose in the final of Wimbledon; they just want me to be okay.'

Don't care? Really? 'Of course, I'd hope that all parents watch their kids and want them to win, but they are not going to love me any less just because I lose in the final of Wimbledon. It's more the team of people who work with you. You don't want to let them down.' Somehow, I don't think Andy Murray will be letting anyone down this summer.
Andy Murray is wearing his new Adidas kit for Wimbledon 2013, including the Barricade 8 trainer. To buy the kit visit www.adidas.com. To show your support follow @adidasuk #hitthewinner.
See our full guide to Wimbledon 2013