Into darkness: a tour of the Sam Wanamaker Playhouse
The Globe's candlelit indoor playhouse is London's sexiest new theatre. We take a look around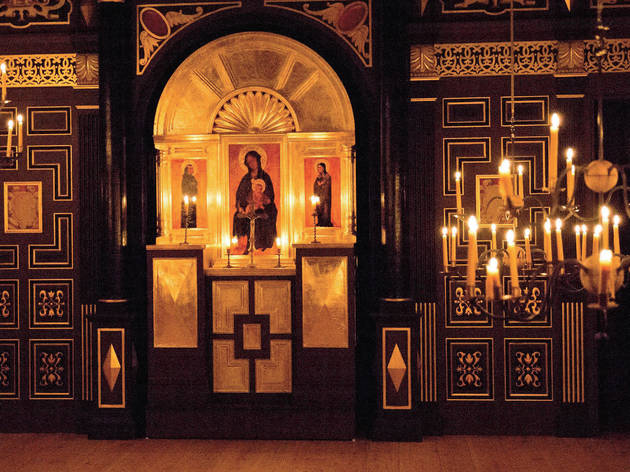 Shakespeare's Globe
artistic director Dominic Dromgoole, proudly. We're standing in the
Sam Wanamaker Playhouse
, London's newest, sexiest theatre. Named after the Globe's late founder, it is the intimate indoor sibling to the boisterous open-air Globe Theatre. It is also made entirely out of wood and lit entirely by candles, but apparently its exquisitely decorated oak frame can withstand the fieriest of conflagrations. That's good: it was a fire that did for the original, Elizabethan Globe.
What the first Globe didn't have was a bijou indoor venue. But Shakespeare and his King's Men theatre troupe did have one just down the road, on which the Wanamaker is modelled. 'They
wanted
to get into an indoor theatre much earlier than they in fact did,' says Dromgoole, the sweary showman whose colourful tenure has been such a success for the Globe. 'They bought the Blackfriars [a former priory] in 1592, but they were told to f**k off when they tried to do plays because there were lots of puritans around who complained about the noise. So they only finally moved there in 1609.'
By that time Elizabeth's golden age was over and the unpopular James I had the throne. Shakespeare's plays got darker and weirder, and the new generation of Jacobean playwrights started writing claustrophobic, blood-soaked revenge tragedies for candlelit indoor spaces. Foremost is John Webster's bleak 1612 masterpiece '
The Duchess of Malfi
'. It's the perfect opener for the new theatre, which is a long-delayed cornerstone of Wanamaker's original plans. And in something of a coup, Dromgoole has cast film star Gemma Arterton – a Globe alumnus – in the title role.
'"Malfi" is there because it's a wonderful counter to everyone's idea of what the Globe is,' says Dromgoole. 'The Globe is often mistakenly thought to be populist and rambunctious, and "Malfi" is very pure and very intense.
'And Gemma is just the most astonishing classical actress: she's got a huge wit, a great sense of the erotic power of language. She's a complete package.'
And so is the Wanamaker, a rich, dark space, embellished with gold, with a beautiful ornate ceiling, built to feel even smaller than its 340 seat capacity.
'Hopefully it'll be an erotic space,' says Dromgoole, 'in the right way. The concentration of bodies in a small, dark room should carry some charge – and it should hopefully be fun as well.'
'Malfi' aside, the inaugural season is delightfully unfamiliar, taking in 1607 meta-comedy '
The Knight of the Burning Pestle
' (February 20-March 30) and obscure 1645 opera '
L'Ormindo
' (March 25-April 12), a hook-up with the Royal Opera House. Notably, there's no Shakespeare, and the prices mark this as a more exclusive venue than the £5-a-pop Globe Theatre – tickets for 'L'Ormindo' top out at a hearty £100 (still not a bad for opera, mind).
'In some ways you're observing what went wrong,' concedes Dromgoole of the all-seventeenth century repertoire, 'the movement away from a citizen's theatre. But it's hard to deny the power of the plays and if we can bring them back into people's imaginations then that's a benefit that can filter out to everybody. So there's no denying it is exclusive. But our prices are still lower than the commercial sector. 'In fact,' he notes, 'It's a f**king bargain!'
Discover more great London theatre