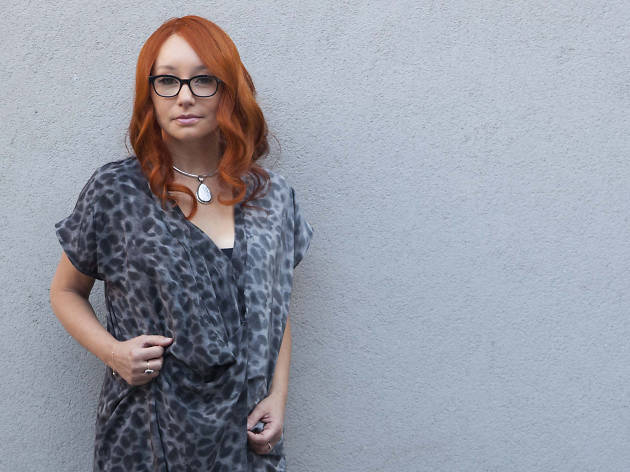 Tori Amos interview: 'I know what musical whoring does'
She's sold platinum, suckled a piglet and survived a Lycra phase: now Tori Amos tells us about her biggest challenge yet – a move into musical theatre
This piano's in the Jerwood Space in Southwark, where the National Theatre's production of Amos's first musical, '
The Light Princess
', is being rehearsed. The pressure is on – Amos is working 12-hour days to get the show up to scratch for the first preview – but she seems as buoyant as her floating princess.
'My parents think I'm better under pressure,' the platinum-selling star asserts. She's a parent herself, of course, with a teenage daughter and a teacherly manner that seems a million miles away from her pop beginnings. Back in the '80s Amos was the lycra-clad frontwoman of synth group Y Kant Tori Read, before rediscovering her real musical passion and returning to the piano for her debut solo album, 1992's 'Little Earthquakes'.
'
The Light Princess
' is also about a young woman uncovering her true nature, as well as her sexuality. It's a reworking of a nineteenth century fairytale by Scottish writer George MacDonald, in which an unlucky princess is born under a curse that means gravity has no effect on her – she simply floats above the ground. Amos has taken the story into darker territory however – into a world of teenage trysts, parents' fears and warring kingdoms. Miley Cyrus take note…
When did you first come across the story of 'The Light Princess'?
'It must have been around 2006. The girl in the original story didn't remind me of any girl I'd ever met in my life. So I thought, Okay, this was written in the nineteenth century. Maybe it was for little children? I want to tell a twenty-first-century story.'
Not a classic family musical, then?
'Well, Tash [Amos's daughter] would come, and she's 12. It's a sensual piece and it's a love story, so you have to be open about what teenagers really do. I think that parents will understand it and relate to it, but it's definitely not for little children. No, no. You'd be cursing me if you brought a five-year-old – the language your child will have the next day!'
Did National Theatre artistic director Nicholas Hytner have a hand in that?
'There was a time when he said "Go darker" to me, [co-writer] Sam Adamson and [director] Marianne Elliott, and that was a turning point. What I will tell you is that you haven't been given notes until you've been given notes by Nick Hytner. My God! I love him, but faced with a choice between Nick giving you notes or a root canal… maybe I'd have the root canal. Or two.'
How does the princess float?
'Marianne says that if I tell you I will have to kill you. The reason why she floats has been our work. That's been mine and Sam's journey to Middle-earth and back because the floating is not a curse.'
What is it then?
'It could be a metaphor for something psychological; for the issues we would not want our daughters to have. For other people it's eating disorders, or drugs. For me it would be if Tash joined a rightwing Christian cult, and went against women's rights. I mean, I wouldn't know what to do. I'd want to pull her back down.'
Do you worry about your daughter, especially in the internet age?
'We have no censors on her, and when parents hear this they have to understand that I came from a Methodist minister's house. It was very controlling in many ways, and that's why we [Amos and her sound engineer husband Mark Hawley] made a decision that we weren't going to put controls on the computer… the one rule we have is just don't lie.'
What about hi-jinks in real life?
'She says to me she doesn't know why some kids go do what they do. They'll go smoke pot up in Camden. I told her, "If you wanna go smoke pot then you get a job, make good money and go to Amsterdam where you don't get busted, or I'm cutting you off. [In a snooty voice] And stay at the Dylan sweetie, where they do low-fat salads so you don't have 20 years of the munchies on your body for the rest of your life."'
How do you feel about the sexualisation of young pop stars, like Miley Cyrus, for example…
'It backfires, doesn't it? Sexualising yourself in that way. You have to be clear what your message is and what you're doing. I mean Miley Cyrus is an amazing talent, and sometimes you kind of just want to say, "We know you're not Hannah Montana anymore. We know that, my dear. My darling. Now, go be great."'
And stop hanging out with Robin Thicke…
'Well, no, but he has a great record… It sounds like a Prince song, but it's a great record. The thing is, Prince was able to combine musicality and sensuality. If your wardrobe is more important than your music then you've lost your way. I know because I was there. Remember? The mid- '80s? I know what musical whoring does.'
What does it do?
'I remember being in a restaurant in LA eating by myself and hearing a comment. And I realised that I had become something that when I was five years old I would never have believed I could become. I went to a friend's house and played the piano and felt as if I'd completely lost my soul. And so, in that moment I made a commitment to music and art and I would never compromise that never. Not for musical theatre, not for anything, not for anyone. Nobody.'

Not even Nick Hytner?
'The musical changed for the good because Nick saw, I think, our potential as a writing team, with Marianne at the helm. You know Marianne's at the height of her magical powers as a director right now [having overseen 'War Horse' and 'The Curious Incident of the Dog in the Night-Time'], I see things in a new way every day. She brings out the best in us.'

Will you feel nervous watching the premiere?
'There's excitement and butterflies and that type of thing, but in a good way. I don't have stage fright. We're going to see if I have watch fright.'
Get the best of London's theatre
Best selling Time Out Offers
Support Time Out
We see you're using an ad-blocker. Ad revenue is Time Out's main source of income. The content you're reading is made by independent, expert local journalists.
Support Time Out directly today and help us champion the people and places which make the city tick. Cheers!
Donate now