Heads up! We're working hard to be accurate – but these are unusual times, so please always check before heading out.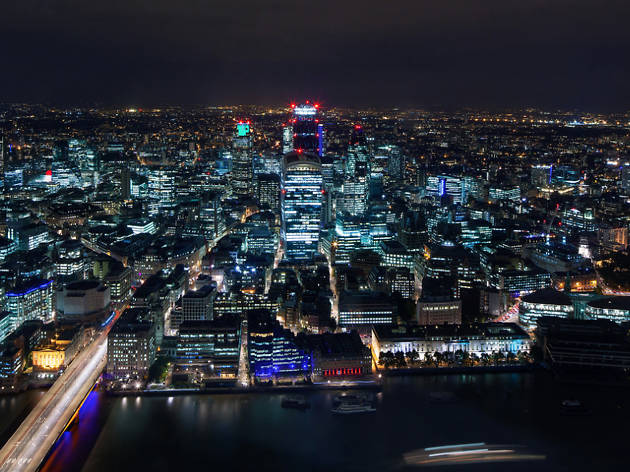 11 unexpected late night spots worth staying up for
Feel like there aren't enough hours in the day? Here are the best late-night spots to buy you more time
Fancy a haircut at 3am? How about a full English after a big night out? London's bars and pubs aren't the only places that stay open until the early hours. From a late night hair salon to a 24-hour gym, you can keep going all night at these unexpected late night spots.
Sure, ill-advised 3am takeaways are one of the only true joys of adulthood, but if mystery meat in pitta isn't doing it for your hunger pangs, try something more refined at Duck & Waffle. Up on the fortieth floor of the Heron Tower, this high-end spot does classy food at all hours. The late-night menu, in action from 11.30pm to 5am, spans spicy ox-cheek doughnuts to duck egg en cocotte – and, of course, that famous duck-and-waffles dish. Plus you get to enjoy sweet panoramic views of the city lights while chowing down. You'll never go back to your local kebab shop again.
Loads of places offer an all-day breakfast, but what good is that when you're pissed at 2am and hankering after a full English? Thank God, then, for Polo Bar, which serves up Brit classics all day and all of the night. Located opposite Liverpool Street station, this iconic 24-hour caff has been going strong for more than 60 years. It has moved with the times, though. As well as bacon sarnies and the classic full works, it offers a vegan big breakfast, gluten-free bread and a 'breadless' eggs Benedict with sweet potato. And it's not just about breakfast – there's also fish and chips, pies, burgers… You could spend a whole night working your way through the menu, if you've got a big enough appetite for that.
There's nothing wrong with watching endless cat videos when you've fallen down a YouTube rabbit hole at 4am, but the Prince Charles Cinema offers a more highbrow viewing experience in the wee hours. The much-loved central London cinema regularly hosts all-nighters that are at least ten hours long (21 in the case of its Harry Potter marathon). If you've got the stamina, it's got a Wes Anderson bonanza (March 24), a 'Lord of the Rings' long-haul (April 1) and a Disney Pyjama Party (April 14) lined up. Loud snacks aren't welcome and pyjamas are optional but encouraged. But maybe leave your duvet at home.
If 6am spin classes fill you with dread, how about pumping iron at night? The Gym Group has branches across London which are open 24 hours a day, so you can sweat it out as late as you like. You'll also have more flexibility about when you flex your muscles and there's probably not a queue for the cross-trainer at 3am. Only downside? You've got one less excuse to get out of exercising.
Ditch the doner and skip straight to dessert at no-frills Soho gelateria Lick. Open till 12.30am on Fridays and Saturdays, it serves up 24 flavours made fresh on site to satisfy that midnight sugar craving. Choose from old favourites like mint choc chip and mango sorbet, or try a curveball scoop of durian – a South East Asian fruit known for being the smelliest in the world. (It tastes better than it sounds.) If you crave caffeine as well as sugar, Lick will even whip you up an affogato. You'll be bouncing off the walls in no time.
London's not short on coffee shops to perk you up of a morning, but what if you're flagging at 1am? Thankfully, Clerkenwell Grind keeps on grinding into the early hours. The London mini-chain roasts its house espresso blend daily at its Shoreditch HQ, so the coffee is always super-fresh, even though you might not be. Get your late-night caffeine fix from a flat white or a chocolatey mocha, or make it swift with a strong espresso. And if you like your coffee with a boozy hit, CG also uses the house blend to make a mean espresso martini or – possibly the ultimate hipster drink – a hot flat White Russian. Buzzing!
Don't be put off by the 'licensed sex shop downstairs' neon sign in the window of Soho Original Books. This is an independent bookshop, honest. It's just that, erm, there is a licensed sex shop downstairs (well, this is Soho). On the ground floor, you'll find everything from independent magazines to coffee-table tomes to novels to trendy cookbooks to, yes, some sexy literature and a few saucy toys, which you can peruse until 1am most nights. See it as a convenient one-stop shop for all of your evening entertainment – nerdy or dirty. Who needs Netflix, eh?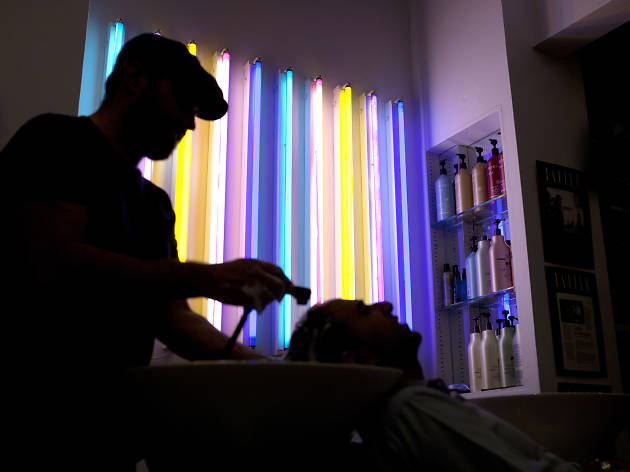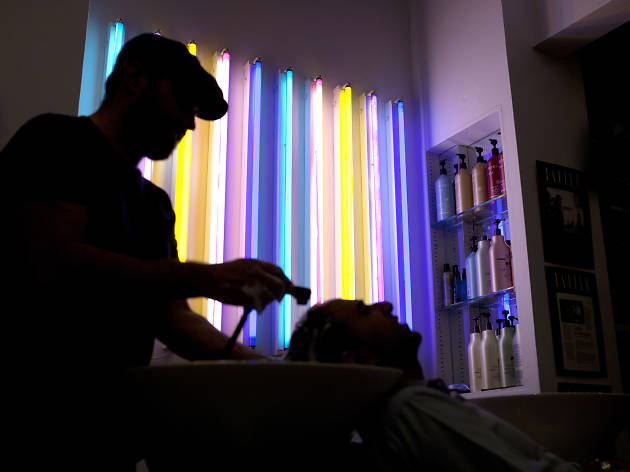 Ida-Helene Storevold Haldorsen
In desperate need of a new 'do but too busy to get to the hairdresser? A panicked DIY job never ends well, so put down the scissors and book yourself in for a pamper sesh at Neil Cornelius. This swanky Mayfair joint is the UK's only 24-hour salon, so you can get a cut, colour and blow-dry whenever you damn well like. Appointments between 7pm and 9am need to be booked and paid for in advance, which thankfully means there's no chance of you stumbling in after a big night out and demanding an ill-considered mohawk.
It's a good idea to wear your stretchiest trousers if you're planning a visit to Tinseltown's Farringdon outpost. This American-style diner serves up huge plates of chicken wings, steaks and 'challenge' burgers stacked with a whopping four patties. That's before you've even looked at the shake menu, featuring creamy concoctions made from all your favourite chocolate bars. Open until 4am, it's a prime spot to see off your hangover before it's even had a chance to kick in. Though maybe give that 'challenge' burger a miss if you're feeling on the queasy side.
While most of London's cultural institutions wind down around midnight, Shakespeare's Globe goes all nocturnal with its annual Midnight Matinee season. Performances start at 11.59pm precisely and wrap up three hours later. This summer's programme includes 'As You Like It' (June 15), 'The Winter's Tale' (July 13) and 'Othello' (September 14). After the play, fuel up for the journey home with a bacon or sausage sarnie in The Swan, the Globe's bar and restaurant, which sounds like a civilised way to spend the early hours.
When most places in central London are shutting up, Balans Soho Society's doors remain firmly open. The recently revamped Soho institution serves food around the clock – whether you're after a fancy breakfast of eggs Benedict with lobster, avocado and bacon or a spicy red curry with rice, you'll leave here very well fed. Although given there's no closing time, you might struggle to leave at all…
Fancy a night cap?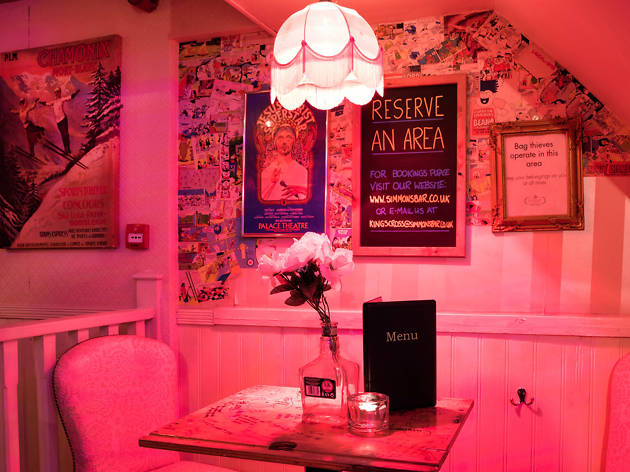 To help you avoid the hapless plod around town looking for more liquor, here's our guide to London's late-night bars and pubs.