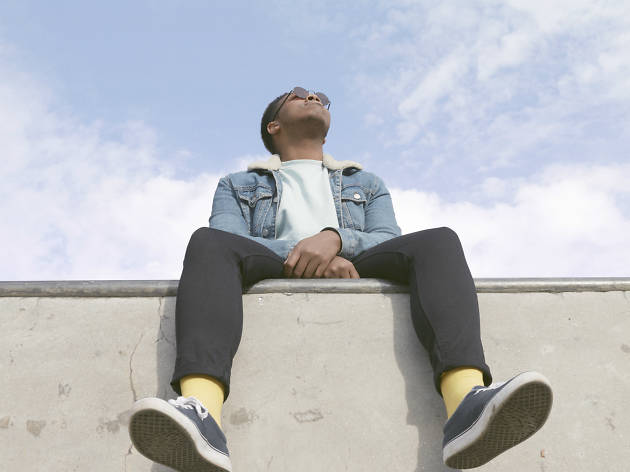 9 ways to make every day more extraordinary
To celebrate the opening of Google Pixel 3's Curiosity Rooms in London, we're bringing you nine ways to see the city afresh and rediscover the extraordinary
How often do you stop and consider just how many possibilities for adventure and discovery London has to offer? If you're a local, chances are you tend to overlook the small things that make this city such an inspiring place to live. To mark the launch of their new smartphone, the Google Pixel 3, the folks at Google have unveiled the Curiosity Rooms. Located a stone's throw from Piccadilly Circus at 55 Regent Street, the three-floor space is filled with installations, pop-ups, workshops, free events and talks that are all designed to ignite your sense of curiosity. The rooms are open from now until December 16, from noon-9pm on Thursday to Saturday, and noon-6pm on Sunday. Can't make it down to the Curiosity Rooms? No worries: you can elevate each day by experiencing your city through the eyes of the Google Pixel 3. Let us tell you what you can find when you explore London, Google Pixel 3 in hand.
---
1. Get high
To get a new perspective, sometimes you need to see things from a totally different viewpoint – literally. Climb up high and those same old streets, buildings and landmarks you pass daily will be transformed: you'll feel like a tiny part of a massive, beautiful, heaving metropolis. South Londoners, head to Greenwich Park or Crystal Palace; for those up north, hot-foot it to Primrose Hill, Parliament Hill or Alexandra Palace. Sure, you might start panting on the hike up there, but it'll be worth it – especially if you take a wide-angle #skylineselfie to capture the moment (there's a nifty second camera on the front of the phone, allowing you to fit more friends in the frame).
Wide-angle selfie, Time Out team at Alexandra Palace
2. Go out and stay out
When you're on holiday, you wake up and head out, bright-eyed and bushy-tailed, just to see where the day takes you. But it's rare we do that in our own city. So next time you have a free day, don't plan anything – just grab your bank card, phone and keys and let it all happen. Go into restaurants you'd normally just power-walk past; pop into galleries; chat to the people next to you in the pub; and stay out late dancing. And leave the USB charger at home: your Google Pixel 3 can get you through the day. Can't resist making some plans? Keep the sense of spontaneity alive by waking up and consulting our list of things to do in London today.
3. Look up more
As we navigate London's tourists, wheely suitcases, dogs and bollards, we rarely take
a moment to look up – and we're missing out. Glancing up will elevate any stroll: catch incredible architecture, murals, statues, 'ghost signs', floral window boxes, soaring birds and clouds that look like donkeys. Itching to know the name of the beautiful building you're looking at – like this intriguing structure in Covent Garden (below)? Activate Google Lens on your Pixel 3 and your phone will identify it for you. FYI, this one is the Freemasons' Hall.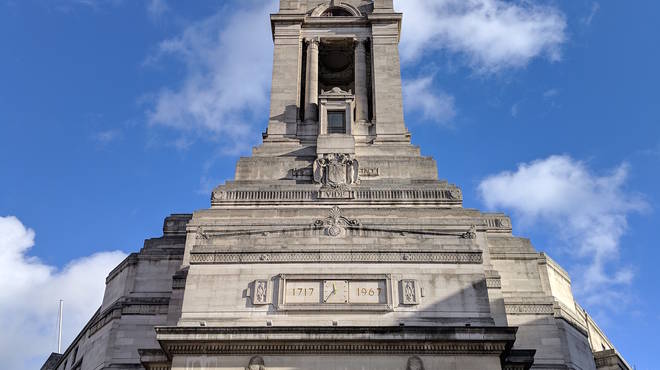 Freemasons' Hall
4. Have a nose around Soho
Have you heard of the Seven Noses of Soho? In 1997, as a surreal protest against the CCTV cameras appearing across the city, artist Rick Buckley put models of his own schnozzle on buildings right under the nose, so to speak, of the authorities. Sadly, most of them are gone, but seven remain. Legend has it that anyone who finds them all will be bestowed with great wealth, which is a good excuse as any to explore Soho with fresh eyes and see what you can find.
5. Chill out at your local café
If the constant barrage of notifications and emails is all getting a bit much, grab a book and head to your cosy neighbourhood café for some well-deserved solo time (or if you're looking for tips on new cafés, may we suggest Allpress Espresso in Dalston, Wandsworth's Flotsam & Jetsam and Timberyard Seven Dials?). Once you've got a hot cuppa, flip your phone over and it'll automatically go into 'Shh' mode – meaning you can enjoy some pure, undisturbed chill time.
6. Mix up the commute
You can do your daily journey to work with your eyes closed – and most mornings, you probably do. But what if, instead of piling onto a packed tube, sweating, swearing and stressing before you've even reached your desk, you made the time to walk in at least one morning a week? Not only will you discover new streets, hidden parks, random sculptures and amazing houses that you've never noticed before, you'll also arrive at work in a good mood – and get some exercise to boot. Win-win.
7. Hunt out street art
Whether it's Banksy's latest creation or some kids working on their first tags, London is full of street art surprises. You probably walk past some corkers every day and never give them a second look. Make it your mission to spot as much as you can; prime locations include Hackney Wick and Brick Lane. Sometimes those boring old brick walls become proper works of art – like the mural below, which can be found in Grand Union Crescent, in London Fields.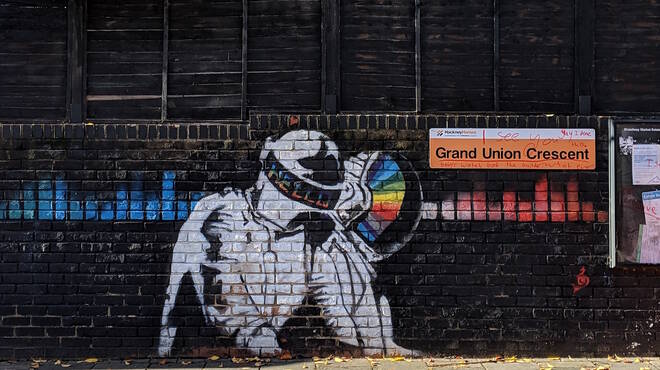 Mural at Grand Union Crescent
8. Appreciate the concrete jungle
London is home to some real brutalist architecture gems: the Southbank Centre, the Trellick Tower, Centre Point, the Brunswick Centre and the Barbican, to name a few. You blindly walk past them all the time, but give them some attention and you'll start to notice just how beautiful concrete can be. And if you want to see brutalism's more tropical side, head to the Barbican Conservatory one Sunday and enjoy afternoon tea surrounded by green and grey.
9. Admire your local shopfronts
Let's face it, you probably can't even remember the names of places you go into regularly ('the one on the corner' doesn't count). When was the last time you stood back and appreciated the beauty of your local high street's shopfronts? Next time you pass, stand back, be curious and check out those old-school signs, fascinating fonts and cute window displays. You might be surprised by what you find.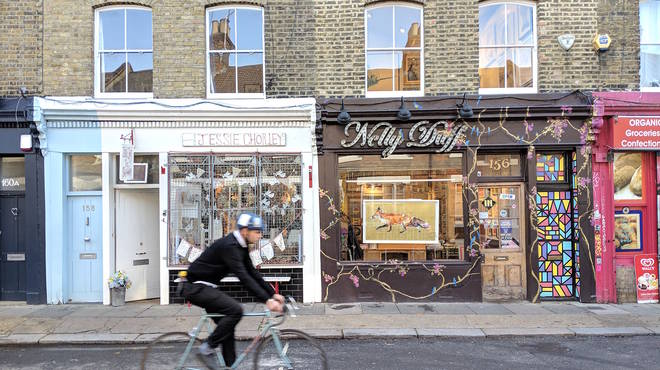 Shopfronts in Hackney
Discover more extraordinary goings-on at The Curiosity Rooms, open at 55 Regent Street until December 16. Event tickets are free – book now.