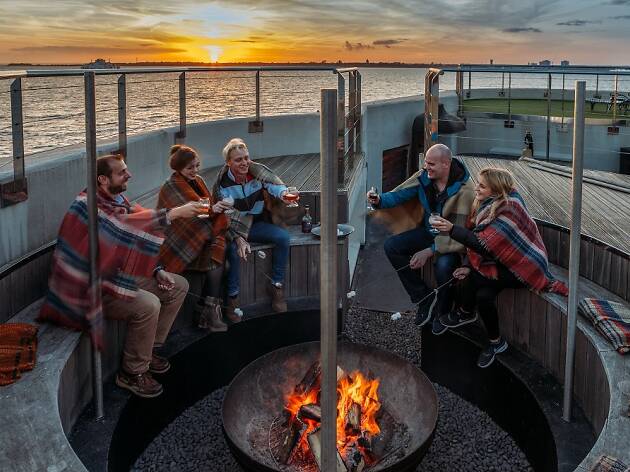 10 amazing houses near London for weekends away with friends
From cute cottages and incredible country homes to private islands, here are 10 of the best houses near London that you can rent for quality hangout time with your mates
After months of lockdown, the return of our social lives is imminent, even if hanging out with our pals will look a little different. Now that holidays in the UK are back on the agenda for this summer, we've pulled together some of the most magical houses near London for spending quality time with your nearest and dearest. From cute cottages to private islands to incredible country homes, here are the most amazing houses near(ish) to London for weekends away with friends.
PLEASE NOTE: Current guidelines (from July 4) in England state that no more than two households can stay together.
RECOMMENDED: The best Airbnbs in the UK
Amazing houses near London for weekends away with friends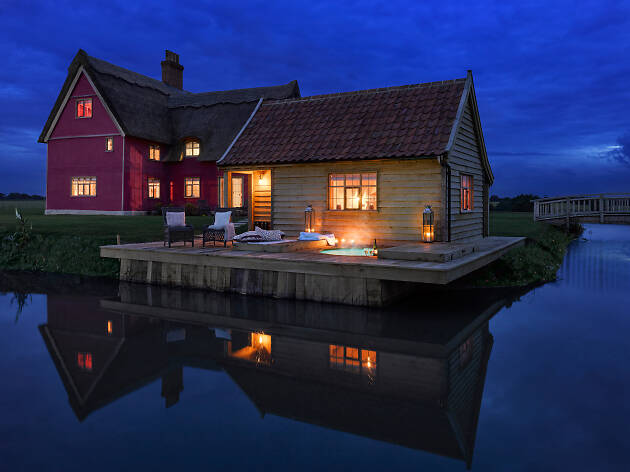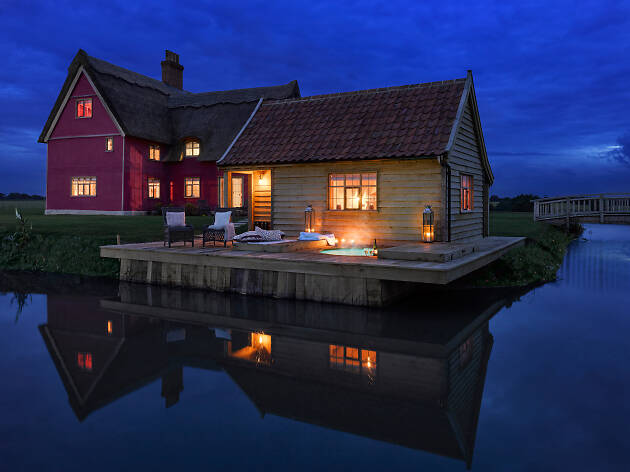 A pink thatched cottage with its own moat
Live out your fairytale dreams with this gigantic moat-surrounded, pink cottage in the Suffolk countryside. An open-plan kitchen has concertina doors, which open out onto a huge al fresco dining area, not that cooking would be top of your list here – time will most likely be spent in the outdoor swimming pool or paddling around in the private rowing boat. You'll have to fight over who gets to sleep in the boat house – a romantic room separate from the rest of the building with its own decking and sunken hot tub by the water.
Sleeps 12.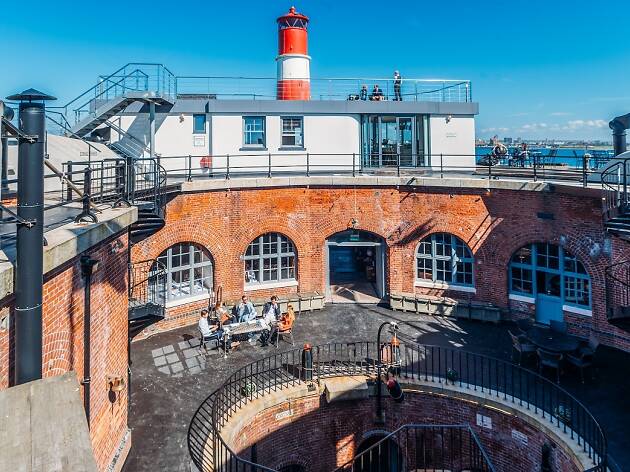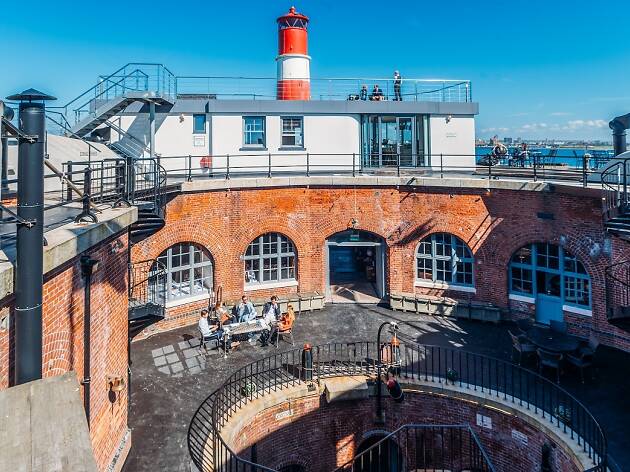 A private island with a pool
Always getting told off by neighbours for your noisy parties? This one's for you. Sea View is a gigantic sea fort on its own private island, with a heated rooftop pool, cosy fire pits and a sauna. It's a mile off the coast of Portsmouth and only accessible by boat, so visitors can make as much noise as they like. This is a luxe retreat, which houses a private wine cellar and three bars, so be prepared to chip in – a slice of Sea View starts at over £5K a night.
Sleeps 16.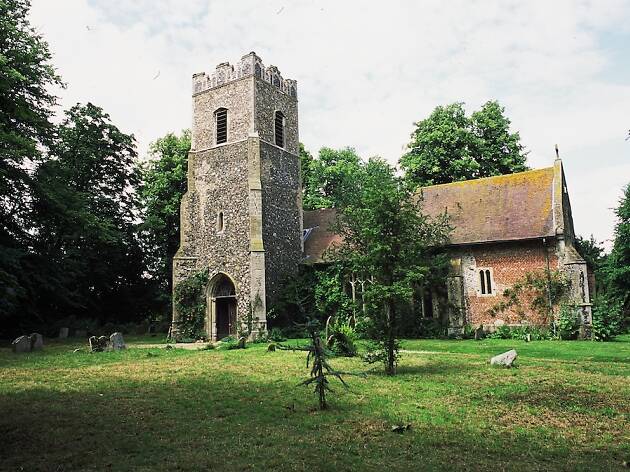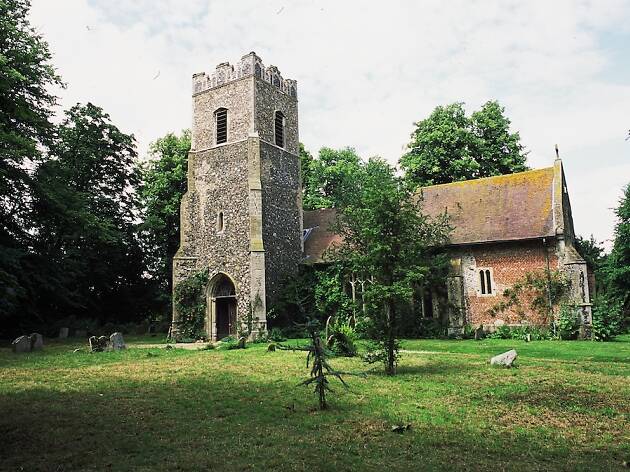 A converted medieval church
Hidden rooms, log burners and a giant trampoline are just three of the reasons a group would have ball at this 1,000-year-old church in Suffolk. Rated as one of the most imaginatively restored churches in the UK by English Heritage, it's a grand old party pad for a group of up to 12 friends, with vaulted ceilings and stained-glass windows, plus a pretty outdoor patio among the gravestones.
Sleeps 12.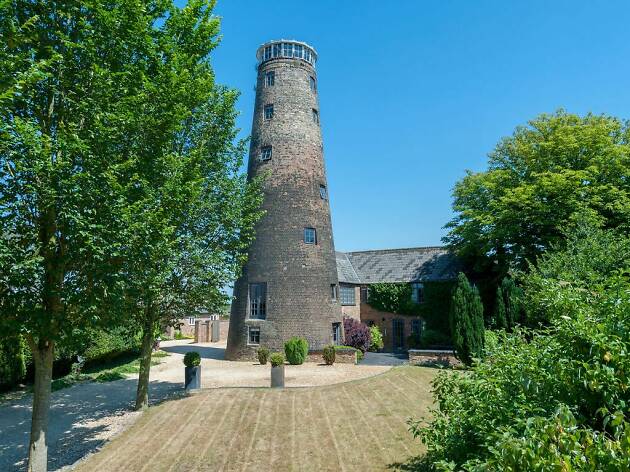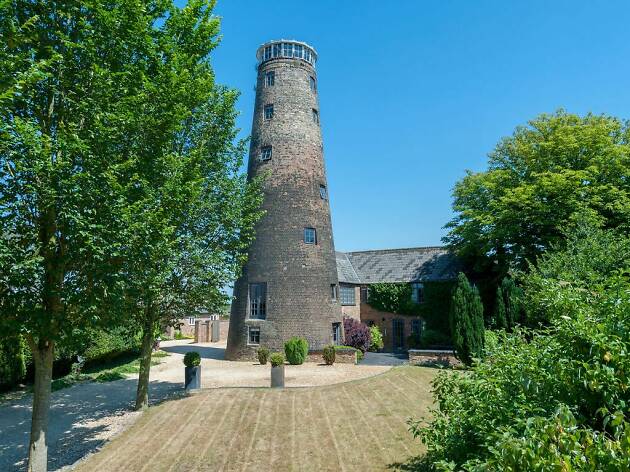 There's whimsy by the bucketload at this cute windmill retreat, which has been lovingly restored with everything a group of friends could wish for – and then some. The seven-storey grade-II listed building packs in a huge heated pool, lawn games, pool table and video games consoles, as well as panoramic vistas of the Norfolk countryside from the 70 foot-high viewing tower.
Sleeps 16.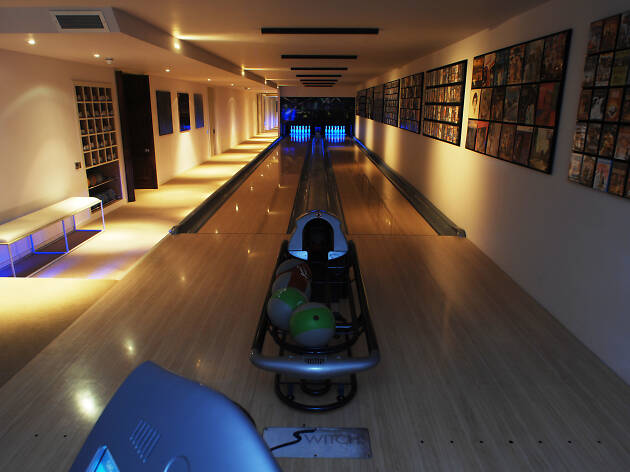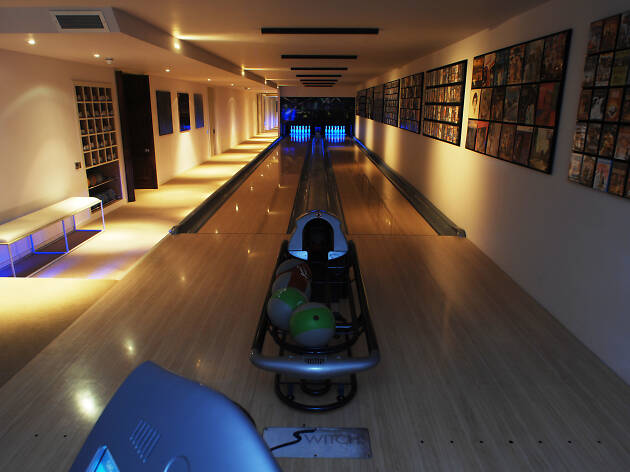 © Unique Home Stays
A huge country house with a bowling alley
If entertainment ranks high on your list, this all-singing, all-dancing country house in West Sussex will tick plenty of boxes. With a bowling alley, cinema room and air hockey, guests needn't leave the building for a fun-packed holiday. You'd be wise to, though – an outdoor swimming pool and private lake with rowing boats await those who can pull themselves away from the pinball machine.
Sleeps 14.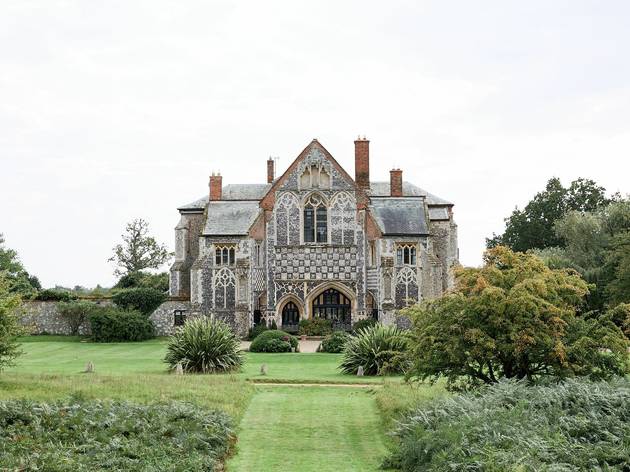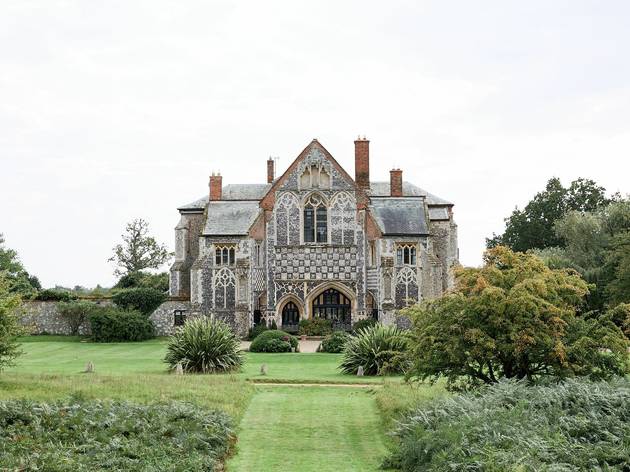 Butlery Priory
A magical twelfth-century abbey
Get a taste of the monastic life at a painstakingly restored twelfth-century abbey that's full of original features, including stone vaulted arches and huge open fireplaces. There's also a gorgeous green Aga, roll-top baths and bohemian decor. Set in eight acres of private Suffolk parkland, the secluded five-bedroom getaway spot gives you and your mates plenty of space to party in.
Sleeps 15.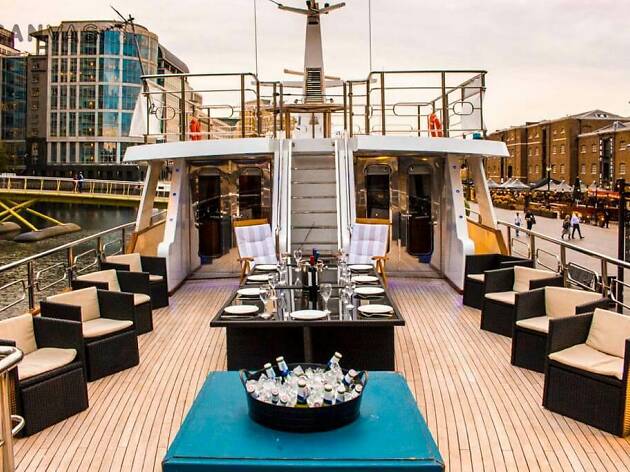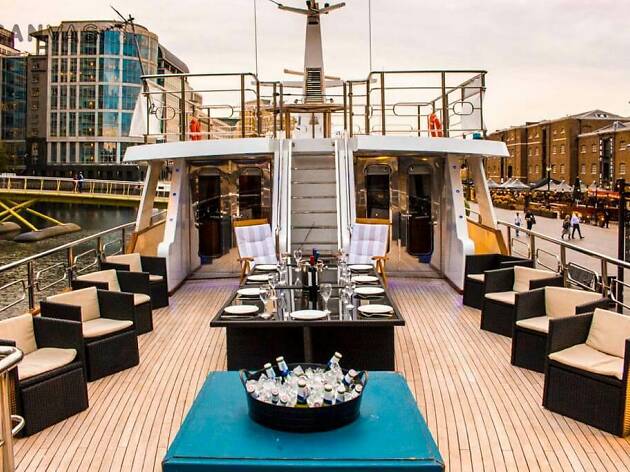 Party Houses.co.uk
If organising your friends is akin to herding cats, keep it local with this luxe party yacht in Canary Wharf. The gloriously glitzy boat is perfect for a spot of 'Wolf of Wall Street'-style partying, with a glam open deck complete with a barbecue, dining area and staff on hand to make sure the night is all plain sailing.
Sleeps 10.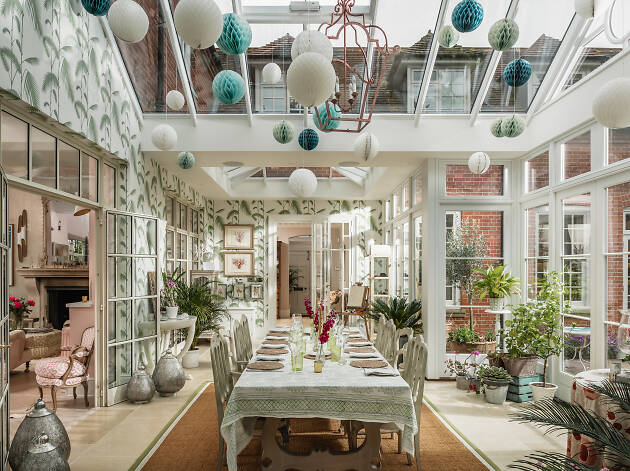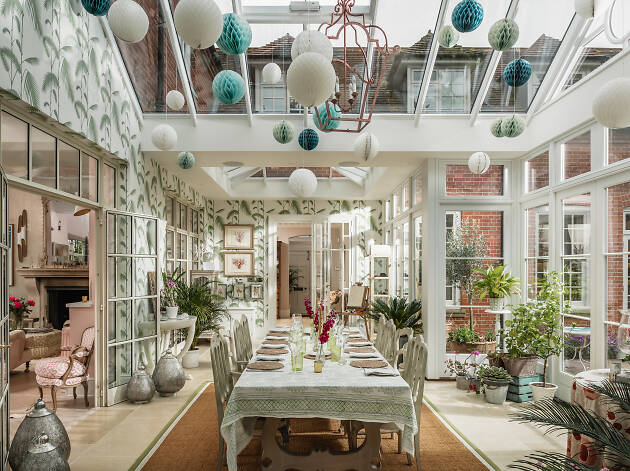 Mark Watts / © Unique Home Stays
A colourful country manor with a pool house
This grand country home near Winchester has all the makings of a set for a period drama: perfectly sculpted gardens, jaw-dropping period features and grand open fireplaces, but the finishing touches at Felicity Park really make it pop. A pink Aga, copper roll-top baths, covered outdoor barbecue hangout, bright pom-poms in the orangery and flamingo bunting on the four-poster beds turn it into a modern, fun place for pals to hang out.
Sleeps 10.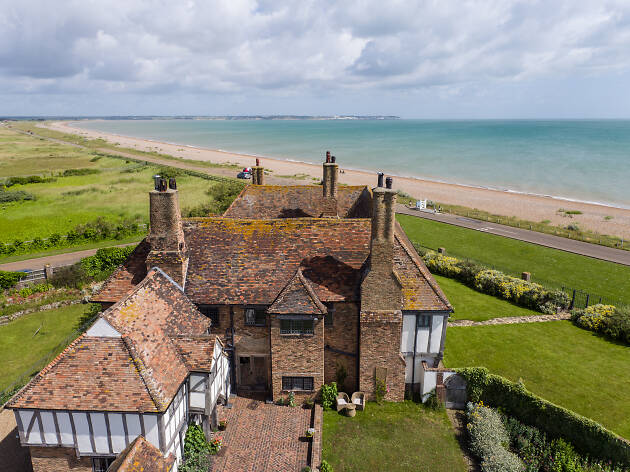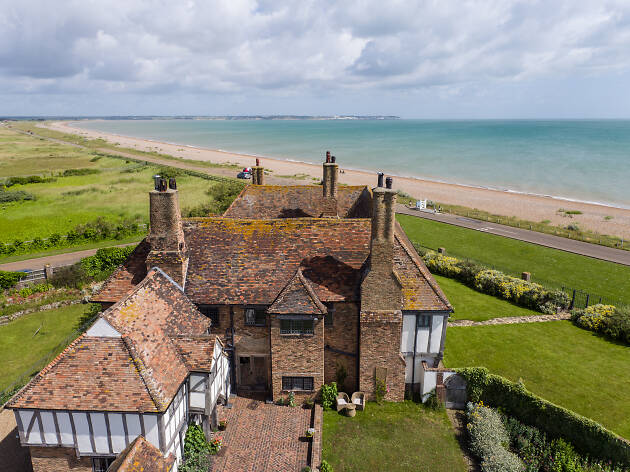 © Unique Home Stays
A Tudor mansion by the sea
Outdoorsy types will be in their element at this gigantic 10-bedroom seaside abode, which boasts five miles of private beach. Standing on the coastline of Sandwich Bay in Kent, the lovingly restored arts and crafts house has oodles of character and a charming, eclectic interior. For all-out luxury, book the additional in-house chef service and personalised massage treatments – pure bliss.
Sleeps 18.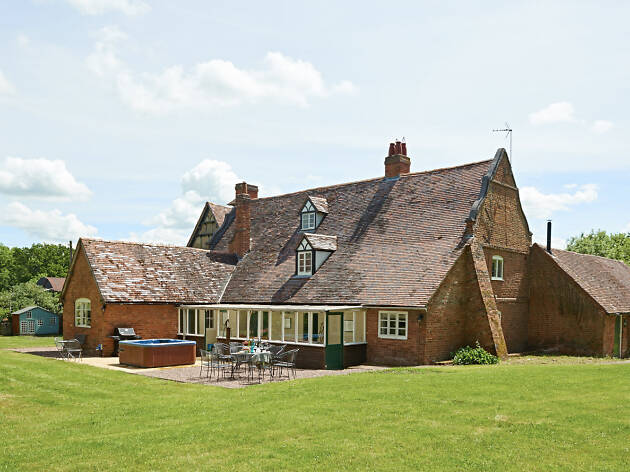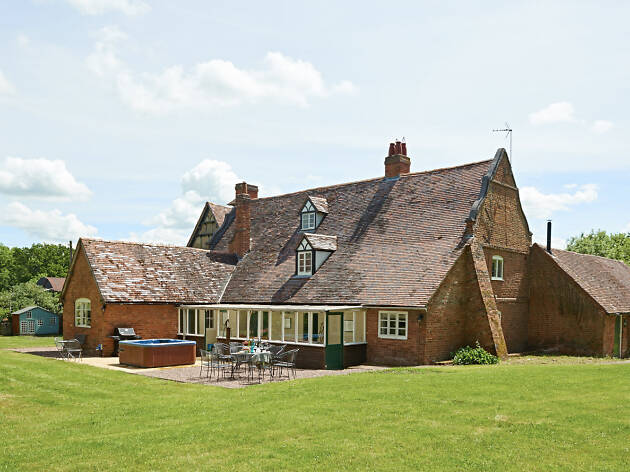 nicholas yarsley
A rural farmhouse with an alfresco hot tub
A weekend in this huge, historic farmhouse on the edge of the Cotswolds will have you yo-yoing from gloriously muddy welly boot walks to squeaky-clean sessions in the outdoor hot tub. This enormous house is on pretty walking routes and near cosy country pubs – but with croquet sets, table football, log burners and a giant dining room table for raucous evening meals, there's more than enough to keep you and the gang entertained if you fancy hiding out and staying put.
Sleeps 16.
More weekends away from London?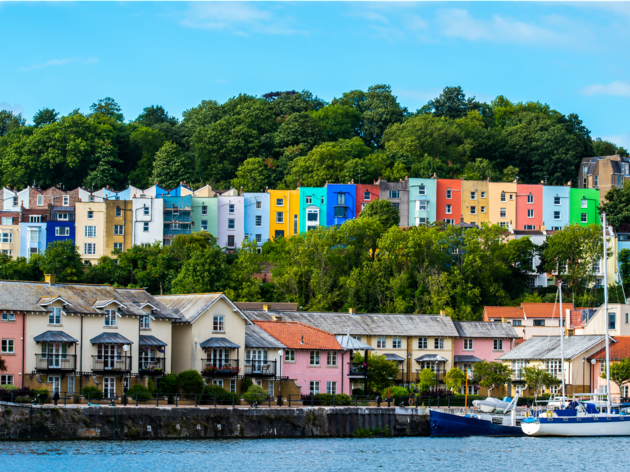 Need to flee the city? Here's where to spend the weekend in the UK and still be back in London for work on Monday.