Outdoor sports screens in London
Where to enjoy all the sporting action need this summer, without shelling out for a ticket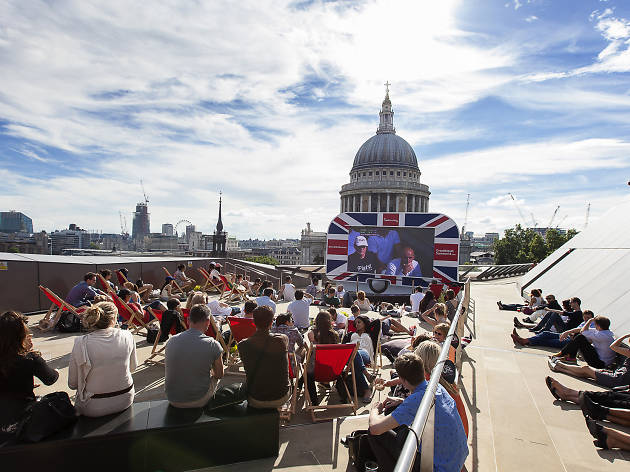 You don't have to be a sports junkie to enjoy outdoor sports screenings in London during summer. Watching events like the Wimbledon Tennis Championships and major football tournaments at an outdoor screen with crowds of others always provides a great atmosphere. Pull up a deck chair, bring your own bottle and cheer along whatever the weather.
RECOMMENDED: the full guide to outdoor London
Outdoor sports screens in London
Recline in a deckchair and enjoy a cinema experience on the sand with a new series of outdoor summer screenings at the Roundhouse's urban beach. Working with Big Beach Screen Events, the team behind Europe's largest open air cinema, the beach will open for free screenings of the Wimbledon finals July 15-16. Get down early and tuck into delicious food and a drink from a beach-side bar.
Read more
Watch Wimbledon on a floating pontoon as the St Kat's big screen presents all the action from Centre Court over the tennis season. Expect deckchairs and beanbags, plus strawberries and cream and Pimms' and lemonade during the Semi-Finals and Finals (Jul 13-16).
Read more
Get an alfresco culture fix
Dig out the kagoul; London's open-air theatre is worth risking the rain for
Read more