Discover the South Bank
This area sparkles with attractions – not least the London Eye. Explore our interactive maps to inspire your next visit
For a midweek movie, a Saturday afternoon stroll along the river or a Sunday morning browsing the shops, the South Bank is a great destination for time spent with friends. Well-connected – within minutes to the West End and the City – it's an area that's perfect for drinks after work, too. Chic bars with luxurious sofas and busy foyer cafés are ideal for catching up with the latest gossip, and the attractions that fill County Hall should appeal to the inner big kid on any mates' day out.
A visit to the London Eye is great fun whether you've been before or you're a first timer. Make an adventure with friends even more fun by booking the Champagne Experience – enjoy a glass of Pommery Brut Royal Champagne as you take in the amazing views. There are non-alcoholic drinks also available for children and adults, or you can order additional glasses of fizz.
Read more
As the river and the crowds flow past, this branch of Wahaca sits proudly looking out from the eastern edge of the Southbank Centre. Situated in a state-of-the art, two-floor diner – easily the funkiest use of recycled shipping containers we've seen – you can sample the combination of modern contemporary and authentic Mexican cooking which has established Wahaca as London's trendiest destination for chatting and chowing down.
Read more
Open every day, tucked under the arches of Waterloo Bridge, the stalls here are filled with secondhand and antique books. It's great for a browse or to find something different for a gift. The market stalls have been here for generations and the setting is one to rival the bouquinistes that line the left bank of the Seine in Paris.
Read more
By day it's a casual café with pastries, coffees and stews, and by night, it's a pre-club bar where you can nibble pizzetta and sip on an aperitif. Whatever time you drop in, there is great music playing, from nu jazz and electronic music to funk, soul and melodic ambient sounds. A great hangout located at Hayward Gallery.
Read more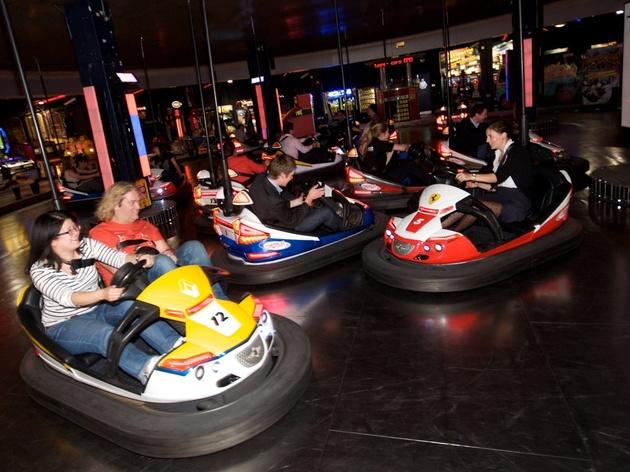 Bumper cars at Namco Funscape
A couple of minutes' walk from the London Eye, duck into this indoor amusement park that's open all year round. There are pool tables, bowling and other amusements, but the surefire way to get everyone excited is to jump on the turbo bumper cars and pretend that you're kids at the seaside.
Take in free live music while having a drink or waiting for mates. You'll find a variety of singer-songwriters and bands playing on Friday lunchtimes at the central bar at the Royal Festival Hall and early evenings in the 'Front Room' at the Queen Elizabeth Hall. There are regular free music events at the nearby National Theatre, too.
Read more
There are few places left in central London where independent designers can sell their wares, but at Gabriel's Wharf, small stores dotted around this riverside 'village' give a wide range of inspired talents the chance to shine. From pretty silk dresses (Henrietta Park) to hip knitwear (Funki Fresh) and handmade hats (Heads Rule Hearts), this is a wonderful place to browse for something stylish and unique.
Read more
A night at the movies is always good fun, so why not supersize the experience? The Odeon now programmes blockbuster movies at the IMAX and the scale of the screen makes watching both regular and 3D films a real treat. For full-on viewing, there are also screenings of films made especially for IMAX. Book one of these and watch your friends flinch as the world comes crashing towards them!
Read more
Discover the South Bank with...
Sponsored listing
The Cavendish
A two-floor restaurant and bar on New Cavendish Street, with a modern-European food menu alongside a global wine list, signature cocktails, an array of premium spirits and a selection of cigars to be enjoyed on the terrace seating at the venue's front.  The kitchen is headed up by Douglas Santi, who has put together a menu featuring dishes such as scallops, lardo di colonnata, smoked baby leek and truffled mashed potato, beef carpaccio, pantelleria capers, Melba toast, various plates of ceviche, and meats cooked in a Josper oven. There are seasonal menus, too, as well as snacks.  
Venue says: "Knock on the door, its seems like happiness is dancing on the wooden floor. Join the atmosphere of our place, we have a lot to share."