Holi events in London
Get colourful and get messy by celebrating Holi festival 2017 in London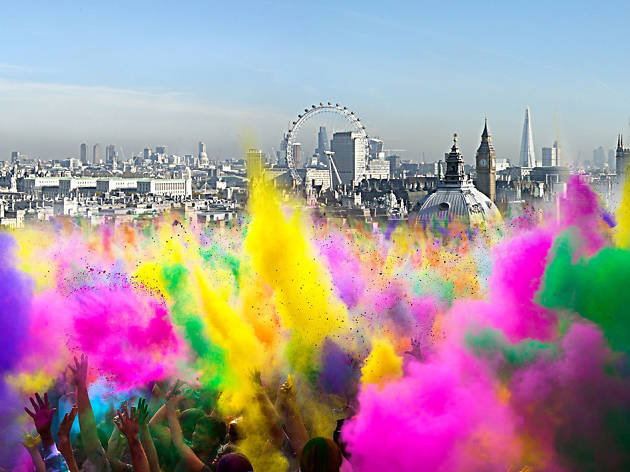 If you see people walking around London covered head-to-toe in eye-poppingly bright multicoloured clothing, don't worry – tie-dye isn't back. It's actually just people celebrating Holi festival, by chucking paint at each other.
The Hindu festival of Holi marks the beginning of spring every year. Falling on Monday March 13 in 2017, it usually happens during Febraury or March depending on the Hindu calendar date. Taking place mainly in India and Nepal, people of all ages and backgrounds take to the streets to celebrate and playfully throw coloured powder paint, known as gulal.
Although the London parties are pretty removed from the traditional Hindu festivities, the same air of celebratory fun and friendship remains – as does the powder paint-lobbing. Covering your mates and strangers in gulal makes up the action at most Holi parties in London (including Holi Land Festival of Colours at the vast Great Suffolk St Warehouse), but many also offer lots of Indian food alongside the shenanigans.
If you are partying Holi-style, white clothes are best to really bring out the colour, and obviously only wear things that you don't mind get messed-up. And look out for flying clouds of colour coating your phone if you're trying to capture that perfectly Instagrammable moment.
Holi parties around London
The huge, Holi-inspired Festival of Colours takes place in Wembley Park this summer. A couple of month's after Holi's official date, this party is very much an excuse for throwing powder paint on your mates, rather than any sort of authentic celebration. 2017's theme is 'feel the jungle' and party-goers can expect a magic mix of EDM, dance music and bass.
Read more
More great spring happenings
Prepare for warmer, lighter times by mapping out your schedule of fun for spring. We've got it all covered, including the best exhibitions, restaurant and bar openings, films, parties, theatre shows and much more.
Read more
Sponsored listing
Celeste
After a swanky refit in 2015, the restaurant formerly known as Apsleys is now elegant, bright and visually luxuriant. And it carries culinary weight: it's related to the three-Michelin-starred Epicure at Le Bristol in Paris. Three huge chandeliers dominate the room, which manages to be heavy with glitz but somehow still feel understated, while the stepped dining area allows for a private feel even in this cavernous space. After dining, you can retire to The Library Bar, for cognacs dating back to the 1770s.
Venue says: "Céleste's Sunday Brunch Club: 11am to 2.30pm each Sunday, serving breakfast, lunch, healthy choices and roasts to share."