London events calendar
Your month-by-month guide to the best events and cultural happenings in London over the year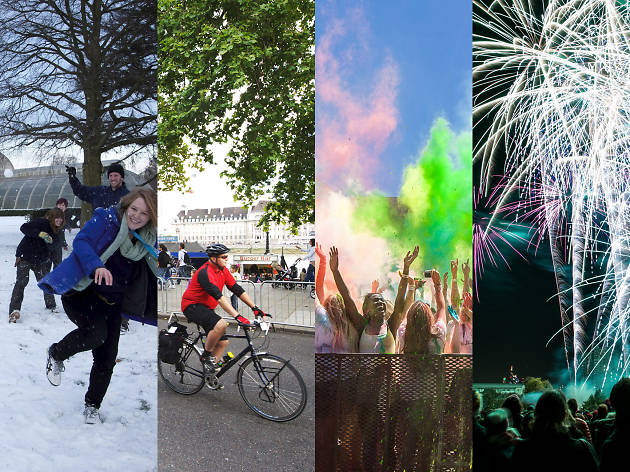 Here's your comprehensive guide to the biggest and best events and activities across London for the whole of 2017, from the best theatre openings to great new art exhibitions to the latest essential gigs and tons of other things to do around the city.
Sure, those summer months and even Christmas may seem far off at the moment, but get planning now using our monthly calendars and you'll be ahead of the game when it comes to booking tickets and knowing what to see over the year.
If you're looking for instant cultural gratification, just check our pick of things to do in London this week and over the weekend. Now, go forth and enjoy London!
The best events in London by month
Find things to do all year round
Sponsored listing
Heirloom
Heirloom makes a more convincing case for a United Kingdom than most politicians. It hoists the flag for modern British cooking by plating up heritage vegetables, succulent rare-breed meats and Cornish fish, serving them with British craft beers and Old World wines. It's a smart-looking upmarket spot that's softened by a pubby-style bar, chunky wooden tables and friendly service. On our Sunday lunch visit, classic roasts were the order of the day, and included the likes of Old Spot pork, Belted Galloway beef and braised Blackface lamb. These were all cooked just-so and served with meaty gravy, splinter-crisp spuds, mile-high Yorkshires and the sauciest own-made accompaniments such tart apple and zingy mint sauces or peppery horseradish cream. It's Brit-tastic cooking all the way. A la carte choices might include roast monkfish partnered with sea-salty samphire and Jersey cream-enriched mash, or smoked gammon hock with duck egg and sucrine lettuce. The rollcall of heritage produce includes novelties such as prickly cucumber or stubby atlas carrots. Puddings read like something from Enid Blyton – treacle loaf with raspberries and Jersey cream, or plum trifle steeped in port-like Maury – though the Famous Five would have had adventures of a different order after a dalliance with Maury.