101 things to do in London with kids
Get set for family fun with our round-up of exciting events, activities and other things to do for children in London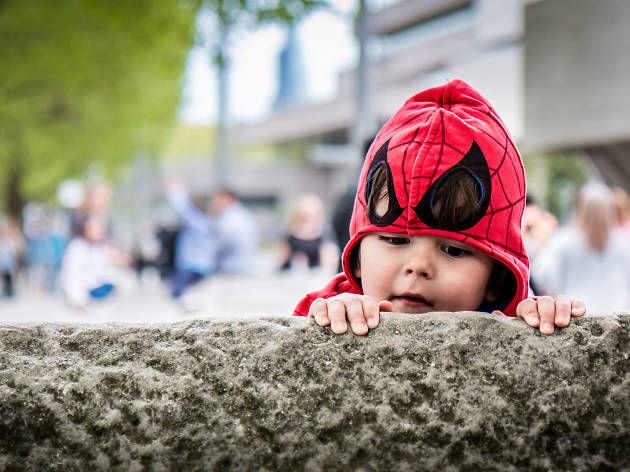 Even if your kids get bored easily, there need never be a dull moment when you're out and about in London. The city is jam-packed with fantastic experiences, family days out, cultural activities and other brilliant things to keep the little ones occupied and entertained.
Whether you're bringing up the brood here or planning to visit, we've tracked down the most inspiring things to do in London with kids for all ages and interests, covering outdoor plans for when the sun's shining and indoor options if the weather lets you down.
Read on to discover 101 of the best things to do with children in London by age, and then go out and have an absolute riot with your babies, toddlers and teenagers.
Things to do in London with kids
Things to do in London with kids
The entrance to Sea Life Aquarium London, a couple of doors along from the London Eye, doesn't look like much, but venture inside and you'll find a vast underwater world. Along with huge tanks of sharks and colourful fish, special zones include Ocean Invaders. New for 2017, it's an interactive gallery dedicated to jellyfish, where you can get up close to a swarm of these curious no-heart, no-brain creatures. You can also visit Penguin Point, watch the Gentoo penguins chilling out in their icy waters and catch their feeding sessions at noon and 3pm (Wednesdays, 3pm only).
Book now
Read more
Through the year, the Royal Academy runs a series of free creative activities inviting children (including those with special educational needs) to explore visual art, while Art Detectives trails gives them a chance to explore the galleries and see great works of art form their own perspective. Once a month there's a free, drop-in Family Studios session on a Sunday (11am-3pm) which explores a theme in more depth, with hands-on crafts and other activities like music making and dressing up. Check the website for the next date and theme.
Book now
Read more
The Grant Museum of Zoology could be a movie set for a mad professor's home: jars of specimens, skeletons and mounted animals include examples of creatures that are now endangered and in some cases even extinct. Take a self-guided tour or join one of the free, drop-in hands-on family sessions – see how sharp a shark's tooth really is, and what a python's skin feels like.
Ages three and above

Free

Read more
Madame Tussauds, with its galleries of wax models, might seem a rather strange place to go for fun. Apart from taking a selfie of yourself next to your favourite movie star or president, what is there to do? Lots! The attraction works hard to keep everyone entertained to ensure you never really notice how busy the place is, and experiences include playing 'Angry Birds' on a massive screen and a taxi cab 'fairground' ride through London's history. You can also have your photo taken as you sashay down a fashion catwalk and try to solve a Sherlock Holmes mystery in a specially designed interactive gallery. With Madame Tussauds just around the corner from Baker Street, it's the perfect day out for fans of the legendary sleuth.
All ages
Read more
Give your furniture a break and take the kids to a proper climbing centre. Clip 'n Climb in Chelsea is a colourful landscape of specially designed climbing walls suitable for various ages and levels of ability. Completely safe for beginners, with challenges including 'The Skyscraper', 'Jungle Gym' and 'Vertical Drop Slide', this is a brilliant place for restless little monkeys to gain confidence clambering, climbing and dropping.
Ages four and above
Read more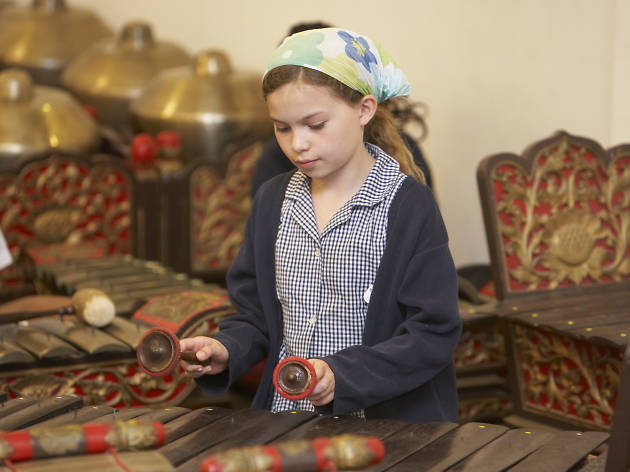 Learn to play the gamelan at the South Bank
In 1987 the Southbank Centre was donated a Javanese percussion orchestra of instruments (a gamelan). Ever since, the centre has run sessions where children and adults can learn how to play the instruments. These include Dragon Babies sessions suitable for preschoolers. Family Taster workshops are also hosted at regular times through the year.
Ages three and above
Here children can stretch, bound and challenge themselves in a safe setting. This supervised adventure playground in Islington includes football and basketball pitches, an amphitheatre and the chance to join arts and crafts sessions, and in the main park there's a water play feature for clean, wet fun on warmer days. There's a lunch club during school holidays for a small charge, but open access to the playground is free.
Ages six to 13

Free
Read more
This skate park under the Westway is a brilliant mix of street cool and great organisation (reassuring for parents who don't want to spend hours in A&E). Friendly and encouraging, they offer regular beginner sessions but also plenty of challenging thrills for experienced skaters, BMX bikers and professional scooters at an excellent purpose-built skatescape. Perfect for kids who want to mix it with older riders who've acquired serious smarts.
Read more
Carefully positioned in the landscape at the Thicket Road end of Crystal Palace Park, vast models of extinct animals and dinosaurs stand just as they did when they were first unveiled in 1854. The Victorians were obsessed with palaeontology, and the 'Dinosaur Court' was a huge hit. Fully restored in 2002, the models still fascinate young children (no climbing!) even though any modern-day, dino-obsessed preschooler can tell you that their quaint shapes are anatomically inaccurate.

All ages

Free
Read more
This free museum has a dedicated gallery (Mudlarks) for small children, but it's worth visiting the main galleries, for the huge model of the old London Bridge and a walk-through recreation of the docklands in Victorian times. Hear the noises, smell the scents and peer into the shadowy alleyways. Gaze through the window of the chandler's shop and see inside an old East End boozer.
Free
Read more
Show more
Things to do in London with kids
Things to do in London with kids
Discover more wonderful things to do
London is a treasure trove of brilliant days out and activities worth boasting about. Find great new ways to fill your free time with this list of our favourite things to do in the capital.
Read more