Notting Hill Carnival: what to bring and what to wear
From bumbags and anoraks to all the sparkliest things you own, here's a guide to everything you need for a fun day out at Notting Hill Carnival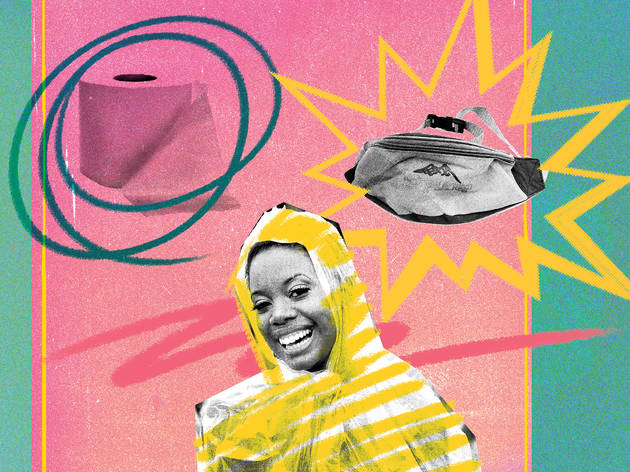 Buzzing for Europe's biggest street party to hit London? Start getting ready for Notting Hill Carnival by planning what you're going to take with you to the west London mega festival. Here's Time Out's tips for what to bring and what to wear. (Spoiler alert: practical shoes feature heavily.)
Missing Time Out magazine?
You can still read our latest issue from the comfort of your couch
Read online
Bumbag If God didn't want us to party, he wouldn't have invented the bumbag. It's the only way to do hands-free raving properly.
Trainers Wear anything other than super-easy flats and you'll regret it. Heels and flip-flops are huge nos.
Something sparkly Wearing outlandish gear means your mates will be able to find you after you wander off to buy
a gallon of rum punch in an actual pineapple.
Cycling shorts Comfy and bang on trend.
Cold hard cash Fill your pockets with pound coins for ease of purchasing tinnies from local entrepreneurs with trolleys full of Red Stripe.
A rain poncho Never bank on bank holiday weather. Last year's Carnival was downpour central (but still absolutely great, obvs).
Sunglasses If the sun is out, you'll be seeing a lot of it, as Carnival is a purely daytime event, with curfew at an exceedingly sensible 7pm on both days.
Wet wipes Got sticky fingers after eating a load of jerk chicken? Of course you do! Wet wipes are your friends here.
Loo roll Not the glammest thing to have in your bag but perfect for when all the toilet paper in west London runs out mid-afternoon.
Plan your day at Carnival now – here's all you need to know about what tube stations are open, family day, first aid and staying safe. Don't go to Carnival without reading our essential info guide.