Heads up! We're working hard to be accurate – but these are unusual times, so please always check before heading out.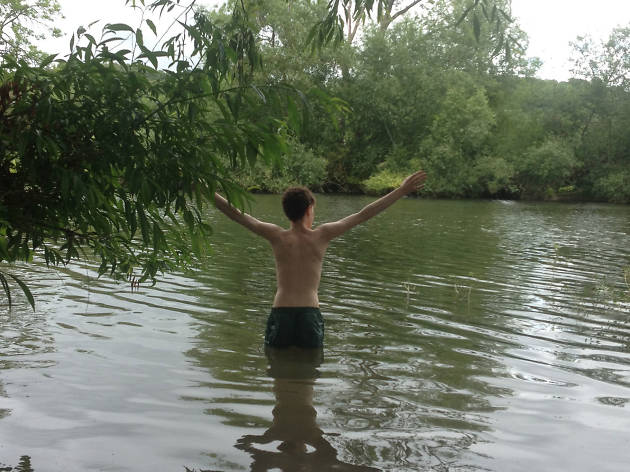 Five brilliant wild swimming spots in and around London
Sick of waiting in line at the lido? Pack your best bathing suit (or don't, if that's how you roll) and get your summer swim on in the untamed wilderness
Musical misery guts Morrissey, ensconced in an LA mansion, once sang nostalgically about London's 'slate-grey Victorian skies' – obviously not a man with much of experience of city life here at the height of summer. We can't imagine he ever sat under slate-grey office ceilings, gazing out across the skyline to the Thames Valley hills, wishing that he could be anywhere other than stuck in front of a computer screen as the tarmac melts on the streets outside.
No, in times such as these, it's better to heed the words of Joe Strummer, who at least had the good sense to 'live by the river'. It's easier to imagine Strummer hopping aboard a train at Paddington and heading out in search of a decent spot of wild swimming – surely one of the most refreshing antidotes to life in the urban sprawl. Once you've felt the addictive zing that swimming in cool, fresh, running water brings to your every living cell, hot summer days mean very little else.
So here's a quick list of wild-swimming spots, each accessible within 90 minutes of central London (although most of them much closer than that). Take care, now! We'll see you in the water.
Serpentine Lido, Hyde Park
As central as it gets, and a great place to begin life as a wild swimmer, as it's home to Britain's oldest swimming club (the Serpentine Swimming Club) and open daily from 6am to 9.30pm. Drop in before work to get those cells zinging, or after work to de-stress, always safe in the knowledge that there's someone brave looking out for you, never too far away.
The Ponds, Hampstead Heath
Similarly supervised, but equally as fresh, the Hampstead Heath Ponds were originally built in the 1770s as reservoirs. Generations of Londoners have since thronged in to cool off, and the pools even boasted a diving tower during the 1970s, such was the demand for wild swimming. There are three ponds, not including the lido, two being designated single-sex facilities. The mixed pond gets very busy on hot days, so it's best to go when the kids are still in school.
Walton-on-Thames, Sunbury
Unsinkable wild swimming enthusiast Kate Rew has described the Thames as, 'a swimming superhighway: deep, green and enormously wide.' There are plenty of spots where you can submerge yourself, washing away the city's ills, 'with no fear of ever grazing your knees', and a trip out to Walton-on-Thames will serve you well. Drop in at verdant Desborough Island – noted for its abundant swans and occasional skinny-dippers, or shady, easily accessible Rivermead Island – ideal for families looking to cool off. Keep an eye open for boats, however. The Thames may be a swimming superhighway, but the boat traffic can make it a bit like swimming on the M25.
Wey Navigation, Surrey
Head out into the Surrey Hills, an area of outstanding natural beauty about an hour from Waterloo, you'll find Shalford Station. From there, you can follow the River Tillingbourne north until you reach the Wey Navigation, where you'll find one of the most peaceful, quaint spots of wild swimming in the south – not a bit of London craziness about it. Look out for the tiny sandy beaches inviting you down into the water, or head for the bridge in Shalford Park – a popular (if prohibited) jumping spot for local teenagers.
Henley-on-Thames to Little Marlow
If you've got a car and you fancy getting out of town for a day, you could do a lot worse than heading to Henley. Home of the annual Bridge to Bridge endurance swim, this picturesque Oxfordshire Town, where life in and out of the water seems to be part of the deal, is just over an hour out of Paddington – although you'd be better off in a car to make the most of the river.
Beyond the town itself, the Flower Pot pub near the Hurley Lock is a popular spot for day-trippers (the pub being a big part of the attraction once the swimming is over), and there's a beautiful turn in the river at the end of Ferry Lane, heading out of nearby Medmenham. Further East, about halfway between Marlow Station and Cock Marsh, you'll find a beachy patch of the Thames ideal for more family-orientated swims. Again, beware of river traffic, even if it's just the local rowing club.
Note: most river swimming comes with its dangers. It's best not to try if you're not a strong swimmer, if the river has been swelled by recent rain, if you're under the influence, or if the area is known for strong undercurrents or other natural occurrences. For a comprehensive guide to wild swimming in London and around the UK, including information on potential hazards, head to wildswim.com.
Fancy a less wild swim?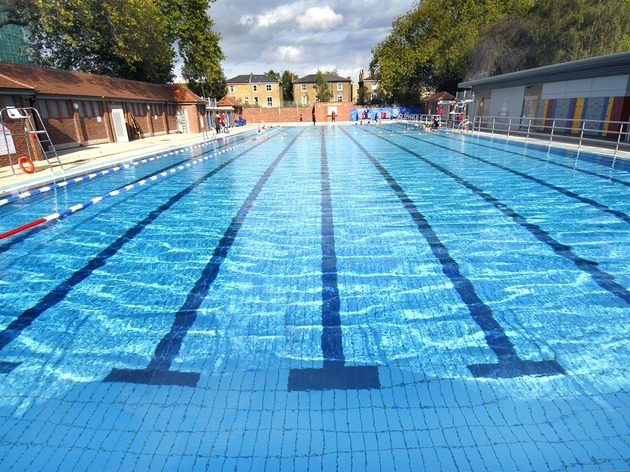 Whether you're looking to swim yourself fit or simply escape the summer heat, nothing beats a refreshing dip in the open air