Heads up! We're working hard to be accurate – but these are unusual times, so please always check before heading out.
Where to watch the Fifa World Cup 2018 in London
Never miss a game with our guide to the best indoor and outdoor World Cup 2018 screenings across the city
After four long years of waiting, the World Cup is finally here. The month-long carnival of heroic performances, career-defining cock-ups, and TV camera cutaways to fans on the edge of euphoria (or despair – who doesn't remember the crying old man from Brazil?) has rolled back into town and will most likely be making up a large proportion of your daily conversations between June 14-July 15.
England's chances at the Russia 2018 edition of the competition can be best summed up with a simple shrug of the shoulders, the team's fans now conditioned into believing that, if they do a bit of reverse psychology and write them off from the start, the Three Lions might actually surprise everyone and win the bloody thing. But we all know the plan will probably go out the window as soon as the first ball is kicked.
But there are more than the England fixtures to get excited about. In the first week alone you've got the footballing giants of Spain and Portugal facing off in an all-Iberian ding-dong, while the opening fixture is the one we've all been waiting for, er... Russia v Saudi Arabia.
There is a list of giant screens and parties as long as David Seaman's ponytail all vying for your attendance during this summer's biggest games. Fortunately, we've whittled it down to the best, so all you have to do is turn up, quickly google the offside rule and watch the action unfold.
Recommended: The best football pubs in London
World Cup outdoor screenings
World Cup indoor screenings
The team behind the formerly Hackney-based dive bar Bad Sports are taking over London Edition's basement space for a World Cup bonanza. They'll be screening some of the biggest games and hosting half-time quizzes with a side of tasty tacos and margaritas slushies.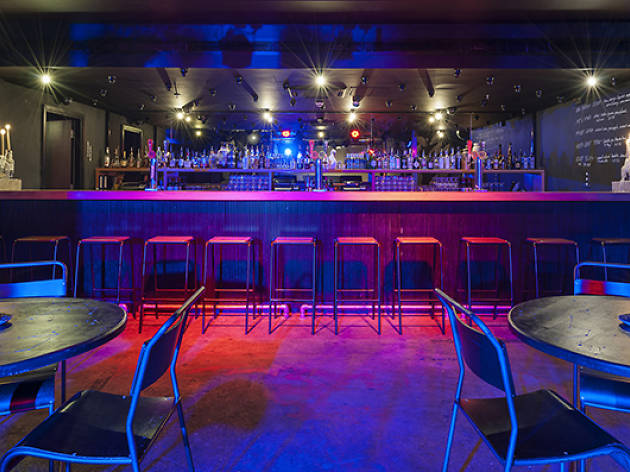 Have a strong opinion on teams that employ a false nine? The independent football magazine, Pickles, has a World Cup party that might just be for you. One for the discerning fan, the publication is taking over Ace Hotel's basement bar, Miranda's, for England's final group game against Belgium. Get your ticket here.
Support your local football team
London is at risk of losing its lower-league football clubs.