Football pubs in London
Don't miss a kick – find out which pubs and bars in London are showing live football, including Premier League matches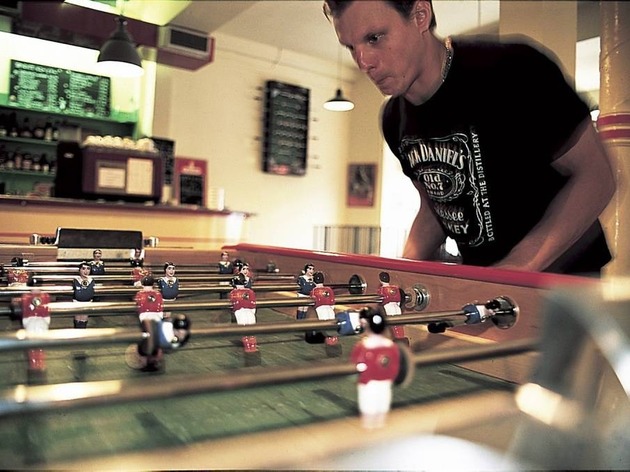 Looking for some of the
best pubs
to watch the football in London? Perhaps an establishment that serves up quality
craft beer
alongside its live sport? Take a look through our recommended pubs and bars to watch football. Do you agree with the choices? Use the comments box below or
tweet
your suggestions.
Central London football pubs
Catch up on the Bundesliga at Bavarian Beerhouse. The lively German-themed bar also screens big games from the Champions League. Make a booking and make some room for extra sausage.
Read more
A great pub to watch all the big terrestrial channel games in the centre of the West End. The staff are friendly and the atmosphere is great, but tables are limited, so get there early if you don't want to spend your afternoon propping up the bar.
Read more
A popular Shepherd Neame pub close to Euston and King's Cross. Expect a good range of beers, pub grub and plenty of sport on the big screen.
Read more
The Round House
This is a popular pub that overflows with customers on warm days – some watch the screens through the windows.
North London football pubs
This local Irish pub (local if you're in Finsbury Park, that is) screens many of the top Premiership and Championship games in their barn-like back room with picnic table seating. Word of warning though, rugby can take precedence over the round ball.
Read more
Venue says: "Visit our award-winning pub."
This welcoming spot near Kentish Town has two 7-ft HD screen across two floors, as well as smaller TVs. During big tournaments, they're take advance booking for keen footie fans in east London, or put on private parties in the boardroom avec beer keg. That'll shorten that queue at the bar come half-time.
Read more
This brilliant backstreet boozer shows all manner of sporting action throughout the year. Make it your go-to local.
Read more
A huge pub close to Finsbury Park, this place is very popular when it comes to showing the football. They've got a bunch of big screens and an HD projector, so wherever you find yourself you should be able to see the action.
Read more
This is a normally a quiet neighbourhood pub, but its location, a stone's throw from the Emirates Stadium, means football is popular. Arsenal games take priority, but otherwise the owners try to screen as many of the top fixtures as possible.
Read more
A mix of vintage furniture, dimmed lighting and candles make for a cosy atmosphere at this Stoke Newington boozer, but on match days it's all about crowding round to watch the footie screened from a projector. You mostly find fans rooting for Spurs, unless it's a European championship, in which case Italian teams get the loudest cheers from bar staff.
Read more
A family-run pub in Camden with food, booze, special events and all the big football matches, played out on a number of large screens.
Read more
Owned by the same team as The Star of Bethnal Green and the newer Star at Hackney Downs, this tucked away pub north of King's Cross has a real buzz about it and you can hire an area for match day ease.
Read more
East London football pubs
Sister to Clerkenwell's Café Kick, good-natured Bar Kick is more expansive than its sibling. Mostly famous for their table football, basement events, lovingly cooked food and cocktails, they are also the place to watch live football as they now show every 3D match available in their basement.
Read more
This beautiful three-storey pub overlooking St Katharine Docks serves a fantastic pizza menu that you can enjoy while watching the day's top Premier League matches on one of five screens.
Book now
Read more
The George has a lively, upbeat vibe and is one of only a few pubs near Liverpool Street station to show live games. The warm, welcoming atmosphere is only topped by the quality of the food and drink menus.
Book now
Read more
In summer, you can catch a tan and catch the action on this London Fields pub's outdoor area where screens show all the biggest and best sporting events. Luckily, it's fully heated and covered in winter too, ideal for when the Premier League gets under way. Fixtures are aired indoors on LED screens though, should you be feeling the chill regardless.
Read more
The Water Poet goes above and beyond other pubs with its nine screens, including a cinema. All Premier League matches will be shown at the Bishopsgate boozer.
Book now
Read more
It might be a pub dedicated to all things West Bromwich Albion, but this brilliant east London pub finds time for other teams, too. There's even a screen outside.
Read more
This Homerton pub is from the company that also runs The Star of Bethnal Green. Football plays more than a small part, with all the big matches screened live. You can book an area for all your Premier League viewing needs.
Read more
The popular corner boozer near Victoria Park pulls down its big screen for the footie. Come by for pizzas, pints and a roaring crowd of east London dwellers getting behind..well, whoever they're behind.
Read more
East London community pub with beers and ales from Brodie's and sport on the screen. Find the big footie fixtures as well as cricketing action from time to time and a dartsboard for fun and games IRL.
Read more
South London football pubs
This Clapham neighbourhood pub is great for sports-lovers. Games are shown on either their 46-inch HD plasma screen in the bar, or their magnificent 88-inch projector screen in the dining room. It's advisable to book if you want a seat near the screen.
Read more
This East Dulwich pub has a strong sports focus, so expect the full roster of fixtures to be screened here throughout the Premier League championship. The sourdough pizza menu is worth a look at half-time, too.
Book now
Read more
The Black Horse is commited to screening European football matches from a projector. Pair the sporting action with a pizza from the pub's own 'Sourdough Saloon'.
Read more
A great Lower Marsh pub with decent food, a good selection of well-kept beers and loads of football on a few screens dotted around. Grab the Chesterfield if you can.
Read more
The atmosphere is surprisingly electric in this pub down the Brixton back roads, where they'll be showing all Premier League fixtures. If your team look like a flop on the pitch, take consolation on the crazy golf course in the garden outside.
Read more
This venerable old pub, dating from the early nineteenth century, is now a Young's pub serving a selection of their beers and a menu featuring standard pub fare. It's got a great location on Wimbledon Common, and proves popular with footie fans catching the weekend games.
Read more
A traditional old boozer close to London Bridge. Expect real ale and plenty of big-screen football action - they show most of the important matches.
Read more
A Tooley Street pub located in a gorgeous Grade II listed building. It's a great place to watch the football, with a number of screens showing all the big games.
Read more
Show more
West London football pubs
More London pubs
The Time Out pick of the best bars and pubs pulling pints, concocting cocktails and pouring pinot.
Read more
Sponsored listing
Searcys 1847
Champagne and meatballs are the order of the day at Searcys St Paul's bar. Located on the first floor of One New Change, this Searcys has a sociable vibe with '20s-styled raised seating surrounding the central bar, which is banked by plump leather benches. As well as the meatballs, you can get salads, cheese and charcuterie boards, smoked salmon with truffle oil and a few sweet treats. But the main focus here is on the Champers, something that Searcys specialise in; order it by the glass, the bottle or even by the magnum should the mood take you. Classic and signature cocktails come as an alternative to the bubbly, as well as a good selection of whisky, beers and ciders.
Venue says: "Thirsty Thursdays: join us for a Champagne tasting every Thursday at 4.30pm and 5.30pm. Taste four different Champagnes for only £10."