Football pubs in London
Don't miss a kick – find out which pubs and bars in London are showing live football, including World Cup 2018 matches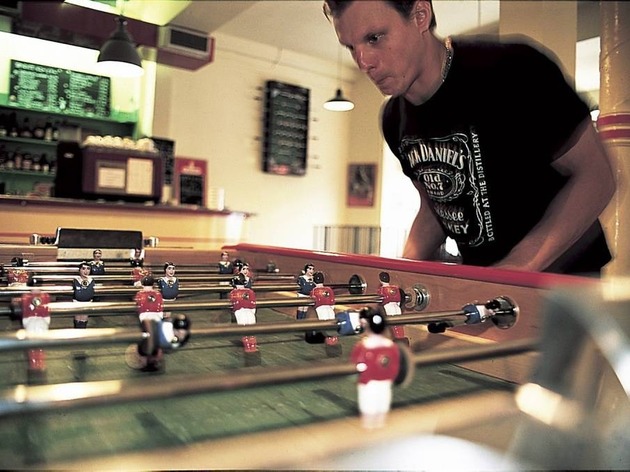 Looking for some of the
best pubs
to watch the football in London? Perhaps an establishment that serves up quality
craft beer
alongside its live sport? Take a look through our recommended pubs and bars to watch football. Do you agree with the choices? Use the comments box below or
tweet
your suggestions.
Central London football pubs
Catch up on the Bundesliga at Bavarian Beerhouse. The lively German-themed bar also screens big games from the Champions League. Make a booking and make some room for extra sausage.
Buy tickets
Read more
Not only can you watch your team play in this Clerkenwell bar-café, you can also recreate your favourite players' moves on one of the three football tables which play a key role here. They have regular football table tournaments, so have a go if you think you're good enough.
Buy tickets
Read more
A great pub to watch all the big terrestrial channel games in the centre of the West End. The staff are friendly and the atmosphere is great, but tables are limited, so get there early if you don't want to spend your afternoon propping up the bar.
Read more
A popular Shepherd Neame pub close to Euston and King's Cross. Expect a good range of beers, pub grub and plenty of sport on the big screen.
Read more
This is a popular pub that overflows with customers on warm days – some watch the screens through the windows.
Read more
North London football pubs
This local Irish pub (local if you're in Finsbury Park, that is) screens many of the top Premiership and Championship games in their barn-like back room with picnic table seating. Word of warning though, rugby can take precedence over the round ball.
Read more
This welcoming spot near Kentish Town has two 7-ft HD screen across two floors, as well as smaller TVs. During big tournaments, they're take advance booking for keen footie fans in east London, or put on private parties in the boardroom avec beer keg. That'll shorten that queue at the bar come half-time.
Book now
Read more
This brilliant backstreet boozer shows all manner of sporting action throughout the year across both Sky Sports and BT Sports. Make it your go-to local.
Read more
A huge pub close to Finsbury Park, this place is very popular when it comes to showing the football. They've got a bunch of big screens and an HD projector, so wherever you find yourself you should be able to see the action.
Read more
This is a normally a quiet neighbourhood pub, but its location, a stone's throw from the Emirates Stadium, means football is popular. Arsenal games take priority, but otherwise the owners try to screen as many of the top fixtures as possible.
Read more
A family-run pub in Camden with food, booze, special events and all the big football matches, played out on a number of large screens.
Read more
Owned by the same team as The Star of Bethnal Green and the newer Star at Hackney Downs, this tucked away pub north of King's Cross has a real buzz about it and you can hire an area for match day ease.
Buy tickets
Read more
East London football pubs
South London football pubs
This Clapham neighbourhood pub is great for sports-lovers. Games are shown on either their 46-inch HD plasma screen in the bar, or their magnificent 88-inch projector screen in the dining room. It's advisable to book if you want a seat near the screen.
Read more
This East Dulwich pub has a strong sports focus, so expect the full roster of fixtures to be screened here throughout the Premier League championship. The sourdough pizza menu is worth a look at half-time, too.
Book now
Read more
The Black Horse is commited to screening European football matches from a projector. Pair the sporting action with a pizza from the pub's own 'Sourdough Saloon'.
Read more
The atmosphere is surprisingly electric in this pub down the Brixton back roads, where they'll be showing all Premier League fixtures. If your team look like a flop on the pitch, take consolation on the crazy golf course in the garden outside.
Read more
This venerable old pub, dating from the early nineteenth century, is now a Young's pub serving a selection of their beers and a menu featuring standard pub fare. It's got a great location on Wimbledon Common, and proves popular with footie fans catching the weekend games.
Buy tickets
Read more
A traditional old boozer close to London Bridge. Expect real ale and plenty of big-screen football action - they show most of the important matches.
Read more
A Tooley Street pub located in a gorgeous Grade II listed building. It's a great place to watch the football, with a number of screens showing all the big games.
Read more
West London football pubs
More London pubs
The Time Out pick of the best bars and pubs pulling pints, concocting cocktails and pouring pinot.
Read more