13 wild swimming spots and lidos near London
Get out of the city and into some of the amazing pools, lidos and ponds near London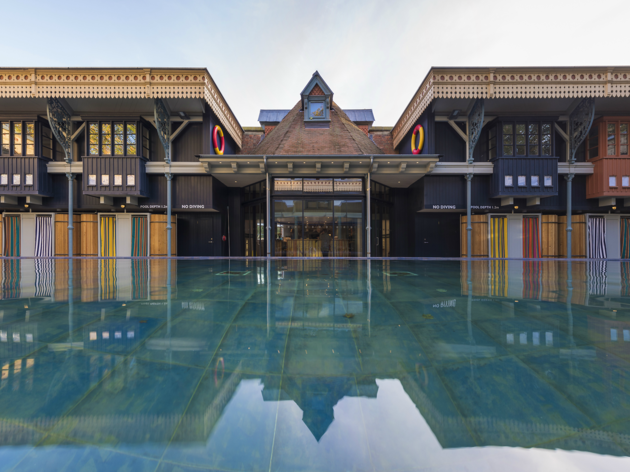 When you've butterflied your way through all of London's lovely outdoor pools and lidos, it'll be time to venture out of the city for a day trip to get your fix of alfresco swimming. If the prospect of trekking to the beach, only to fight over sunny spots and queue for cones of pricey ice cream doesn't fill you with enthusiasm, why not try one of these lidos or wild swimming spots on the outskirts of London instead?
Whether you're after a wild swimming adventure or a quiet place to cool off after a long week of work, we've gathered a list of some amazing swimming spots near London, where you can make a getaway without going too far away. Better dig out those speedos…
RECOMMENDED: The best day trips from London
The best lidos and swimming spots near London
1
Andre Pattenden
The Thames usually conjures up images of murky, dirty water – the last place we'd like to take a dip. But cast those nightmares aside, because this restored Edwardian bath is as lush as they come, and much clearer than its namesake. Slip into the gently heated open-air pool at Thames Lido and soak up your surroundings: trees wave overhead, beach-hut inspired curtains hang lazily across the entrances to the changing areas and the glass walls scatter light across rippling waters. After you've done your lengths, head to the hot tub and sauna for some post-workout relaxation or take a seat at the spacious restaurant to refuel.

Getting there: by train in 30 minutes from Paddington to Reading.
2
Saltdean Lido calls itself the 'seventh wonder of the English seaside'. This soon-to-be-renovated art-deco lido gets top marks for potential. It's awaiting some pretty major work to the main building, but don't let that stop you from showcasing your backstroke in the 43-metre outdoor pool. To really let loose, pop by an aquatic nighttime rendezvous, aka one of the lido's live DJ'ed events, or if you're more of a doggy paddle fan, join your pooch in a doggy swim session.

Getting there: by train in 1 hour from London Victoria to Brighton, then 25 minutes by 27 bus.
3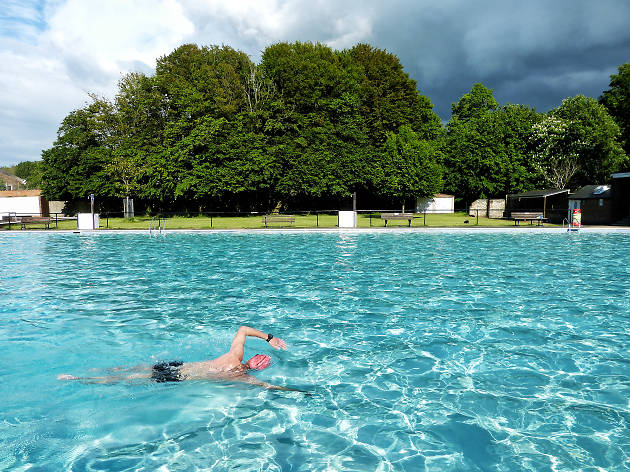 Rob Read
This 46m, award-winning lido celebrated its 150th birthday in 2011, making it the oldest documented freshwater pool in the UK. If that's not reason enough for a visit, there's also an impressively vast lawn where you can roll out your comfiest picnic blanket and tuck into some much-needed snacks post-splash. All that food got you feeling sleepy? Slap on the factor 50 and rest your eyes on the sun terrace.

Getting there: by train in 1 hour from London Victoria to Lewes, then a 10-minute walk.

4
Sandford Parks Lido, Cheltenham
This Cheltenham pool is proof you don't have to trek to the coast to beat the summer heat. Head to the enormous 50-metre pool at Sandford Parks and you'll be rewarded with cool waters, wide lanes and lush landscaped gardens. To make the most of the space, visit in the early morning, when it's less a rubber ring destination and more a tranquil oasis (where you can drift around lazily, pretending it's your own private pool). If you stay all day, keep an eye out for the evening outdoor film screenings or theatre performances that take place at Sandford Parks throughout the year.

Getting there: by train in 2 hours 10 minutes from Paddington to Cheltenham Spa and then 10 minutes by bus.

Aldershot Lido, Aldershot
A trip to lively Aldershot Lido is guaranteed to have you reminiscing about the package holidays of your childhood. Why? You'll find dozens of bouncy babies in rubber rings and eight-year-olds splashing their parents silly in the outdoor pool. There are water fountains, a sandpit and a traditional kiosk where you can pick up a classic summer lunch (ketchup-soaked chips and a strawberry Cornetto.) The pièce de résistance? Colourful, twisty flumes that are more fun to slide down than adult-you might want to admit.
Getting there: by train in 1 hour from London Waterloo to Aldershot, then 10 minutes by bus.

6
This family-friendly seafront complex is home to a couple of outdoor pools, as well as an 18-hole crazy golf course, miniature railway and outdoor courts for tennis, netball, football and touch rugby. While portions of the leisure park are a little run down, the actual lido is pretty pleasant thanks to the efforts of the Friends of the Strand Pool organisation. Especially cool are the colourful bridges, lazy river, pink elephant slides, and the entry prices, which start at £3. It's an ace place to get nostalgic and spend the last of your pocket money on a 99 ice cream. And then complain about the fact that it doesn't cost 99p anymore.

Getting there: by train 45 minutes from St Pancras International to Gillingham, then a 20 minute walk.

7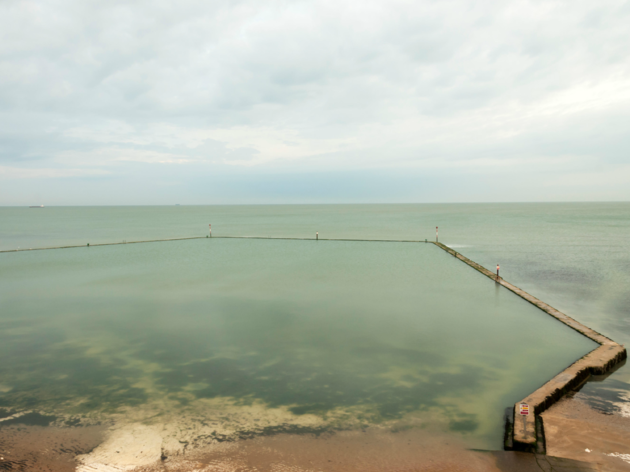 Alamy
Walpole Bay Tidal Pool, Margate
Margate's unique tidal pool is usually reserved for hardcore wild swimmers who brave the chilly waters that flow in from the North Sea. But when the sun finally makes an appearance, more bold members of the public have also been known to take the plunge. Jumping into this enclosed part of Walpole Bay is an fab activity if you want to embrace your inner Michael Phelps without drifting too far from the shore. Bear in mind, though, that whatever the weather, the tidal pool is best for strong swimmers since the deepest point slopes down to 6 ft 6.

Getting there: by train in 1 hour 45 minutes from St Pancras to Margate, then a 15 minute walk.

8
Divers Cove Reservoir, Godstone
Looking for a wild spot for some open water swimming? You won't find one much better than Divers Cove, an open-air reservoir in the untamed landscape of a nature reserve. This one's for serious, competent swimmers, and other activities, like triathlon training and scuba diving are also on offer. The water's guaranteed to be chilly, but, luckily, the changing rooms are heated. There's also a cafe on site where you can chow down on some post-exercise grub: burgers, cakes and tea. Winner.

Getting there: by train in 40 minutes from London Bridge to Caterham, then 10 minutes by bus.

9
Frensham Great Pond, Frensham
Frensham Pond is one of the countryside's best kept secrets. Amble on over from the car park and you'll be greeted by wild and undulating flora, lush greenery and sailing boats which drift around as though Monday morning alarms don't exist. The waters here are clear and fairly shallow, so paddling in the buoyed off swimming areas is a must for even the most timid swimmers, who can just go ankle-deep. When you're all out of paddle power, retire to the beaches and melt like a Calippo left out in the sun. Just remember to be considerate if you do visit. The heathland surrounding the pretty pond is extremely delicate and home to some critically endangered wildlife so visitors should be careful and stick to designated areas and walkways.

Getting there: by train in 1 hour from London Waterloo to Farnham, then 10 minutes by bus.

10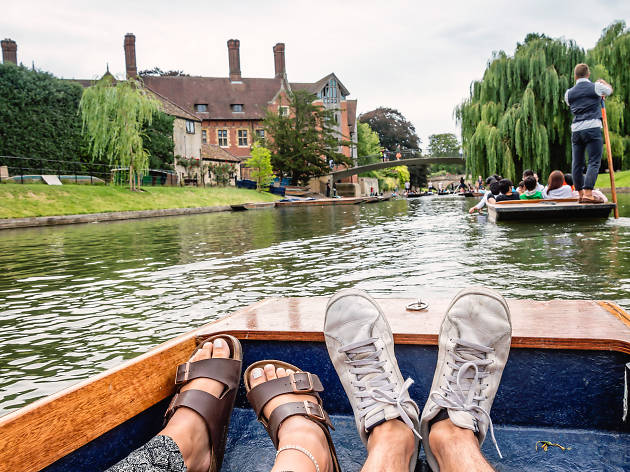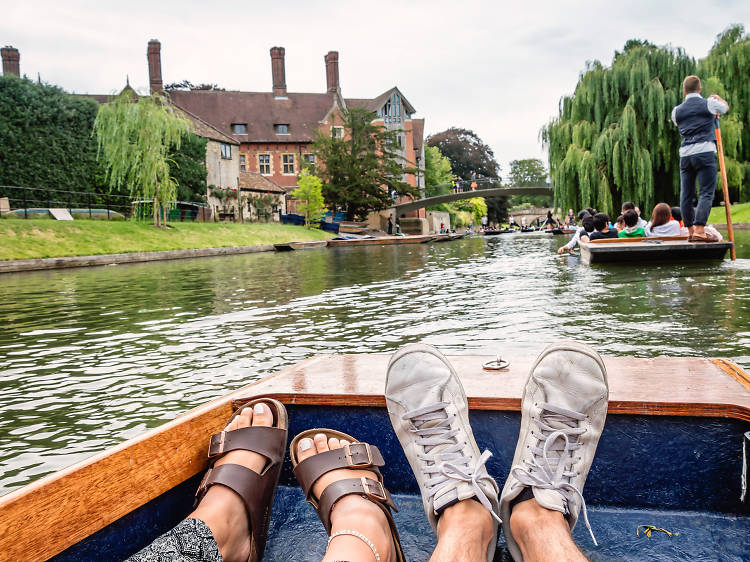 Between Byron's Pool and King's Mill Weir, there's a roughly 2-mile-long, watery stretch where experienced wild swimmers can get in touch with the elements. Lower yourself into the Cam's upper reaches and float through a dreamscape of vast meadows, low-hanging willow trees and smooth, arched bridges. If you're more of the adventurous type, then join the traditional New Year's Day swim in the Cam, where a bunch of intrepid aquanauts get splashy in frosty waters. Some say the experience is invigorating. Others say it's just very, very cold.

Getting there: by train in 50 minutes from Kings Cross to Cambridge, then 20 minutes by bus.

11
River Thames, Pangbourne Meadows
Pangbourne Meadows is an effortlessly romantic swimming spot for strong swimmers, with scenic bridges, velvety waters and vast grassy verges. To get in and out, head east of the weir where there are boat ramps, and then bathe with uninterrupted views of chalk beaches and the Chiltern Hills. When you're done backstroking, saunter along the Thames path and enjoy visions of the vista that inspired Kenneth Grahame (the guy who wrote 'Wind in the Willows'). Just make sure you keep an eye out for traffic if you're looking out from Whitchurch bridge. Halcyon days, indeed.

Getting there: by train in 1 hour from Paddington to Pangbourne, then a 5-minute walk.

12
Harry Box
Faversham Pools, Faversham
A whopping 215,000 visitors came for a dip at Faversham Pools last year, and when the sun's beating down over the water, it's easy to see why. The 33-metre pool is heated to a dreamy 25 degrees, making that cautiously-lowering-yourself-in process a bit less painful. Add to that a kids' pool, wild-water rapids, water fountains, a kiosk and picnic space and you've got yourself a fab family day out. Diving aficionados are also catered for, thanks to the 1m and 3m springboards and the 5m platform.

Getting there: by train in 1 hour 10 minutes from St Pancras to Faversham, then a 10-minute walk.

13
River Medway, Ensfield Bridge, Tonbridge
Forget overly chlorinated pools. With half a mile of easily accessible waters, this lesser-known spot makes for a much more natural day of sun-basking. The river is nestled within some steep overgrown riverbanks and muddy floral borders by the Ensfield Bridge, and once you're in, you can float around safe in the knowledge that you avoided the people traffic at your local lido. For those who prefer drier exercise, go for walk along one of the many the Eden Valley trails and use the river for a refreshing, impromptu cool-off – just keep an eye out for resident swans.

Getting there: by train in 30 minutes from London Bridge to Tonbridge, then a 5-minute train from Tonbridge to Leigh and a 15-minute walk.

NOTE: Wild swimming can be dangerous. It's best not to try if you're not a strong, experienced swimmer. Please check for potential hazards before you swim.
Snap up exclusive discounts in London
Time Out's handpicked deals — hurry, they won't be around for long...