Heads up! We're working hard to be accurate – but these are unusual times, so please always check before heading out.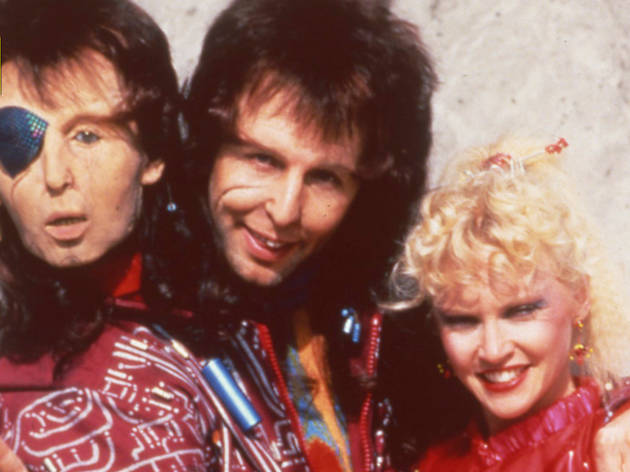 1/10
'The Hitchhiker's Guide to the Galaxy''When I helped Douglas write "Hitchhiker", I was writing a science fiction novel. We were best friends, and he got stuck – he said, if you help me out, we'll do the next series together. 'I gave him my manuscript to mine any ideas he wanted, although in those days, I didn't really have anything to say. You don't at 24. You can be clever, articulate and have good jokes, but you don't have any sense of wisdom of experience.' The working process'When you weren't in the room, he didn't do anything. He was in the bath. Or, as [collaborator] John Canter says, preparing to get in the bath or just mopping down after one. So he was trying to make it as a freelancer and I was a young radio producer – when I got home after work, he'd leap out of the bath, this porky Neptune, and want to start writing a movie or a sitcom. 'He'd spend most of a year on getting a commission for a book and writing the first chapter over and over again, until the publisher turned up with a shotgun and locked him in a hotel – which happened once – or he'd run away to Singapore and write most of the novel on the plane. It's a lonely business being a writer, particularly if you hate writing like Douglas did. A great deal of the great comedies were written in twos: Palin and Jones, Galton and Simpson, Cleese and Chapman.'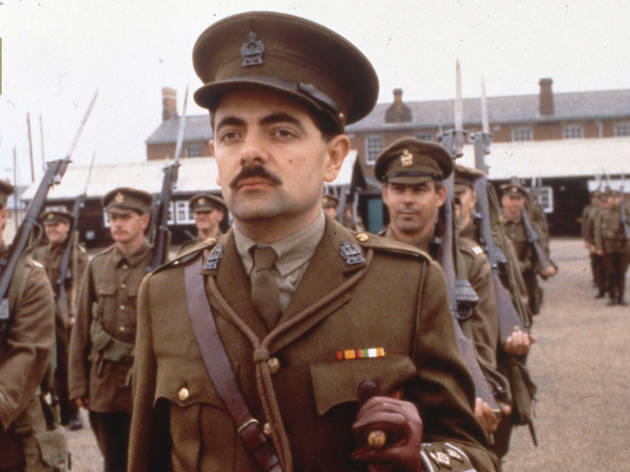 2/10
The first series'The first series had bad reviews and bad ratings. We were very proud of it and were a bit shocked by the rage against us. Perhaps we were given too much power. We probably could have used a bit of editorial help, but we were very cocky. We'd probably have refused it. We had to learn the hard way.' Enter Ben Elton'It was a masterstroke of Richard Curtis to drag Ben in to help. Richard and Ben would beat each other up writing their stuff, I'd smooth out the joins, then in rehearsal the actors would tweak it and workshop it.' The gathering of the talents'We made a "Blackadder" every two years, so in the year we weren't doing them, everyone else would go off and do other things. Richard started "Comic Relief, I did "Spitting Image", Fry and Laurie did their show, Ben went off and wrote novels, Tony Robinson did "Time Team". Then, when we came back for the new series, the egos were enormous. We'd all strut around going, "Do you know who I am?". We all had to give up considerable territory, but we usually remembered how much more fun teamwork was.'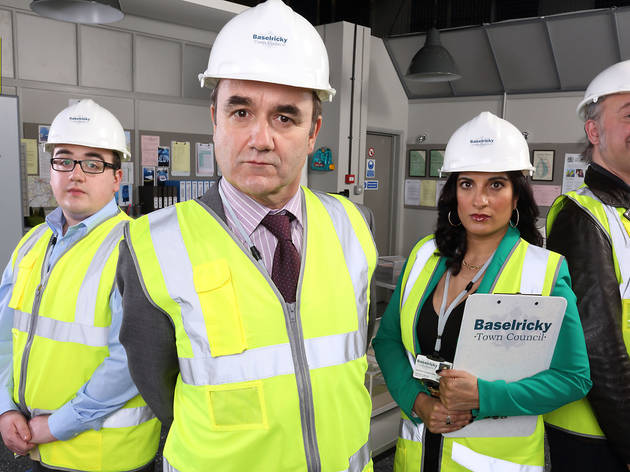 3/10
Ben Elton and 'The Wright Way''Think of poor Ben with "The Wright Way" – that show needed an editor, someone to say to Ben, we can do better than this. It's a real shame because we don't want to lose him in terms of his ability. '"The Wright Way" wasn't given a chance by the BBC, let alone the viewers. If they think it's so good, why not give it a second series? There's no courage – nobody stands by things. "Fawlty Towers" got terrible ratings, but they gave it another go. "Last of the Summer Wine" took years to get any ratings, but someone in the BBC stood by it.' Online commentators'There's a personal pain, but if you see an opinion you don't agree with, it just makes you angry and more strongly in favour of what you already think. Those online comments – you see these awful people and their pseudonyms saying the most dreadful things about everyone. Do I belong to the same species as these people?'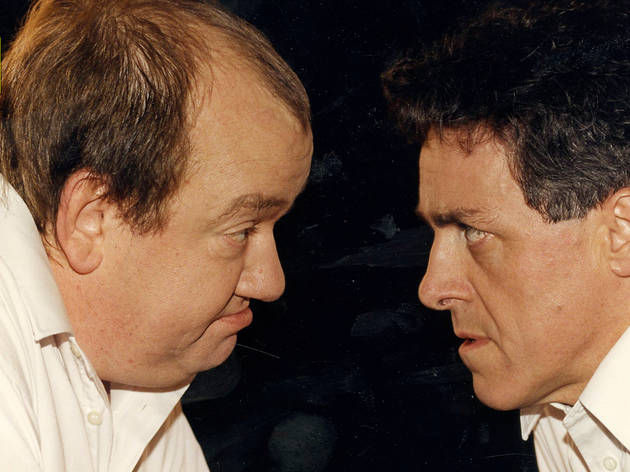 4/10
Mel the man'I loved Mel. He was a very good friend through the 1980s. I have not a bad word to say about him. It's not just because Douglas [Adams] is dead that I can have this balanced view of him – he was a genius, one of the funniest people I know and a very good friend, but also a very difficult and unreliable person. 'Mel was the best actor and most reliable person to work with. Loyal, generous to work with, always learnt his lines, never late. And he was a fantastic guy to have fun with – long lunch, a drink, go racing…' Mel the innovator'Mel invented a new way of doing comedy in "Not the Nine O' Clock News" – deadpan, urban, dark and realistic, so you wouldn't know he was being funny if you turned the sound down. He would take the most ludicrous lines and make them completely believable. 'Then he and Griff [Rhys Jones] started "Talkback", which was responsible for two thirds of modern comedy: Ali G, Ricky Gervais, "Smack the Pony", Chris Morris, Armando Iannucci, Graham Linehan and Arthur Matthews. And Stephen Poliakoff's dramas. And there was the money engine of cookery and property shows that enabled them to pay for the other stuff. Mel did it all without making enemies.'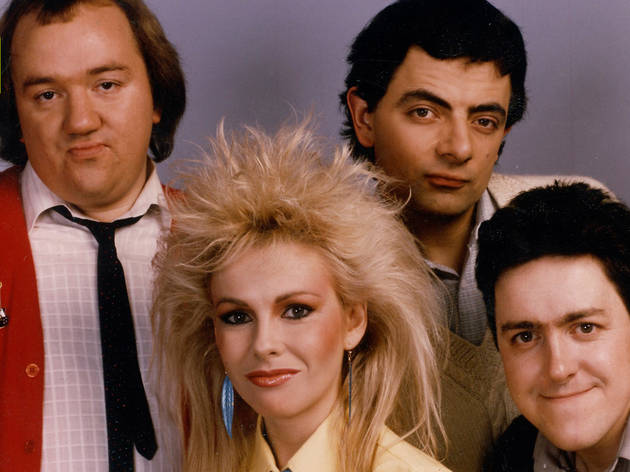 5/10
'Not the Nine O'Clock News''"Not The Nine O'Clock News" wasn't that slow a starter – it won an Emmy, and that episode got 17.5m viewers on BBC1, which really propelled the BBC to give it another series. But It didn't really gel with Chris Langham, for some reason. Chris's very dark way of doing things was always going to keep it cult. I was really pushed by the BBC to get rid of him and didn't do it very well. 'But the second series went off like a rocket – the casting was right. Griff fitted perfectly, and with him, Mel, Pamela [Stephenson] and Rowan [Atkinson], you could cast any sketch. Watching it now, I don't know how we did it. There's nothing like that, like [legendary sketch character] Gerald the Gorilla, now. It's got all these ideas that bend off in all these interesting directions. Very smart and very silly.' Rowan Atkinson goes it alone'After the first episode of "NTNOCN" was recorded, Mel and Rowan assumed they'd be coming to the edit. Um, no, we'll do that. There was no argument. They weren't the national treasures they later became, although Rowan was obviously going to be huge. But I wasn't going to take any shit from actors about that. How can you make a judgment about yourself? 'A few years later, Rowan thought it would be a good idea to do a video. The BBC gave him an edit suite and he sat there for 3 months and produced a 90-minute video. I watched it, and asked him why Pamela didn't seem to be in it. "I didn't think she was very funny," he said. So there you go. It's my job as producer to be outside it. I don't have any ego about it, I work for the programme.'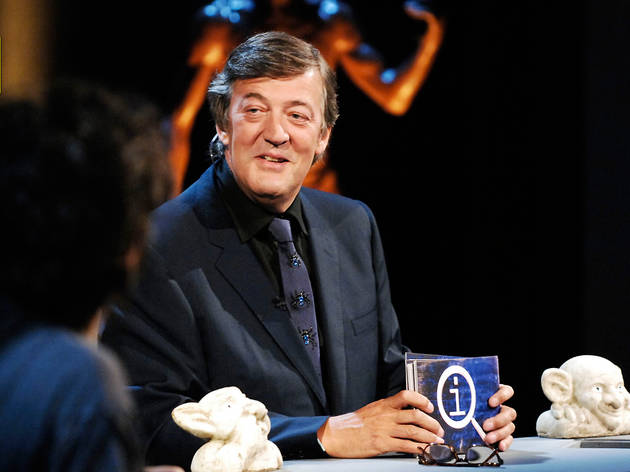 6/10
The idea'I've begun to think I've only ever had one idea: taking things which are apparently a bit dull and ordinary, and trying to make them interesting and funny. "The News Quiz" is news made interesting and funny, "Spitting Image" is politics, "Blackadder" is history, "QI" is everything, in effect. '[Nonsense dictionary] "The Meaning of Liff" and [new spin-off] "Afterliff" mirror that – they're both about attention to detail. All these things we don't have words for, that suddenly become real when someone provides a word for it.' 'QI''What does it mean to say a potato has two more chromosomes than a person? It's a very funny idea, but what's it about? We don't know anything about anything, and "QI" is continually poking that. It's not about being clever or smug, it's about not knowing things. Anybody who's worked at QI for three weeks becomes very unsure about everything. The amount of what we actually know is incredibly small.' Nobody knows anything'I'm not a formally religious person, but the militant atheism wing does irritate me. That's like saying you have a better idea of how the universe came to be. Well, let's hear it then! It's a closed off view of the world. If the best we can do in terms of a philosophy of life is militant Islam, fundamentalist Christianity or ranty atheism, thats very sad. 'A healthy society ought to have a healthy philosophy. We need a real shift and it starts with education. If anybody would give us the money or the time, there ought to be a QI school to teach quantum physics, philosophy, doubt and curiosity from the age of five. Somebody once said, all you need to do to educate a child is teach them to read. Everything else is brainwashing.'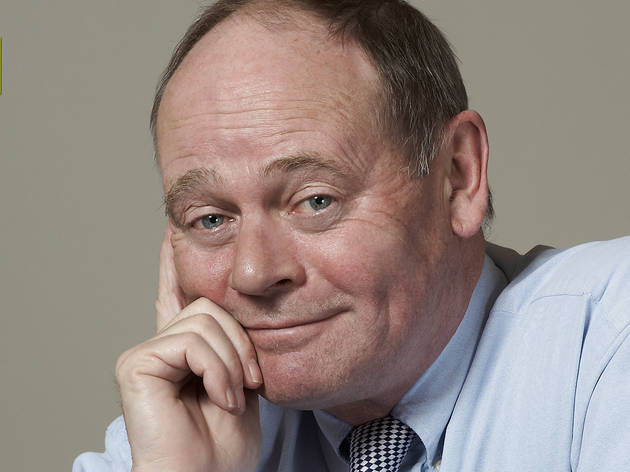 7/10
The origins of 'Liff of QI''Last year I did 15 minutes at a charity thing at the Hammersmith Apollo for what would have been Douglas's sixtieth birthday. We started a competition for new entries for "Meaning of Liff", and I read out the best ones. It was fantastic. 'I came off thinking I'd been in the wrong job all this time! They weren't my jokes, but I do know how to deliver a funny line. So a producer asked if I wanted to come to the Edinburgh Festival. So that became "Liff of QI" [which comes to London on October 5].' Stage fright'I'm a gibbering wreck. You're looking for the key you can hang all the ideas off and I've think I've got it now. I need to know what not to say, and how to read the autocue and look like I've made up the witty remark. 'Edinburgh is the first time since 1976 [when he performed at the Fringe] that I've done the same thing every afternoon for a month. When I was sitting down to write the show, I couldn't because I had to do interviews for Mel after he died. I thought, what would he have done? He would have just got on with it. Mel was incredibly courageous and never said no to anything. Life is precious, so this one's for him.'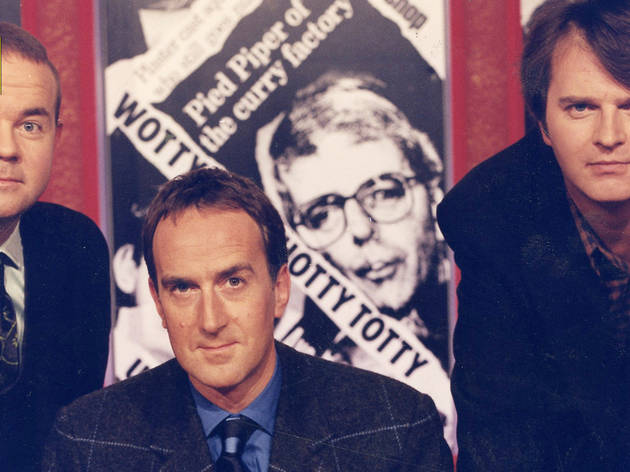 8/10
Hosting the show'If you've been a producer since 22, you get used to having final cut. When I presented the pilot of "HIGNFY", they made me wear a suit and pair of shoes I would never have worn. And, just as I went in to make-up, one of the girls told me I was losing my hair! What?! I'd never noticed! 'So I went on with no confidence. I'd have been all right in the end, but I thought if I was producing it, I wouldn't have had me. Angus [Deayton] was much better than me, and did it for at least 15 years. I wouldn't want to sit in the public eye.' The secret of its success'The news changes every day, so you've always got material to play with. The bits I don't like on "HIGNFY" are the formats – I just like the conversations. The best bits are the spontaneous bits – it seems peculiar to have panel games where you have writers, so people are spontaneously remembering a line written for them.'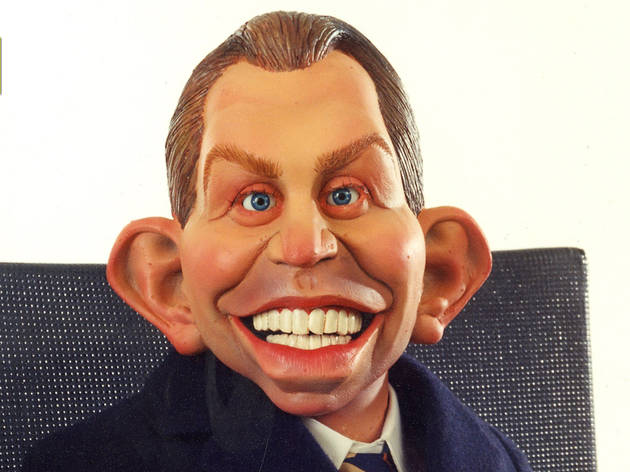 9/10
The political impact'We began to think it had either no effect or a positive effect for Mrs Thatcher, because it acted as a safety valve for the most divisive government of the twentieth century – the most hated and most adored. And Neil Kinnock's opposition was so low profile and having so little effect. 'Politicians used to corner me and say, if you hate this country so much, why don't you go and live in Russia? But that was the whole point – you can do things like "Spitting Image" in this country, and it's robust enough to sustain that sort of criticism.' The popular impact'A whole generation of kids became interested in politics. We built the entire Tory cabinet for the first episode of "Spitting Image", and people thought we were mad. No one knew who they were! Well, they soon did – we made them into characters. And we used to get these heartrending letters from people who'd been unemployed for five years and were going to kill themselves, but had one more good old laugh at "Spitting Image" and thought they'd give it another week.' Hurd, Hattersley and the Germans'I sat next to Roy Hattersley at a literary lunch recently, and he claimed he was the eponymous hero of "Spitting Image" because his puppet used to spit everywhere. He was very proud of it. Douglas Hurd thought it was very funny that we'd given him an ice cream cone for a hairdo. 'It's a very healthy thing for a society to be able to laugh at itself. We did a puppet of Helmut Kohl and Ronald Reagan for an arts show in Germany, and the producer rang to say that Helmut Kohl's officer had rung him to ensure it didn't happen again. It wasn't censorship, more "if you know what's good for you…".'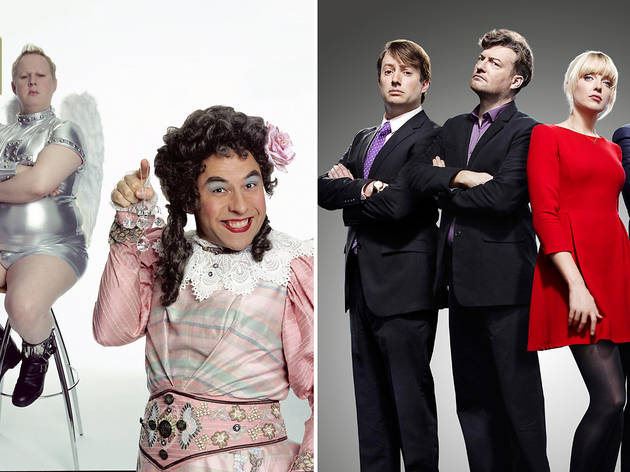 10/10
Satire'When people know about politics, it's a much healthier society. When no one knows who our politicians are, it's no good for anyone. You get this separation between the people who are supposed to be running things and the people putting up with being run. 'We're in desperate need of satire on television now. Take "Ten O'Clock Live" – what's missing is a strong editor. The celebs – nobody wants to say boo to them. Actors and performers, however good they are, are a delivery system for ideas. They are not the thing itself.' Sketch shows'There's no mechanism here for having enough writers to sustain a sketch show. Matt [Lucas] and David [Walliams] did the first series of "Little Britain" having probably saved up those ideas for ten years, and it's fantastic. 'Second series, oops, hang on… We've got to do the same ideas again. And you can't. You cant do 25 sketches in half an hour with two people writing them. It eats the material too fast.' David Mitchell and micromanagement'We had a really good idea for a local news show on BBC4, but they wanted to get David Mitchell in. David's very good, but he's very expensive. What money there is would all go to him, so we'd probably have to pay them to do it. Isn't the whole point of BBC4 to have new people? I'm not going to waste David Mitchell's time – he should be on BBC2. 'We've stopped pitching to TV companies, because we can't get a commission. It's not the Channel Controller's job to decide which comedies to commission – it's the Head of Comedy's job! Whole channels are now micromanaged according to one person's taste. So if, like [former BBC2 Controller] Roly Keating, you don't like comedy, that's that. It's absolutely fatuous and I don't know how we're going to get out of the mess.' 'Towie', 'Breaking Bad' and 'The Bachelorette''"Breaking Bad" is the most interesting television I've seen in ages. And I like "Towie" – I was one of the people who gave it a standing ovation when it won a Bafta, because there's something very original and very odd about it. 'But I like telly that makes you feel better. That's the duty of entertainment telly, and there's not much joy in telly, is there? I was watching [US reality show] "The Bachlorette". You just can't help watching more, but it's so morally vacant. Is this it? There must be more to life than "The Bachelorette"!'
John Lloyd's comedy A to J
The super-producer behind everything from 'Blackadder' to 'QI' (which is soon to tackle the letter 'K') talks about his life and work in TV comedy
Interview: Gabriel Tate

'Afterliff' is out August 15, £9.99. 'QI' returns on BBC2 at 10pm on Sundays from August 25. 'Liff of QI' comes to the Bloomsbury Theatre on Saturday October 5.