7 Airbnb Malibu rentals for a coastal escape
Fall asleep to the sound of ocean waves at these Airbnb Malibu rentals, from oceanfront cottages to canyon mansions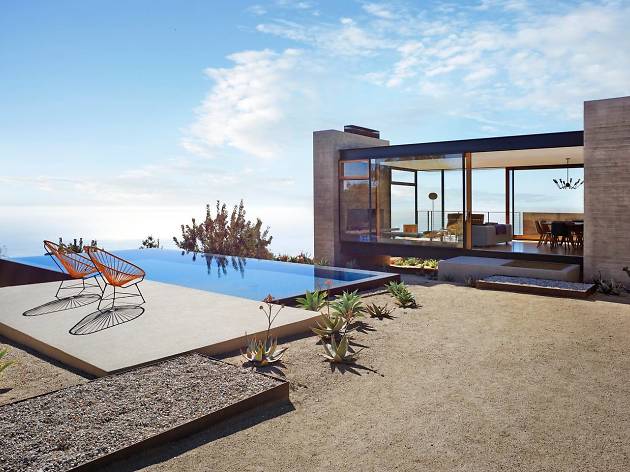 With the ocean on one side and lush canyons on the other, Malibu is so picturesque that sometimes we wonder why we even bother with any other coastal city. With some of L.A.'s best beaches but relatively few hotels in Malibu, the area manages to stay more low key than some of the county's other beach cities. That's where these Airbnb Malibu rentals come in: If you're willing to pay a bit of a premium, you can spend the night in a dream home right on the water or tucked into a canyon.
All photographs courtesy Airbnb.
7 Airbnb Malibu rentals for your next stay
Photograph: Courtesy Airbnb
Forget the beach: This lush one-bedroom, one-bathroom retreat is perfect for a solo traveler looking for inspiration or a couple who's content with a cozy garden setting and a hot tub. But if you do want to take a dip, the beach is a short drive down the hill.
From $199 per night.
Photograph: Courtesy Airbnb
A handsome midcentury-detailed home
Seclude yourself in a one-bedroom, one-bedroom pool house surrounded by avocado and lemon trees. We're not sure which is more impressive: The pool area's view of the ocean through the canyons, or its collection of Richard Schultz.
From $295 per night.
Photograph: Courtesy Airbnb
A rustic beachfront apartment
The weathered, wooden patio of this one-bedroom, one-bathroom oceanfront apartment brings a welcome amount of charm to an area overstuffed with sterile, corporate-feeling mansions. The living room is bright and comfortable, too, but we think you'll be spending pretty much all of your time with a drink on the patio.
From $375 per night.
A glassy lair with a view
Make any Bond villain jealous at this swanky three-bedroom, two-and-a-half-bath cube perched atop a canyon. Nearly every nook of "Scorpiesse," as the house is dubbed, offers dramatic views—even the soaking tub.
From $650 per night.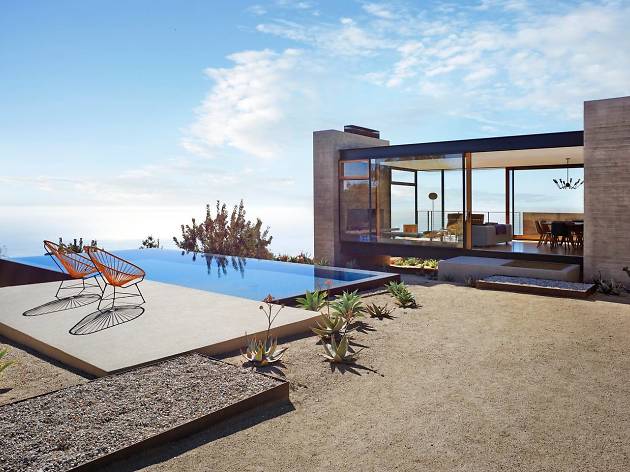 A modern mountaintop retreat
This four-bedroom, three-bathroom house wouldn't seem out of place in Palm Springs; its mix of glass and earthtones is surrounded by boulders and drought-tolerant gardens. But there's no mistaking your near the Pacific as you peer out toward the ocean through the clouds rolling below.
From $1,120 per night.
A quintessential beach house
This two-bedroom, two-bathroom oceanfront home has all of the makings of a classic beachfront shack: nautical deocrations, whitewashed wood, a private patch of sand. There's certainly no mistaking this catalog-worthy house for a "shack," through.
From $1,250 per night.
An architectural masterpiece
This house is so distinct it has its own name: "Ravenseye" by local architect Harry Gesner. From a fireplace to a backyard Airstream, this three-bedroom, two-and-a-half-bath justifies its high price tag with luxurious details galore and a breathtaking arched ocean-view window.
From $2,000 per night.
Need to plan out your time in Malibu?
These things to do in Malibu make us question why we don't spend every single weekend in the waterfront city. From some of the best beaches around to hiking trails with waterfalls—and a little bit of wine tasting to wind down—we've rounded up our favorite things to do in Malibu.