We were elated just to be able to step foot inside of a museum again this year. With exhibition calendars back in full swing, we're even more excited to have months of notable art shows to look forward to in 2022. The return of a major art fair, the next show from L.A.'s newest museum and a couple of fascinating historical collections: These are the 11 L.A. art exhibitions that we're already making plans to visit in 2022.
Psst: You can see nearly all of our picks below without having to pay for admission if you brush up on L.A.'s free museum days first.
The return of Yayoi Kusama's Infinity Mirrored Room
The Broad, reopens January 5
Alright, this isn't really a new exhibition, but it does mark the long-awaited return of easily L.A.'s most popular installation—with a few notable upgrades. Starting January 5, Yayoi Kusama's Infinity Mirrored Room—The Souls of Millions of Light Years Away will reopen at the Broad after a nearly two-year absence, and you'll now be able to book an advance reservation to see it and spend a few extra seconds inside.
"Mapping Fiction"
The Huntington, Jan 15–May 2
Dive into literary maps, both figurative in the case of a typescript draft of James Joyce's Ulysses and literal with J.R.R. Tolkien's map of Middle Earth, in this collection exhibition from the Huntington Library. Among the 70 items on display, other imaginary maps include Lewis Carroll's 1876 edition of The Hunting of the Snark, Robert Louis Stevenson's maps from Treasure Island and Kidnapped and Octavia E. Butler's maps from notes for Parable of the Talents.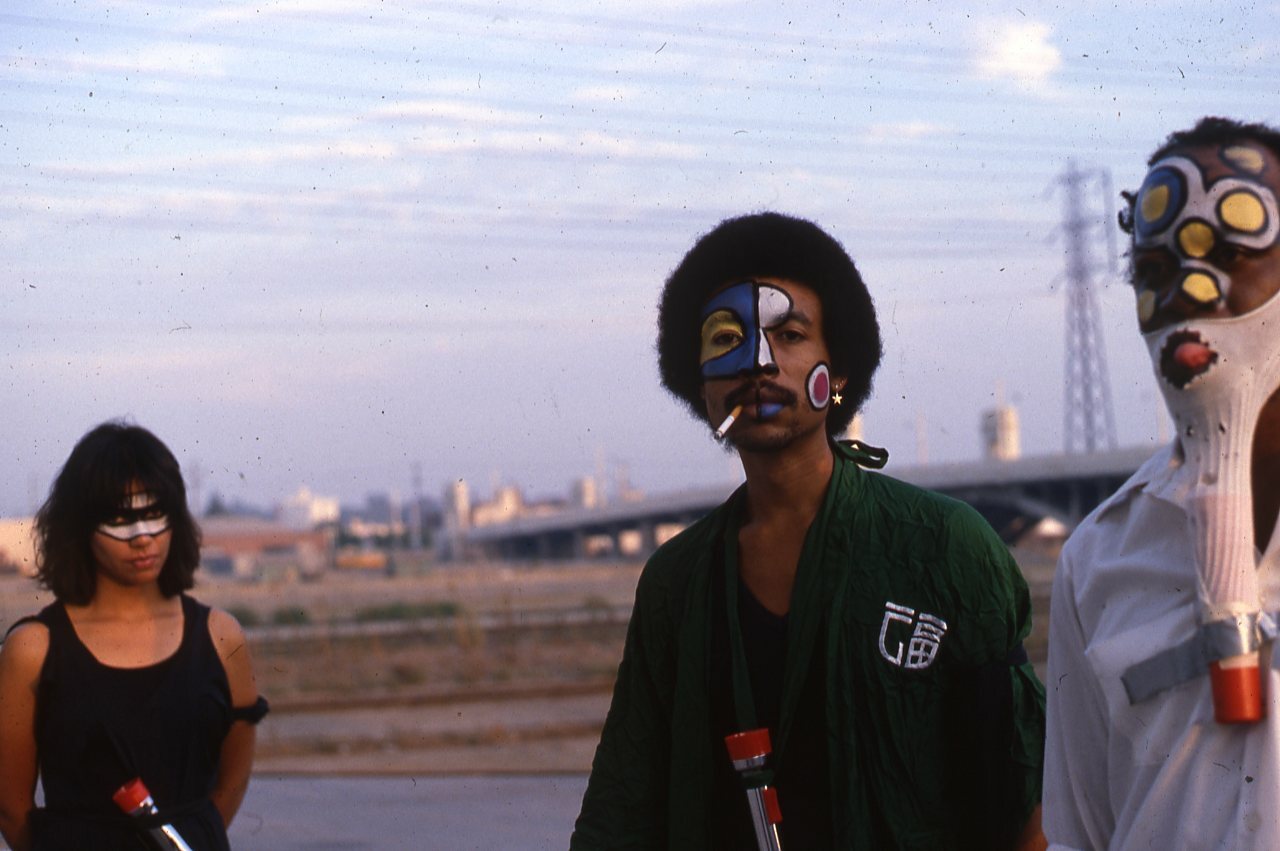 "Ulysses Jenkins: Without Your Interpretation"
Hammer Museum, Feb 6–May 15
The Hammer stages the first major retrospective of the L.A. video and performance artist Ulysses Jenkins, who's been interrogating history through the lens of race and gender for over half a century.
"Poussin and the Dance"
Getty Center, Feb 15–May 8
The Getty pairs the influential 17-century French painter Nicolas Poussin's portrayals of nymphs and satyrs with contemporary dance films by L.A. choreographers.
Frieze Los Angeles
Beverly Hills, Feb 18–20
After having to take last year off, the New York export lands in L.A. for its third art fair, featuring works from about 100 international galleries. But this time around, Frieze is leaving behind the surreal setting of the Paramount backlot and decamping to a space next to the Beverly Hilton, as well as a sculpture park by the Beverly Hills sign.
"Barbara Kruger: Thinking of You. I Mean Me. I Mean You."
LACMA, Mar 20–July 17
Her works are in just about every contemporary collection in town and her bold Futura captions have been endlessly ripped off. But LACMA is putting together a proper retrospective of the influential artist: The videos, large-scale vinyl wraps and audio soundscapes on display in this campus-wide presentation span four decades.
"For Race and Country: Buffalo Soldiers in California"
California African American Museum, Apr 13–Oct 30
This historical inclusion unpacks the romanticism behind Buffalo Soldiers, regiments of Black soldiers who served on the Western frontier in the late 19th century. Through artifacts, audio interviews, photographs, uniforms and newspapers, CAAM will explore how both their personal and in-uniform lives shaped California during a time of government-sanctioned racial segregation—and confronts their role in war and violence against indigenous populations.
"Lee Alexander McQueen: Mind, Mythos, Muse"
LACMA, Apr 24–Oct 9
Conceptually challenging yet red carpet-approved, the late Alexander McQueen's designs were technically exquisite. Here, LACMA looks to the myriad inspirations behind the dressmaking with a display of McQueen garments alongside inspirational artwork from the museum's own collection.
"Garrett Bradley: American Rhapsody" + "Judith F. Baca: The World Wall" + "Tala Madani"
The Geffen Contemporary at MOCA; Sept 10, 2022–Feb 20, 2023
Following the finale of its Pipilotti Rist retrospective, MOCA will unveil a trio of worthwhile exhibitions next fall at its Little Tokyo space. Garrett Bradley's first solo museum exhibition will assemble recent single and multi-channel films that call out systemic racism and America's social problems. All nine massive panels of local Chicana muralist Judy Baca's years-long global project will be on display in a cathedral-like installation. And cultural fears will be put to paint in the first North American survey of Iranian-born artist Tala Madani.
"Regeneration: Black Cinema 1898–1971"
Academy Museum of Motion Pictures, 2022
To follow its retrospective of beloved animator Hayao Miyazaki, the L.A. museum will focus on nearly an entire century of a considerably more overlooked story in cinema. A collaboration with Washington, D.C.'s National Museum of African American History and Culture, "Regeneration" dives into the works of Black filmmakers from the birth of the motion picture industry through the Civil Rights era. Set to debut in the second half of 2022, the research-driven exhibition counts filmmakers Ava DuVernay and Charles Burnett among its advisers.
"'I'll Have What She's Having': The Jewish Deli"
Skirball Cultural Center, 2022
Stacks of pastrami on rye, simmering bowls of matzo ball soup, crunchy pickles and, in the case of When Harry Met Sally…, a particularly orgasmic turkey sandwich: Jewish deli staples have ingrained themselves in both American menus and pop culture. The Skirball mounts this exhibition of neon signs, menus, ads and packaging to tell a story of the 20th-century Jewish experience in American through the lens of the deli (including some L.A. faves).
Bonus: Three of 2021's best art exhibitions
Though these three excellent exhibitions all debuted in 2021, they extend far enough into 2022 that we couldn't pass up spotlighting them in this list. The Obama portraits will have left by the beginning of the year, but the vibrant and vital "Black American Portraits" is still on display at LACMA into April. The Academy Museum's magical Hayao Miyazaki retrospective wraps up in early June, as does MOCA's mesmerizing Pipilotti Rist retrospective—our pick for this past year's best art exhibition.