The best places to go camping near Los Angeles
The best camping near Los Angeles, from beach campgrounds to the mountains and everything in between
Los Angeles is one hell of a metropolis, with endless things to do, a ton of parks and green space, and attractions galore. But everyone needs to escape the city sometimes—even this one—and there's no better place for hiking, camping and exploring than Southern California. We're surrounded by miles of beachy coastline, stretches of diverse desert landscape and range upon range of snow-capped, glacier lake-dotted mountains—all easily accessible and infinitely lovely. Additionally, we have easy access to tons of National Parks, including 14 within a day's drive of the city. If you're looking for the best adventures in SoCal, we've got you covered with the top spots to go camping near Los Angeles. Pack your bag, grab a map and take your pick of rustic weekend getaways from the list below. Happy camping!
Beach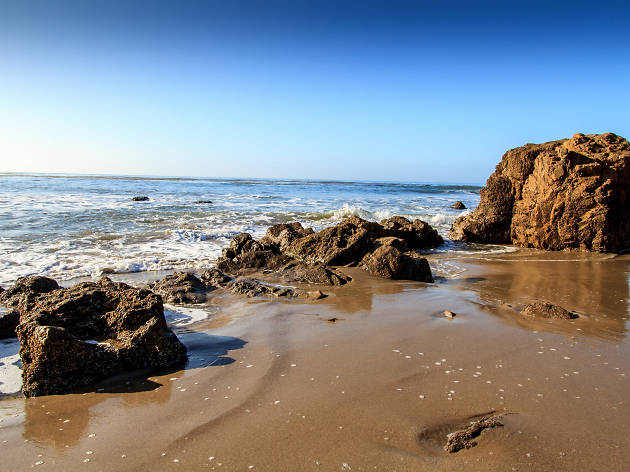 Photograph: Courtesy Creative Commons/Flickr/Allan Bromberg
1 hr 20 mins by car, dog friendly (on leash)

Located just off PCH in Malibu, Leo Carrillo State Park has more than 130 campsites with ridiculously easy access to the beach. You can walk right across the street to the ocean and explore a number of protected tidepools, caves and reefs. Go for a swim, hang out on the beach (FYI, the cell reception is better there than in the campsite) or go hiking on one of the back-country paths. The sites here can get crowded, so be strategic when selecting and reserving your lot to make sure you get as much or as little privacy as you want. There are amenities galore here; in case you forget something, there's a store located in the campground, and if you're staying for a few days, the site offers several token-operated showers.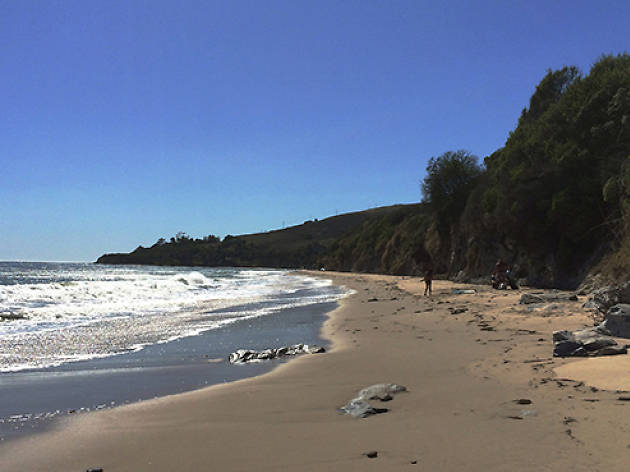 Photograph: Jeremy Yoder, Flickr
2 hrs 20 min by car, dog friendly (on leash and must be kept in your tent at night; dogs are not allowed on the beach)

About 20 miles west (yes, technically it's west—if that confuses you, think farther up the coast) of Santa Barbara is Refugio State Beach, a gorgeous stretch of sand for campers and visitors alike. The views of the Channel Islands—Santa Cruz, San Miguel, Anacapa and Santa Rosa—are a beautiful thing to wake up to. The beach draws swimmers, kayakers, surfers and sand castle builders. Kayak tours are led by the state beach lifeguards from Memorial Day to Labor Day, or you can launch your own. Whether you swim or just walk on the beach, here's a pro tip: bring baby oil to rub the tar off your feet. The state beach campground has 66 campsites that can be reserved up to 7 months in advance, plus showers and bathrooms. There's plenty to explore in the area, like nearby El Capitan State Beach (also a good place to camp) and a trail to a painted Chumash cave. It's also a short drive into Goleta and Santa Barbara if you forget any camping essentials. The only drawbacks to camping here is that tent sites can be in high demand and the sites themselves are close to a railroad track, so you might hear trains overnight.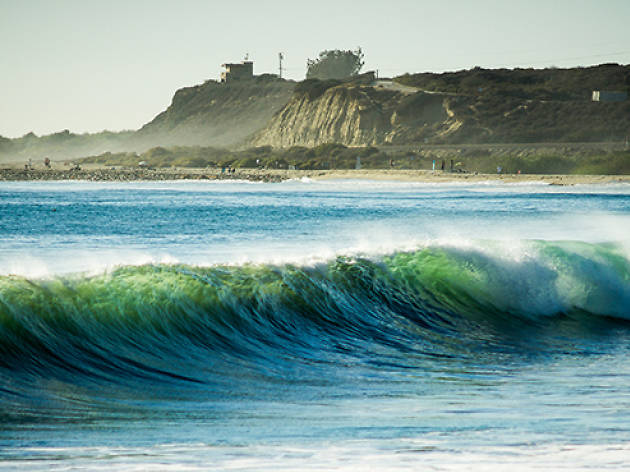 Photograph: Roger Howard, Flickr
San Mateo Campground at San Onofre State Beach
1 hr 15 mins by car from L.A., dog friendly (on leash, dogs are not allowed on the state beach)

If you've lived in Southern California for a while, you've probably heard about a surf spot called Trestles, or you've heard about the boob-shaped nuclear power plant just south of San Clemente near Camp Pendleton. That's the site of San Onofre State Beach, one of the most popular beaches for surfers around. There are 380 tent and group campsites available year-round at San Mateo Campground, which is set back from the beach. A trail leads down to the surf from the campsites. If the surf is good, it will be difficult to score a tent site, but online reservations are available. It's best to camp here if you're a surfer or looking for a chill weekend at the beach with great people watching—otherwise there's not much hiking to do since the beach is fairly close to the 5 Freeway and the base. As for noise, drills or activity on Camp Pendleton can drown out the sound of the crashing waves. It remains one of the prettiest beaches around and a fun place to camp.

Desert
2 hrs 20 mins by car, dog friendy (on leash)

Joshua Tree is one of the most magical places in California (and the country, we think). The park's varied and alien landscapes—due mostly to gnarled, ancient Joshua Trees and giant boulders strewn willy nilly—make for impressive scenery during hikes, bike tours or leisurely drives. Watch rock climbers scale mini-mountains at Hidden Valley campground or try some scrambling yourself at Jumbo Rocks. If you visit in spring, head south to Pinto Basin to see colorful wildflowers in bloom. The stargazing is choice here, and wild coyotes may howl you to sleep. Most sites are first-come, first-served, so plan on arriving early or reserving a group site at Black Rock or Indian Cove. Notable stops along the way to the park include Pappy & Harriet's for lunch, live music and a ghost-town stroll; the Integratron for a new-age sound bath and the town of Joshua Tree itself, which offers some funky hotel options, a few tasty restaurants, some good thrifting and the kind of quirky public art that only exists in tiny desert communities.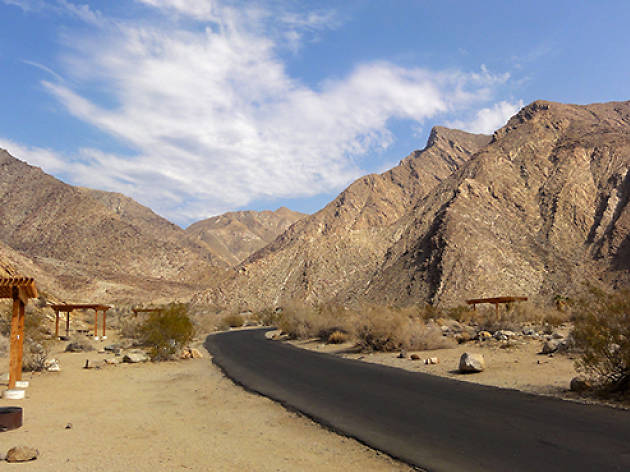 Photograph: Omar Bárcena, Flickr
Anza-Borrego Desert State Park
3 hrs by car from L.A., dog friendly (on leash in the campgrounds, but they are not allowed on trails or in other wilderness areas)

Anza-Borrego Desert is east of the northern part of San Diego County. Known for wildflowers and birding, it also has plenty of options for tent camping. There are developed campgrounds: Borrego Palm Campground, Tamarisk Grove Campground and Bow Willow Campground, which can all be reserved in advance for a fee. There are also primitive campgrounds that are first-come, first-serve and are free. Hiking in the area is wonderful—from 1-mile nature trails to all-day hikefests, there's something for every adventure level nearby. One thing to check before you go is water availability—both showers and drinking water. It may be best to bring your own.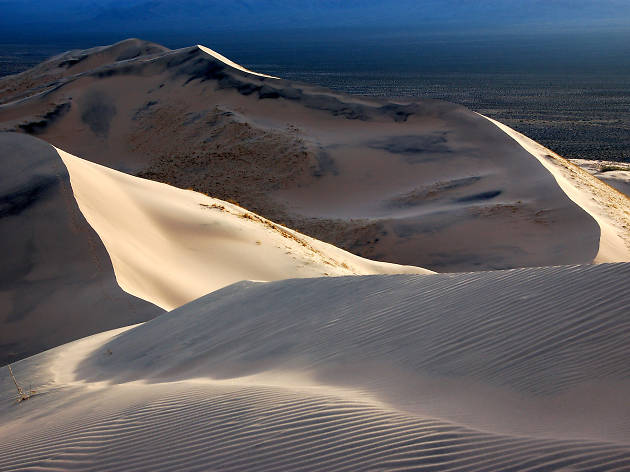 Photograph: Courtesy Creative Commons/Flickr/Matt Artz
3 hrs 30 mins by car, dog friendly (on leash)

The Mojave Desert is a high, dry expanse spanning parts of California, Nevada, Utah and Arizona. The National Preserve portion, in California, is a unique landscape offering site and roadside camping as well as pack sites for travelers on horseback. The Preserve is most famous for its Kelso Dunes, nearly 700 feet high across 45 square miles. When sand slides down the slopes, it produces a booming or "singing" sound that you can try to coax out with a sprint down a pile. Other points of interest are the lava cones and volcanic cinder flows dating back millions of years. Temperatures change quickly here and flash floods are common, so only camp in designated sites and bring lots of layers.
Farther away
4 hrs 50 mins by car, dog friendly (on leash)

Mammoth is a snow bunny's paradise, but it also makes for an incredible camping destination in the warmer months. Visitors can escape the heat by trekking to high elevations, where pine forests loom and distant mountain peaks are still capped with snow. There are hidden hot springs to be found here as well as hundreds of glacial lakes kept cool (okay, freezing) all summer from snowmelt. Duck Pass is a particularly popular hike, and a great way to get a daylong taste of what the area has to offer. Be sure to book sites in advance as reservations fill up super fast in spring and summer. And don't forget a wilderness pass, required for all overnight stays. We suggest driving the 395 there and back, which will take you through little mountain towns like Lone Pine (at the base of Mt. Whitney) and Bishop (home to famous bouldering areas, a crop of hot springs and the delectable Erick Schat's Bakkery).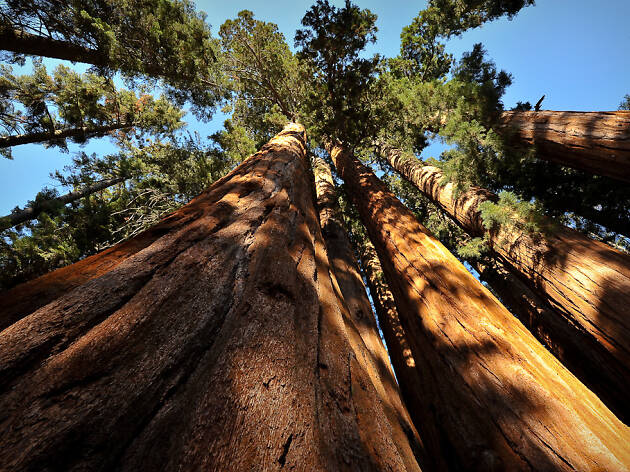 Photograph: Courtesy Creative Commons/Flickr/John Buie
Sequoia and Kings Canyon National Parks
3 hrs 45 mins by car from L.A., dog friendly (on leash only, and in developed areas like campgrounds only)

If you're a tree lover, you have to go see the giant redwoods of Sequoia National Park. There's plenty of hiking in both national parks—from short, well-marked patchs to day hikes to multi-day backpacking trails. Sequoia is slightly more drive-and-look friendly with cool attractions like the General Sherman Tree, the tallest in the world; Tunnel Log, a fallen, hollowed out Sequoia that you can drive your car through; and Tharp's log, a home built in a fallen tree. Meanwhile, the backcountry hiking in Kings Canyon is on every hiker's bucket list. There are several campgrounds in both parks at different elevations and they are well maintained by the National Park Service. Just make sure to check conditions before you go: most close after the summer season, water may be turned off, and some may be closed due to wildfires in the area.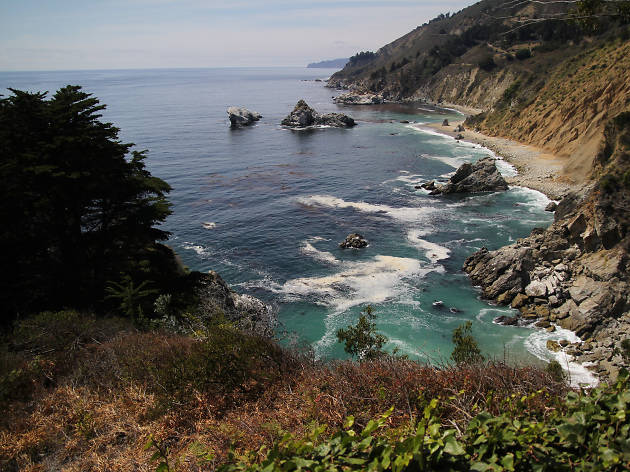 Photograph: Courtesy Creative Commons/Flickr/Luca Nebuloni
6 hrs by car from L.A. (dog rules vary by campground)

Arguably one of the most iconic stretches of coastline in the world, the Big Sur area is a car camper's paradise. There's a mix of state park campgrounds and private campgrounds in the area for tent camping, plus posh resorts that are woodsy enough to qualify as "glamping." Big Sur is where redwood-covered mountainsides plunge into the surging ocean. One of the best ways to see it is simply by driving along Highway 1, parking your car wherever it looks cool (read: basically everywhere), and following a probably unmarked trail—though be careful of poison oak—down in the direction of the ocean. For more mappable destinations, check out Julia Pfeiffer Burns State Beach for some incredible sunsets and tidepooling, and Point Lobos State Natural Reserve, just south of Carmel, is a great place to see just how wild the ocean can be. Whale watching is top-knotch here, and you can even spot otters floating in the kelp beds.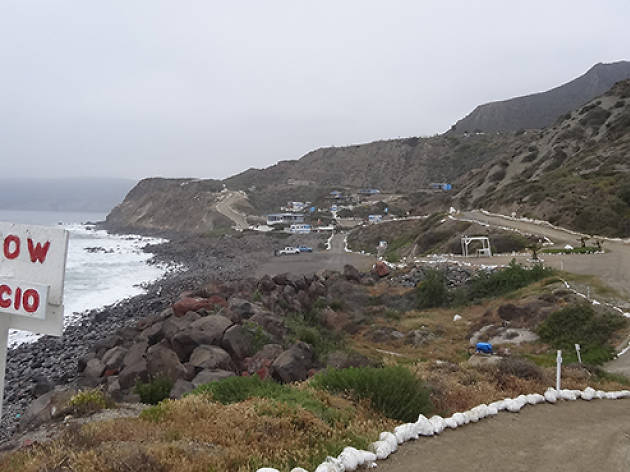 Photograph: momo go, Flickr
4 hrs 20 mins by car from L.A.

Instead of driving north or east for outdoor adventures, there's a really big reason you should drive south for a fun camping weekend: Ensenada. Not far across the border in Mexico is a beach camper's paradise. Drive south through Rosarito along the highway and you'll pass several beaches with tent campsites. Most of the sites are about $15/night, and though there are firepits for hanging and cooking, you're never too far away from a cheap and delicious tacos and mariscos stand. Many of the beaches rent surfboards and jet skis, so there's plenty to do and it's much less strict (and crowded) than camping at California state beaches. One more thing: it's hard to predict how long it will take to cross the border, so allow plenty of time to get there and back.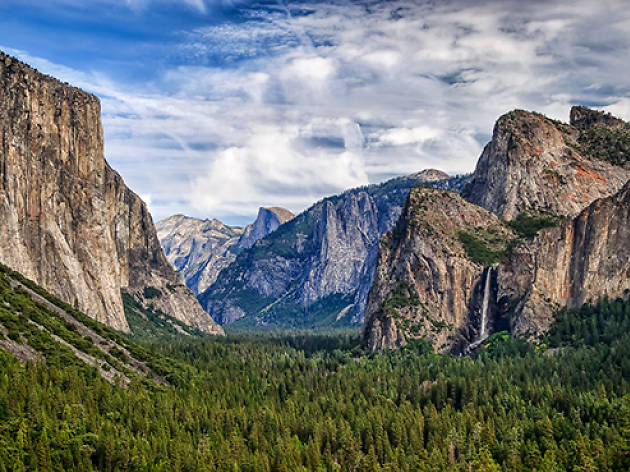 Photograph: Howard Ignatius, Flickr
5 hrs by car, dog friendly (on leash and in developed areas like campgrounds only)

A visit to Yosemite National Park can be a transformative experience, and it's one of the best places to camp in the state. Spending time beneath the massive rock walls and trees of Yosemite Valley is one of the coolest things you can do in California. There are plenty of campgrounds in the park. It is possible to come by open campsites, but it's best to reserve in advance for a guaranteed good time. You can do pretty much any outdoor activity in Yosemite: walking, day hiking, short hikes, backpacking trips, swimming, rock climbing, skiing, cross country skiing and even more extreme outdoor sports. Many of the valley's best views can be accessed by a car or a short, easy hike. Make sure to do your research before you go: some areas of the park aren't open year-round, and some hikes and activities will require permits.
Only have a day to get away?
Luckily L.A. happens to be surrounded by spectacular landscapes, beautiful beaches and small towns perfect for day trips. From wine tasting in Santa Barbara to vintage hunting in the desert or feeling the sand between your toes down south, you're sure to find a short trip worth taking.