Things to do in North Hollywood and the NoHo Arts District
Catch a show in the NoHo Arts District or explore an industry art gallery with these things to do in North Hollywood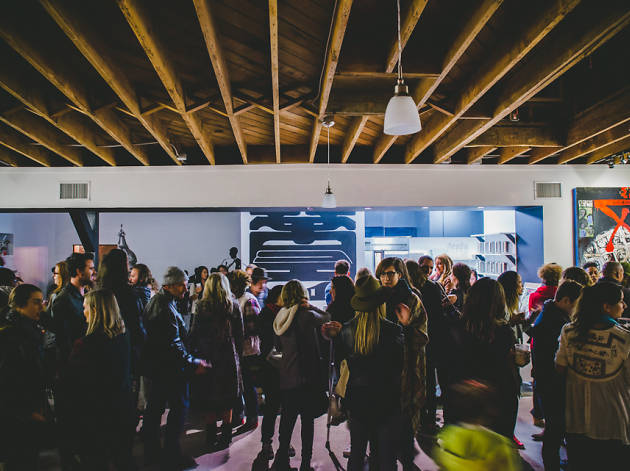 You'll find most of the things to do in North Hollywood within the NoHo Arts District, an eclectic area of theaters, coffee shops and bars. Since its inception in the early '90s, the pedestrian-friendly, Metro-connected district has put North Hollywood on the map as the Valley's cultural hub. It's the home of the Emmy-producing Television Academy (unfortunately, you can only visit if you're a member) as well as off-the-beaten-path comedy clubs and an outpost from one of L.A.'s most quinessential movie theaters—all of which you can find in our list of the best things to do in North Hollywood.
RECOMMENDED: A guide to North Hollywood
10 things to do in North Hollywood and the NoHo Arts District
One of the most aesthetically unique comic shops in Los Angeles, Blastoff is brightly lit and filled with wood shelving and fixtures. The unorthodox setting highlights the shop's smaller, curated selection of comics and graphic novels alongside original art, statues and framed classic issues for sale.
Read more
In L.A., Laemmle Theaters is one of the hallowed places to watch the best in independent and foreign films as well as preview screenings and panels. To say that it's an important part of being an L.A. film enthusiast would be an understatement. Established in 1938, the company is still family-run by (you guessed it) the Laemmles (say "LEM-lee").
Read more
This NoHo Arts District gallery doubles as the public-facing home of the entertainment industry's Art Directors Guild. Inside the historic Lankershim Arts Center storefront you'll find a mix of exhibitions that focus on specific Guild artists as well as more broad themes like abstraction, still life and the Old West.
Read more
This small and well-kept North Hollywood theater hosts Saturday Night Live-quality nights—take that analogy however you please. While sketch comedy is the Acme's speciality, you'll also find improv shows mixed into the schedule.
Read more
Since the Road was founded in 1991, the membership-based company of creatives has built a reputation for supporting, nurturing and presenting original works designed to introduce new voices and thoughts to the American stage. In addition to live performances at their two nearby venues (the other venue is part of the NoHo Senior Arts Colony), they also present free weekly series of staged readings of new plays every Monday night, as well as art exhibits and offer writing and acting classes.
Buy tickets
Read more
The 360-seat main theater at this inviting former cinema is used by a variety of tenants, but the building also houses two sub-100-seat theaters. You'll find everything from one-man shows to legacy rock acts gracing the stage here.
Read more
The California Institute of Abnormalarts (CIA, get it?) is a NoHo nightclub that's equal parts bad acid trip and carnival sideshow of atrocity. Started by two dudes who like collecting the freakiest "art" on earth, the place is stuffed from floor to ceiling with zombie clowns, wax pirates and the like. The acts booked here are equally weird and include circus performers and bands that dress in a wild variety of costumes from pirates to mutated chickens.
Read more
Typically, tearing up railroad tracks is a sign of the continued dominance of the car, but the Chandler Bikeway as a welcome exception to the rule. These two miles of Chandler Boulevard, stretching from Mariposa Street in Burbank to Vineland Avenue in NoHo, were converted into a paved bikeway and sidewalk in 2004. The odd sculpture or piece of street art perk up the surroundings, but the real draw is the path's view of the Verdugo Mountains.
Read more
This ornate domed arch on the Burbank-NoHo border started out in 1924 as the grand entrance to the Valhalla Memorial Park Cemetery, though noise from the neighboring airport (now Bob Hope Airport) ultimately redirected traffic to the other side of the cemetery. Since 1953, the portal has served as a mausoleum and memorial to early aviation pioneers, including a plaque dedicated to Amelia Earhart and a model of the Space Shuttle Columbia.
Read more
Looking to explore without a car?
Some Angelenos don't realize that there's a subway rumbling underneath their feet—or maybe they just choose to ignore it. The truth is, you can navigate large parts of Los Angeles without ever stepping foot in a car thanks to Metro. Whether you're visiting Los Angeles for the first time or fed up with your daily commute, use our beginner's guide to Metro to start your car-free adventure around the city.
Read more