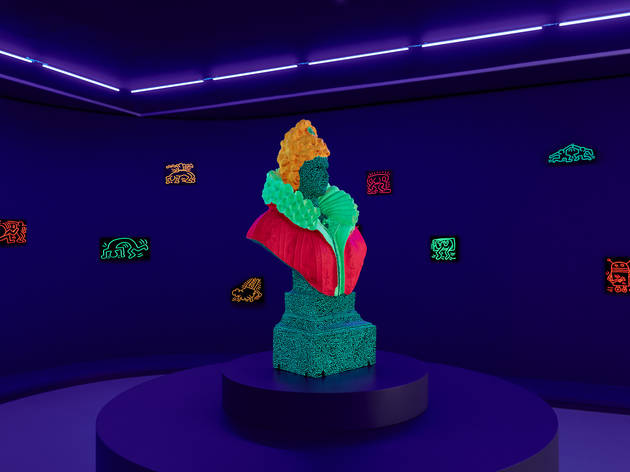 An oral guide to the NGV's Keith Haring and Jean-Michel Basquiat show – from those who knew them
What was the New York underground art scene like in the '80s? We ask the people who were there
The NGV's blockbuster summer exhibition, Keith Haring | Jean-Michel Basquiat: Crossing Lines, is a joint show celebrating the lives and art of two of America's most influential artists. Haring and Basquiat defined the downtown New York art scene in the 1980s, creating works that would go on to be among the most valuable ever produced by American artists. They and their friends – like Andy Warhol, Robert Mapplethorpe and of course, Madonna – were the coolest kids in New York, disrupting before disruption was a buzzword, creating world-changing art and of course, partying their arses off.
We interviewed three of their friends – fashion designer and photographer Maripol, who was Madonna's first stylist; scene and club photographer Ben Buchanan; and art critic and author Carlo McCormick – to find out the stories behind some of the most famous works and photographs in the exhibition.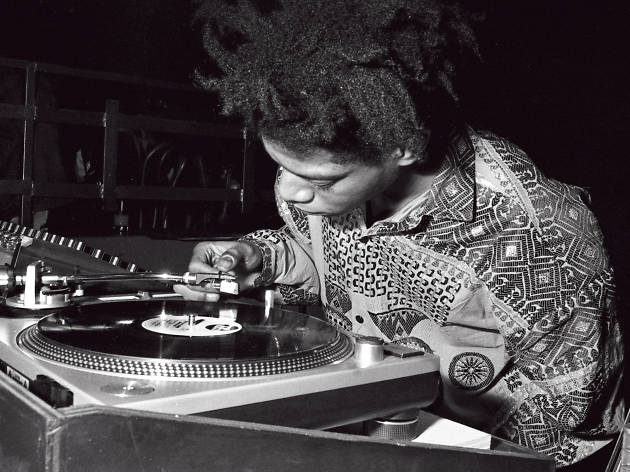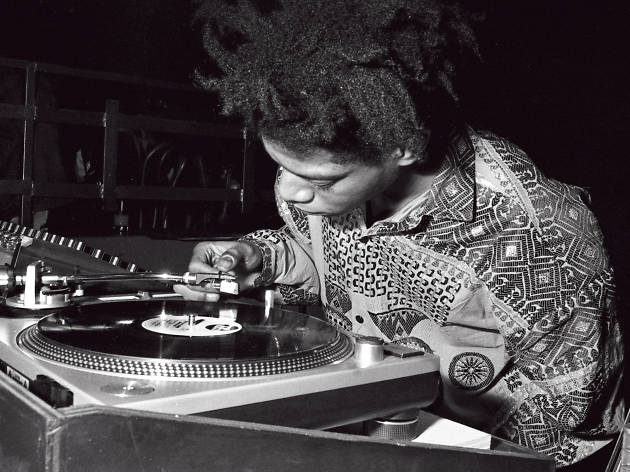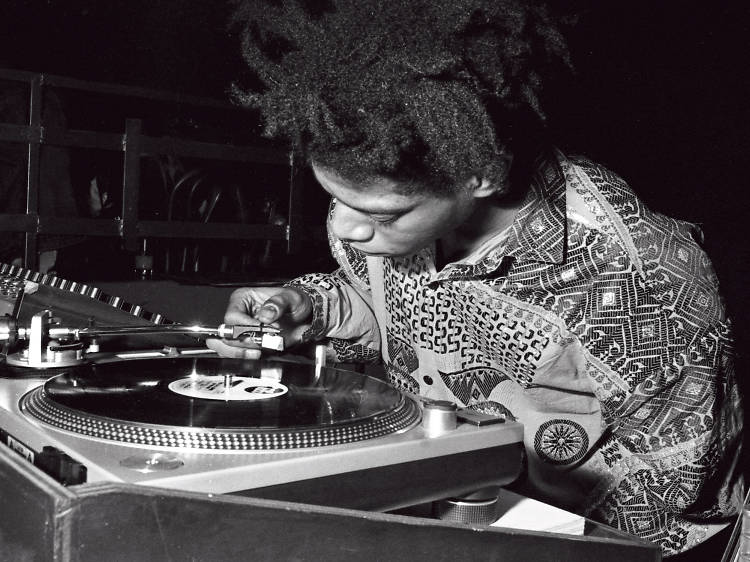 Jean-Michel Basquiat. Photograph: Ben Buchanan
BEN BUCHANAN: There was a club called Club 57, which was when a group of people went to a church basement and they just put on shows for a couple hundred dollars. They did it three nights a week, films and art and just a mishmash of stuff. So [the owners of 'it' club Area] recreated that, and Area was like that idea, but on a big scale, $40,000 or $50,000 budget every six weeks or so. And they changed the whole interior to a theme. The theme could be night, sports, sex, the colour red, obelisks, fashion or whatever the theme was. And all the artists who were their friends... would come in and do stuff. And they would think it was fun because it was a cool place to come and join in. So it was a nightclub that ran four nights a week, all hours till 4 or 5 in the morning.
Unlike Studio 54, which was older people – and there just was not really much to look at at Studio 54, just flashing lights, disco music and a lot of cocaine – this was more arty. Feast your brain as well as your eyes and do all the same things you do in a club, but then you get nice things to think about and look at.
Basquiat used to bring his records and DJ in the lounge. He would just come in with a couple of crates of records and spend the evening playing records. He was an art star, we didn't pay him, he did it because he wanted to do it. So I have a lot of pictures of him doing that.
CARLO McCORMICK: Everyone kind of created their own opportunities outside the art world proper. So I worked at a club called Club 57.
Nightlife was a hugely important thing. New York had many thousands of clubs at that time. Right now it's got, in the whole city, like couple hundred or so. Then it was like 4,000 or something like that. New York was broke, totally bankrupt. It's just a hellish place. There was no money to be made, but nightlife was one of [ways to make money]. That and the porn industry, basically, we didn't have much left at that point – and dealing drugs. It was all pretty much shambolic, slightly criminal culture and economy.
So the clubs were one, and obviously this kind of conversation that happened on the subways with graffiti art. Keith and Jean were very clear about, like, we're not graffiti artists. Not because they didn't like graffiti, they loved graffiti, but they didn't want to over-represent because they weren't like climbing fences and running from cops and jumping the third rail and learning these incredible mastery skills of what these people were doing with wild style lettering on the trains with aerosols. It was magic how this thing developed.
So that was one. And then the streets became another. And you can see both of these guys engaged the streets and the subways in their own way coming from studio practice ideas.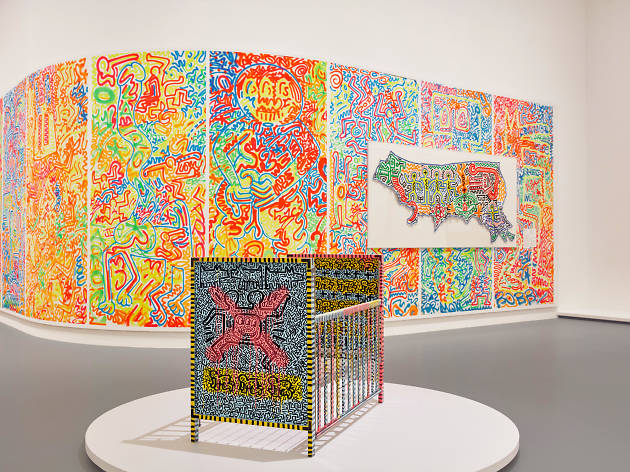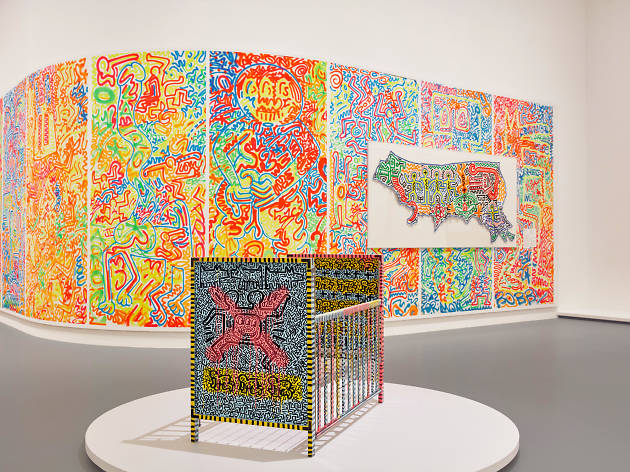 Installation view of Keith Haring | Jean-Michel Basquiat: Crossing Lines at NGV International, 1 December 219 – 11 April 2020 © Estate of Jean-Michel Basquiat. Licensed by Artestar, New York © Keith Haring Foundation. Photograph: Tom Ross
CARLO McCORMICK: The Pile of Crowns [Haring's tribute to Basquiat after his death] still moves me, and the blacklight room thrills me; it makes me feel young again. I haven't seen that crib that comes from the Hal Bromm [Gallery in New York] in a long time. I remember when I first saw it, it was a weird show. The Whitney Museum had this independent study program for kind of young aspiring curators and critics. It was way downtown. And the student body one year put together a show that was kind of about youth and playfulness. And there was this fucking crib there and it just blew my mind. And I don't know when that was '80, '81. It was pretty early.
It wasn't the Whitney Museum, it was some weird thing downtown, right in the financial district. The Whitney had an art school called the Whitney Independent Studio Program. That's the first time I saw it. So sometimes it's like weird old friends you haven't seen for 30 years or 40 years.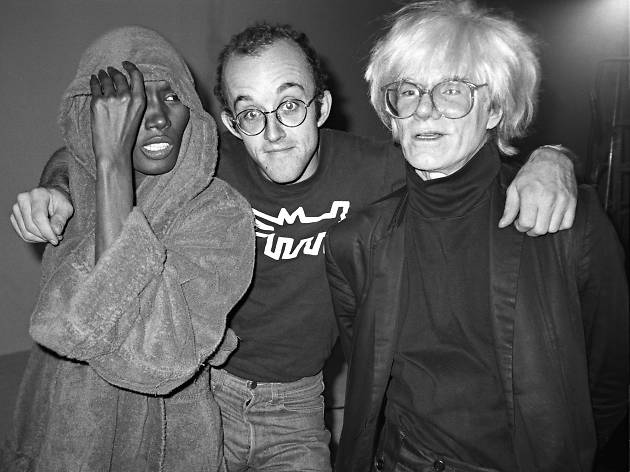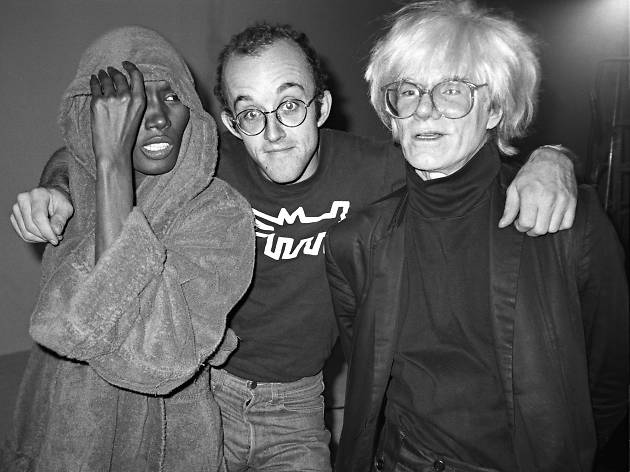 Grace Jones, Keith Haring, Andy Warhol at Paradise Garage, New York, 1983. Photograph: Tseng Kwong Chi
CARLO McCORMICK: We all came there in our weird way for something, and that something was gone... Warhol was a magnet. For every kid who felt different and weird – it might have been about sexuality, certainly Andy was the first really queer kind of figure we had. So people come [to New York for the Pop Art movement] and they missed it, and this [Basquiat and Haring] just came out of that. And then people came there for this and then a whole other generation came out of it. I think that's the great thing about mythologies, they still work to some degree and then everyone has to make their own shit because what they came there for is gone. And to kind of make your own fun in the end. And some things get lost in the translation, which creates new stuff. Keith's thinking a lot about Andy, but it's not a Warhol, it's a Haring, and you can still see how something really fundamental has changed.
BEN BUCHANAN: Warhol was [at Area] a couple of times a week usually. His star was waning at that time, so he was happy to be around younger artists, inspiring them, and everybody looked up to him. He would help out as well, we got him to stand in this glass box for the evening, as an object, with an empty plinth, and it said "work in progress". He stood there next to it and people tapped on the glass all evening, like, "look, it's Warhol!". He stood there all evening in the glass box, like a diorama at the Natural History Museum. They had about six of those, and they usually had an animal, a performer, a sculpture or something, and this one was completely empty, it was just him standing there. The next one down was like an owl.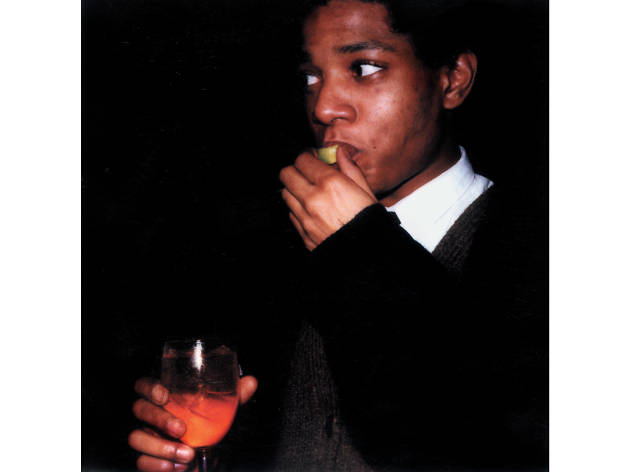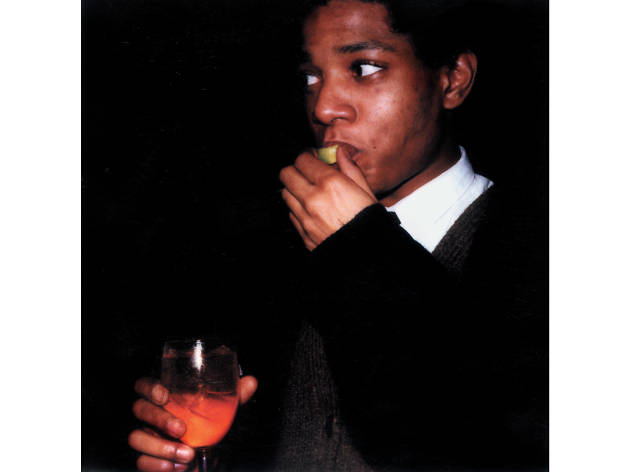 Polaroid taken by Maripol in the early 1980s in New York City, Jean-Michel Basquiat. Photograph: Maripol
On photographing scenesters
MARIPOL: Look at him enjoying his drink with the lime in his mouth. He is probably scouring the room looking for girls.
Only David Bowie at the bar of Studio 54 [refused to have his picture taken]. I asked, but he said, "Oh, no, no, no, darling." I acquiesced to his wish. But if I had snapped... [laughs]. But I never imposed on anybody.
BEN BUCHANAN: My first picture was of Lauren Hutton, a very famous model in the '80s. The first night someone said, "There's a model over there called Lauren Hutton, go take her picture, she's very famous." So I went over and I said, "Can I take your picture?" And she said, "Oh, I don't think so." And I was like, "Oh." First attempt! So I said, "Please, it's my first night taking pictures," and she said, "Well OK, then." She was holding a bunch of flowers and a beer, and I took a couple of pictures. I got them home and developed them and realised she had a pimple on the end of her nose and then I thought oh, that's why she didn't want her picture taken.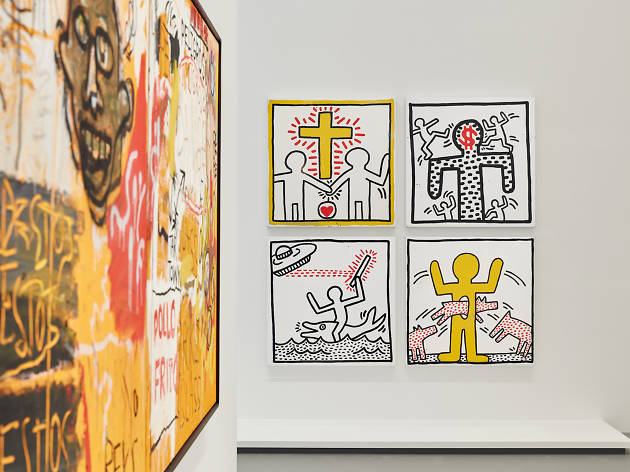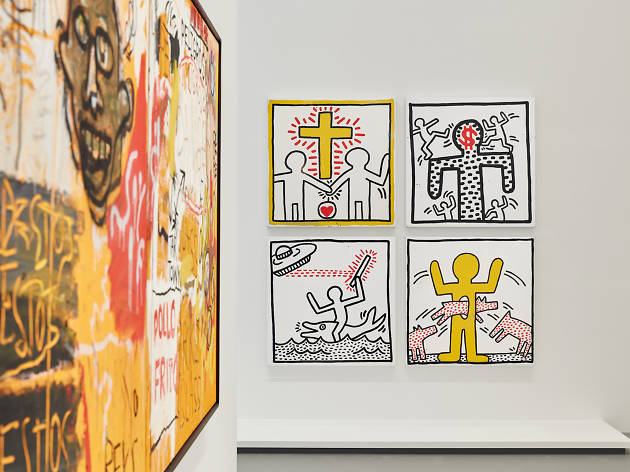 Installation view of Keith Haring | Jean-Michel Basquiat: Crossing Lines at NGV International, 1 December 219 – 11 April 2020 © Estate of Jean-Michel Basquiat. Licensed by Artestar, New York © Keith Haring Foundation. Photograph: Tom Ross
CARLO McCORMICK: It's not an obvious thing to put them together, and that's kind of partly why they go well together personally. It wasn't like anyone had to worry about the other one stealing their ideas; they had such distinctive voices and distinctive styles.
But it doesn't become the easiest thing to put them together.
Oh, you know, it's not like Picasso and Baroque or something like that. It's not like the impressionists.
A lot of New York, a lot that scene was founded on a degree of alienation and disenfranchisement because people were different. Sexually different, racially different, whatever, just not buying into like the stifling normalcy that had settled on America as post-war generations. There's so much weirdness buried under normalcy. So people who are really uncomfortable all kind of congregated together and found in their masses of different something in common. And so in a way, these are very hard things to articulate. But I think this show brings about a kinship, if not a direct correspondence.
MARIPOL: It was not that populated, especially not downtown, which was rundown and you could get cheap rent. People lived uptown and had chauffeurs and doormen, and then there was this whole art community [downtown].
We had no iPhones and no internet, but you knew where everything was because someone would either ring you on the landline, or buzz and tell you.
Jean-Michel was really sweet and nice and fun... He was full of life, fun, really smart. Very intellectual, like Proust.
Keith and I were neighbours on Broadway, his studio and my loft were close to each other.
They both were genuinely full of life. They were open. There was this thing with Wall Street, you know the boom of Wall Street, there was new money and people wanted to buy art.
It wasn't that they were unknown until after their deaths, they enjoyed their fame.
Looking for more fabulous art?
From high art to the experimental and indie, here's your hit list.