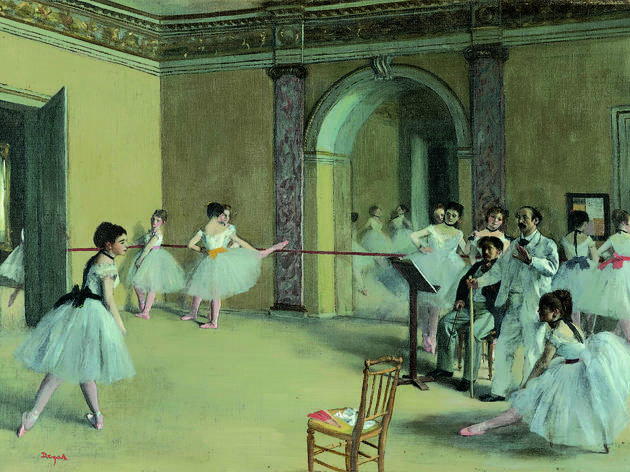 1/6
© Photo RMN - Herve Lewandowski
Edgar Degas, Rehearsal hall at the Opera, rue Le Peletier 1872, oil on canvas, 32.7 x 46.3 cm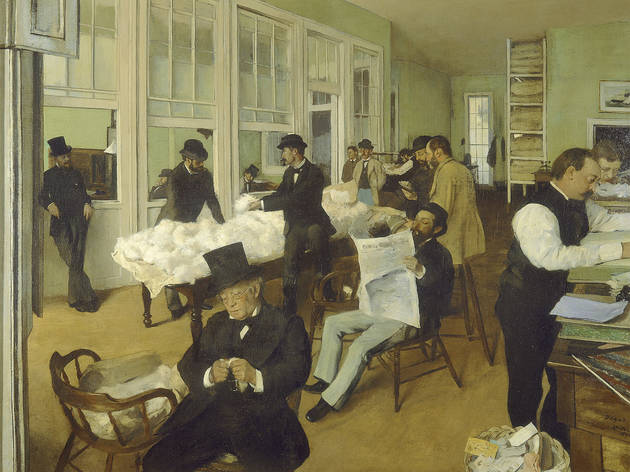 2/6
© RMN-Grand Palais / Michèle Bellot / Madeleine Coursaget
Edgar Degas, A cotton office in New Orleans, 1873, oil on canvas, 73 x 92 cm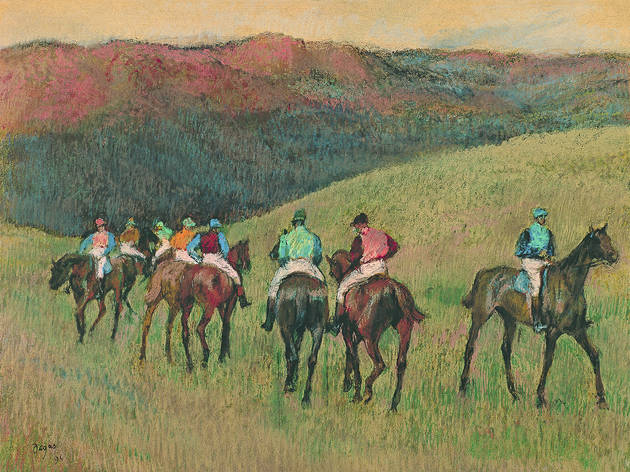 3/6
Edgar Degas, Racehorses in a landscape, 1894, pastel on paper, 47.9 x 62.9 cm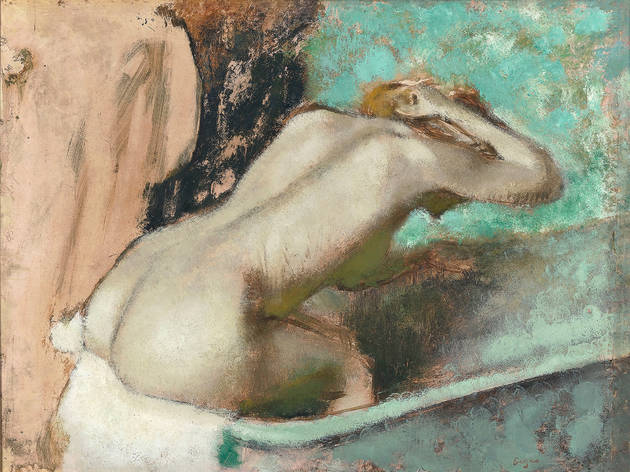 4/6
© Photo RMN - Herve Lewandowski
Edgar Degas, Woman seated on the edge of the bath sponging her neck, 1880–95, oil and essence on paper mounted to canvas, 52.2 x 67.5 cm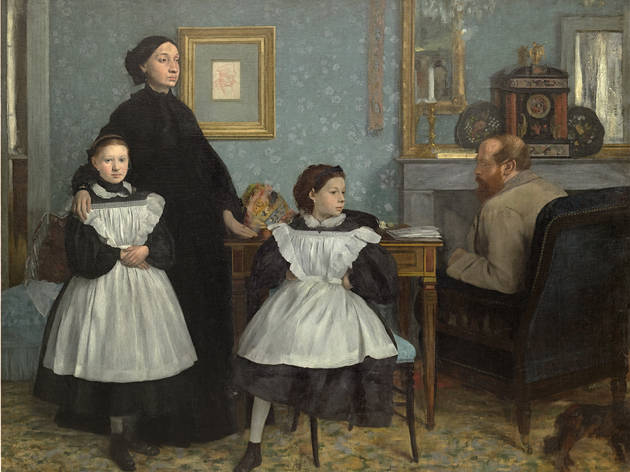 5/6
© Musée d'Orsay
Edgar Degas, Family portrait also called The Bellelli family 1858–69, oil on canvas, 201 x 249.5 cm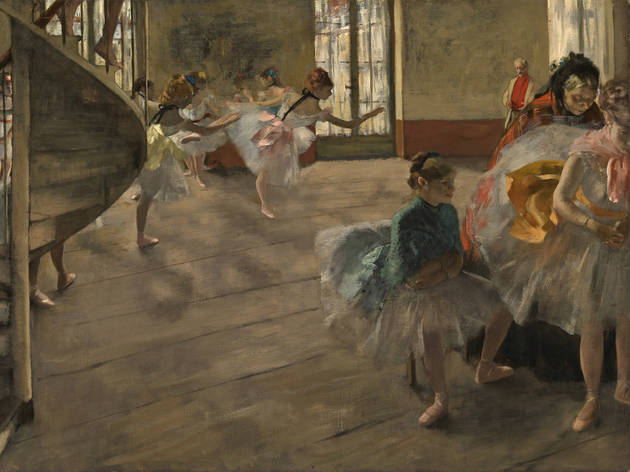 6/6
© CSG CIC Glasgow Museums and Libraries Collections
Edgar Degas, The rehearsal c.1874, oil on canvas, 58.4 x 83.8 cm
Painter, observer, boundary-breaker: the NGV's Winter Masterpieces exhibition reveals the subversive genius of one of the best-known artists of the 19th century
Any fan of Degas who visits the Musée d'Orsay in Paris in the coming months is in for bitter disappointment. Many of the artist's most famous pieces – from the beautifully composed 'Rehearsal Hall at the Opera' to the luminous 'The Arabesque' – will be on the other side of the world at the National Gallery of Victoria, along with more than 200 other Degas works borrowed from 65 lenders. It's the NGV's most complex Winter Masterpieces ever, and one of the most significant Degas shows the world has ever seen.
If it sounds like a near-impossible feat of curation, then you'd be right. Degas: A New Vision is an incredibly ambitious collaboration between the Museum of Fine Arts, Houston and the NGV, curated by Degas expert Henri Loyrette, former director of the Louvre. "It's a huge jigsaw puzzle – you can just think of the logistics!" says Dr Ted Gott, senior curator of international art at the NGV. "You won't see this anywhere for another 25-30 years. We're taking a new look at Degas: what motivated him, what makes his art endlessly fascinating."
Nothing about Degas' work was conventional. In the 1860s, he broke away from painting historical subjects (the only way to make it in the art world at the time) to focus on everyday subjects – horse racing, portraits, ballet and working life in Paris. "We see him looking at the ballet, not so much as performance but the hard slog of the ballet dancers which he then equates with women working in ironing sweatshops, in department stores," says Gott. "He gives us the most extraordinary snapshot into the privilege of certain women at the time and then the lack of privilege for others," he says. "In his studies of sex workers, they're not erotic at all, nor are they voyeuristic. They are showing women waiting between clients who are exhausted, bored, exploited."
Soon, Degas began experimenting with composition as well as subject matter. "The way he inserts the viewer into the orchestra... we're looking up the left nostril of the chief bassoonist," says Gott. "In his studies of ballerinas dancing and rehearsing, he tips the floor up so that the perspective in his pictures makes it look like they're about to fall out on us. He manipulates space to draw us in and make us feel like we're actually in the setting that we're looking at. And that's incredibly radical, even for today."
Visitors to Degas: A New Vision will meet an artist who obsessively pushed the conventions of the time (sometimes, he submitted 'unfinished' pieces to the French salons, with layers of paint peeking through), who broke out into sculpture, photography and poetry, and who refused to align himself with a particular artistic movement. A true visionary.
Gallery image credits
1. Edgar Degas. A cotton office in New Orleans. 1873. Oil on canvas. 73 x 92 cm. Musée des Beaux-Arts de Pau. Lemoisne 320. © RMN-Grand Palais / Michèle Bellot / Madeleine Coursaget.
2. Edgar Degas. Rehearsal hall at the Opera, rue Le Peletier. 1872. Oil on canvas. 32.7 x 46.3 cm. Musée d'Orsay, Paris. Lemoisne 298 (RF 1977). © RMN-Grand Palais (musée d'Orsay) / Hervé Lewandowski
3. Edgar Degas. Racehorses in a landscape. 1894. Pastel on paper. 47.9 x 62.9 cm. Carmen Thyssen-Bornemisza. Collection on deposit at Museo Thyssen- Bornemisza, Madrid. Lemoisne 1145 (CTB.1981.11).
4. Edgar Degas. Family portrait also called The Bellelli family. 1858–69. Oil on canvas. 201 x 249.5 cm. Musée d'Orsay, Paris. Lemoisne 79 (RF 2210). © Musée d'Orsay, Dist. RMN-Grand Palais / Patrice Schmidt
5. Edgar Degas. Woman seated on the edge of the bath sponging her neck. 1880–95. Oil and essence on paper mounted to canvas. 52.2 x 67.5 cm. Musée d'Orsay, Paris. Lemoisne 1120 (RF 1989 2). © RMN-Grand Palais (musée d'Orsay) / Hervé Lewandowski
6. Edgar Degas. The rehearsal. c.1874. Oil on canvas. 58.4 x 83.8 cm. Burrell Collection, Glasgow. Lemoisne 430 (Inv. 35.246). © CSG CIC Glasgow Museums and Libraries Collections