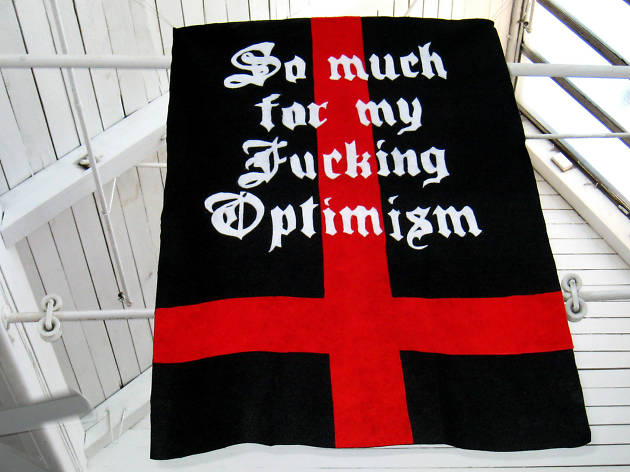 Time Out says
Succumb to the inky black vacuum of despair at this deliberately depressing exhibition
Some exhibitions bring you joy. They lift your spirits by capturing the sublime beauty of the world, the whimsy of nature and the base altruism of humanity.
This is not one of those exhibitions.
Hope Dies Last self-identifies as "one of the most depressing events of the year," promising to leave audiences emotionally crippled and wracked with negativity. It puts the dead in deadpan, examining our own mortality, suffering and failure through the lens of gallows humour.
The exhibition (which is coming to Gertrude Contemporary and Margaret Lawrence Gallery as part of Melbourne Festival) picks away the final threads of hope that stop you from spiralling into the void. Hope Dies Last features works like Tony Garifalakis's 'Fucking Optimism'; a large black and red felt banner overlaid with 'so much for my Fucking Optimism' in a gothic typeface that serves as a fairly unsubtle metaphor for the entire exhibition.
Unsurprisingly Hope Dies Last contains adult themes so be mindful it may be unsettling. Bring a pal along for emotional support if you must but as Hope Dies Last ominously states, "we all arrive at the final exit alone."
Hope Dies Last is on at Gertrude Contemporary from Oct 5-Nov 9, and at Margaret Lawrence Gallery from Oct 18-Nov 14.
Discover more, less disheartening events to check out at this year's Melbourne Festival.
Details