Melbourne Festival 2017 highlights
We've narrowed down the behemoth line-up to a hit list of essentials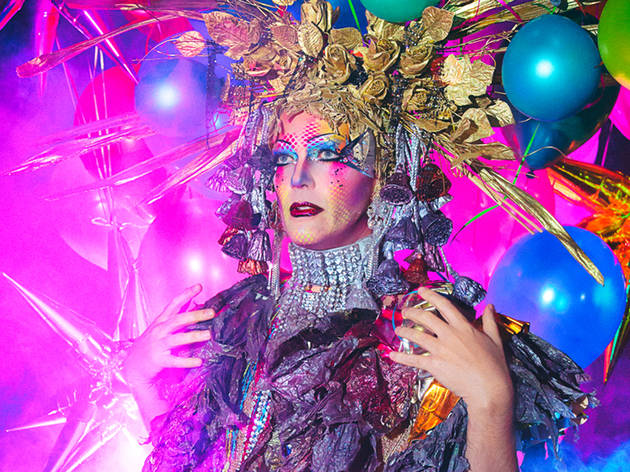 Jonathan Holloway describes his second Melbourne Festival as a telescope to the 'big picture'. "We live in a world that seems to be defined by single actions that occur somewhere else in the world – on a fairly constant basis. The whole narrative gets swayed by one or two crazy or terrifying people." In 2017, he offers a Festival that "steps back from that tiny picture to see the big picture" of human civilisation.
It's a bit of a vague statement in some ways – capable of catching all things. His program contains work that speak to art's power to bridge social and political divides (We Love Arabs; Two Jews Walk Into a Theatre), to help us understand and find a way through complex societal problems (Please, Continue (Hamlet)), and to push into new realms of understanding human experience (7 Pleasures). There are programs you'd describe as 'topical' (Survival Skills for Desperate Times, co-presented by Arts House; The Festival of Questions, co-presented by the Wheeler Centre), and works you might describe as more 'essential' to ongoing human experience (the Guerrilla Museum's All of My Friends Were There; Mammalian Diving Reflex's All the Sex I've Ever Had). There are also works that take a bird's-eye view of history and human experience (Germinal; Taylor Mac's 24-Decade History of Popular Music). If you really want to you, you can probably fit every work in the line-up into Holloway's theorem. It's nevertheless an interesting way to dissect and and think about the program.
For the 'tentpole' events of the 2017 Festival, you're looking at Taylor Mac's music marathon A 24-Decade History of Popular Music – which should sell out quick smart, despite the hefty price – and the already-announced Wayne McGregor joint Tree of Codes. These are also two of the key 'spectacles' of the festival, alongside Yang Liping's epic of dance and theatre, Under Siege. All feature ravishing design, and hold forth the promise of sensory overload.
The festival is book-ended with two communal, community-led – and free – events: for the fifth year, the opening event of the Festival is the free Federation Square event Tanderrum, representing a gathering of the five clans of the Kulin Nation; and on the closing night, the concert Our Place Our Home features emerging musicians from the new immigrant and refugee communities, alongside industry heavyweights.
International heavy hitters on the music line-up include Alexis Taylor (of Hot Chip), Stephin Merritt and the Magnetic Fields (performing his 50 Song Memoir), and Lambchop.
The visual arts line-up is dominated by grand-daddy of conceptual art Joseph Kosuth, taking over two levels of Anna Schwartz gallery (the artist will be present, giving a public lecture). In addition, South Korean installation artist Ayoung Kim will present her 2016 installation In This Vessel We Shall Be Kept, and a new commission: Porosity Valley, Portable Holes. Meanwhile over at ACCA, you can catch Kader Attia's exhibition, heading south from Sydney's Museum of Contemporary Art.

Melbourne Festival runs Oct 4-22.
For the full program, see www.festival.melbourne – and start planning your night out with our handy guide to Melbourne Festival Feasts.
Fuel your culture trip
Melbourne's annual feast of world-class dance, theatre, music, visual arts and outdoor events deserves a menu to match.