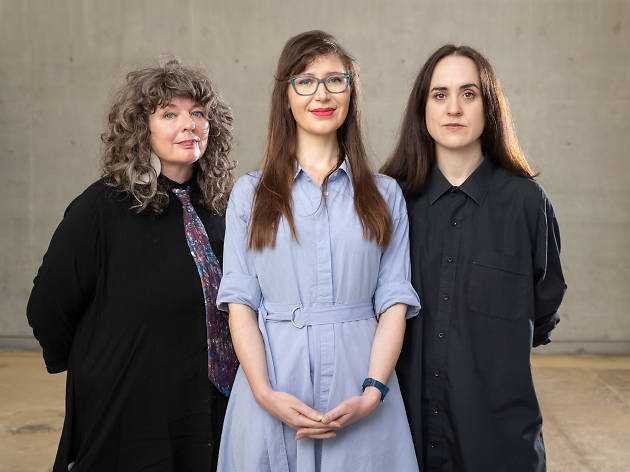 The Katthy Cavaliere Fellowship
Three leading artists are creating boldly inventive new works as part of this fellowship – in Melbourne, Sydney and Hobart
Giselle Stanborough understands that making art is about taking risks. The Sydney-based artist is best known for playfully skewering ideas around selfhood, femininity and power in the age of social media. Her 2016 work 'Lozein: Find the Lover You Deserve' revolved around a fictional match-making service. The 2018 project 'Giselle Dates' engineered 'art dates' between artist and viewer using apps such as Tinder.
In April 2019, Stanborough, along with Sally Rees and Frances Barrett, was a recipient of Suspended Moment: The Katthy Cavaliere Fellowship. The $100,000 art prize – which honours the legacy of trailblazing Italian-Australian artist Katthy Cavaliere – is one of the country's richest awards for female-identifying artists. It's also given Stanborough the strength to push her work further than before.
"[Now] is a time for courage and that is what [winning the fellowship] means for me," says Stanborough. In March, she will present the outcome of the fellowship at Carriageworks in the form of Cinopticon, an installation and series of performances based on theories of surveillance by the philosopher Michel Foucault. "Performance is such a physical, embodied form. The work is you. It's where your skin ends, and the air begins." She smiles. "It's so important that women are given this opportunity. It's what Katthy wanted."
Cavaliere, who died of ovarian cancer in 2012 at age 39, made deeply personal works about grief, dislocation and the experience of being a woman. She fearlessly mined her own life for material. She gifted viewers her childhood possessions as part of a 1999 solo show at Sydney's Artspace. She sat naked in a cardboard box as part of 'brown paper', a 2001 performance inspired by one of her mentors, Marina Abramović. She paid tribute to her late mother, who also passed away from cancer, perching atop a pile of her clothing and gazing at the Pacific Ocean as part of a 2010 video called 'nest'.
The fellowship, which champions new work by women artists at the forefront of performance and installation, will see Stanborough, Barrett and Rees present simultaneous exhibitions at Carriageworks, ACCA and Mona from March 2020. It also keeps Cavaliere's artistic spirit alive.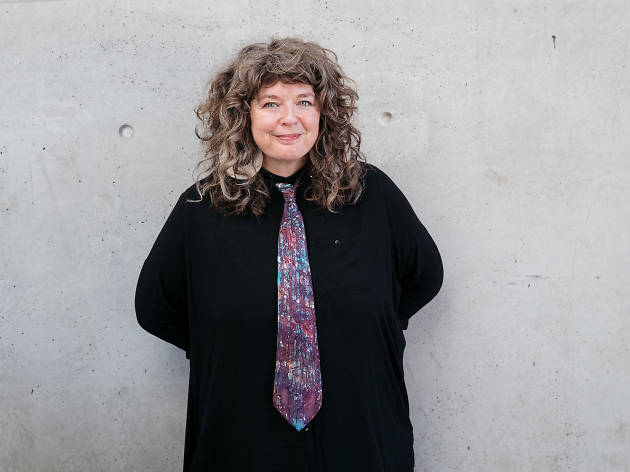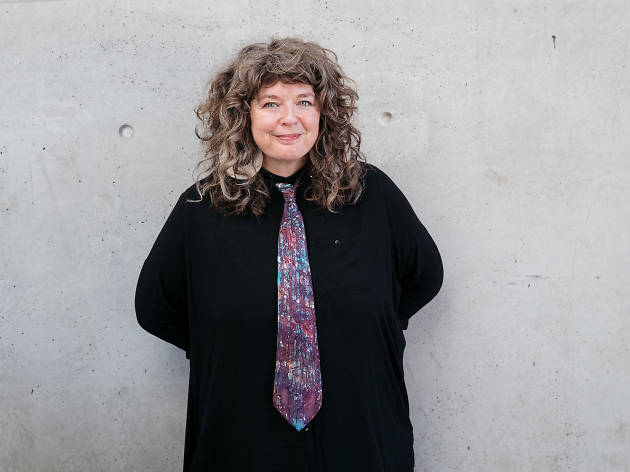 Sally Rees. Photograph: Daniel Boud
Rees has long believed in the power of telling your own stories. For the last two decades, the Hobart-based artist has used her own life to make works that speak to female otherness, embodiment and the grotesque.
At Mona, Rees will present CRONE, a body of video portraits that revolve around the 'crone' – a folkloric figure that challenges the image of the ageing woman as invisible. The show will also feature 'Cronewalk', a work that the artist describes as an 'action' to mark her 50th birthday.
"[At 50] women are supposed to decline into old age and I wanted to create a ritual as a marker of this point," says Rees, who adds that older women she knows and admires will feature heavily in CRONE and that the fellowship has given her the time and space to continue her work. "The crone is a female elder who is resilient, wise, compassionate and transgressive. 'Cronewalk' is a costumed walk from the pinnacle of kunanyi [Hobart's Mount Wellington] out through the suburbs and ending at the exhibition. [In Hobart] people have become quite blasé about encountering the unusual along its main arteries, so I'm taking her out the back route. She needs witnesses more than she needs an audience. The walk takes effort, but I am not performing an impossible feat."
For Rees, like Cavaliere, blurring the public and the private can foster a deeper connection with the audience. Barrett, too, is interested in creating deeper connections. But the Sydney-based artist and curator is focussed on cultivating what she calls 'active listening' and drawing attention to how we hear.
Sally Rees: CRONE is at Mona, Hobart from April 8 to August 10.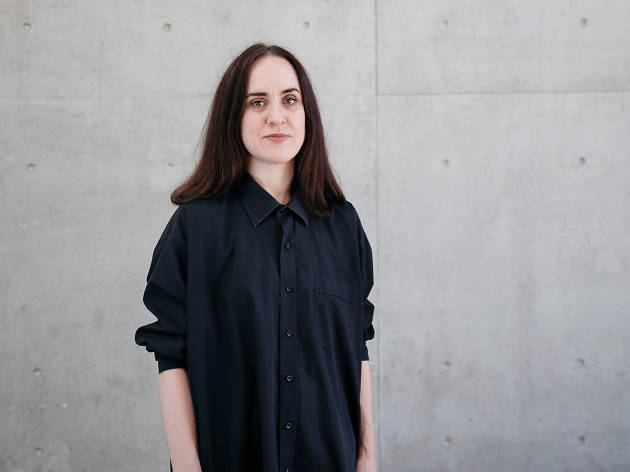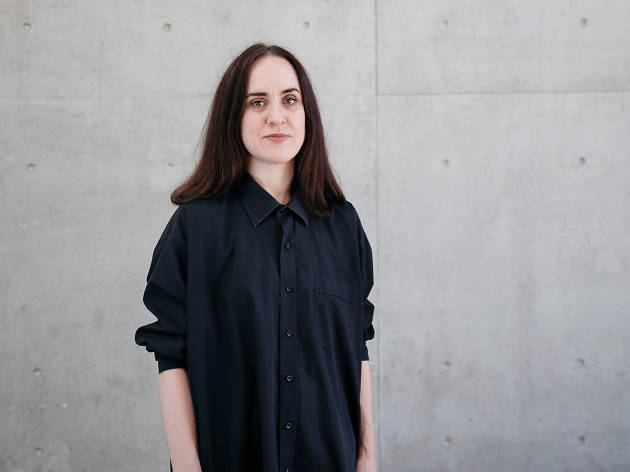 Frances Barrett. Photograph: Daniel Boud
Barrett's exhibition, Meatus, will take the form of a sound installation at ACCA. The work was created in collaboration with artists Brian Fuata and Hayley Forward, and features additional compositions by Nina Buchanan, Del Lumanta and Sione Teumohenga.
It plays on the ideas of the meatus, a term, used to describe our outer ear canal, that refers to a passage between the outside world and our bodies. Barrett hopes to reframe the act of listening as an embodied experience.
"In terms of what's happening in the world now, there is a lot of noise but when you are actively listening to someone, it is an embodied process – you are responding to body language, to context and other things that are implied," she explains. "Katthy's performances were deeply personal and utilised the body – and although there are no live bodies present in Meatus, the installation itself depends on the bodies of the audience playing a role as listener. This fellowship has given me the opportunity to work with a group of artists, expand the scale of the project – and afforded me a longer process to researching the work."
Frances Barrett: Meatus is at ACCA, Melbourne from April 4 to June 8.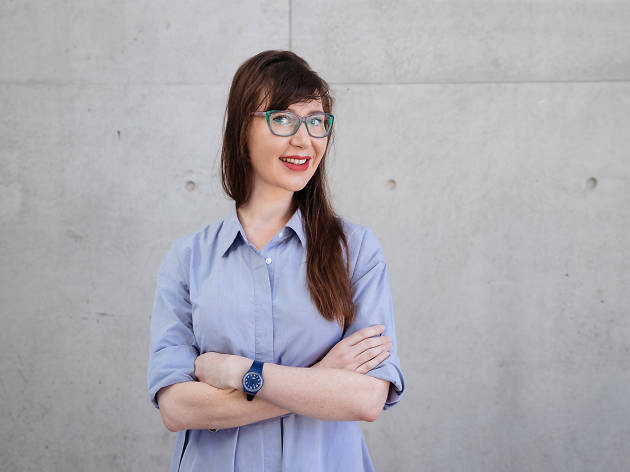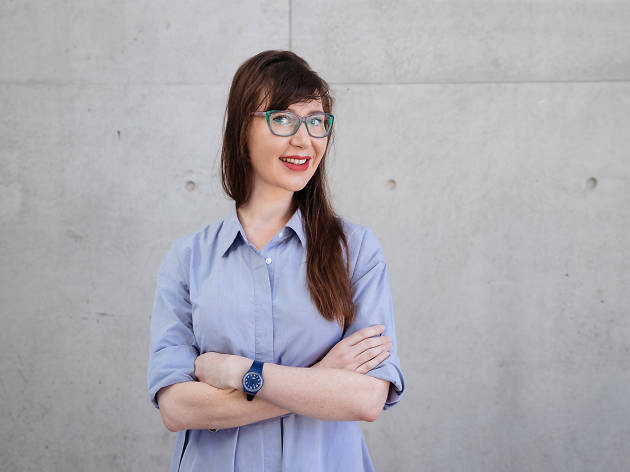 Giselle Stanborough. Photograph: Daniel Boud
Stanborough's Cinopticon, an installation and performance series that will draw from the artist's own online archive, explores the way we watch each other.
"There's this asymmetry where we are all looking at Kim Kardashian and Mark Zuckerberg is looking at us and the Panama Papers are looking at him," she grins. "There is more connectivity than ever before but that is not translating into political organisation among people who are marginalised. We are seeing each other's content and spending a lot of time watching each other but our experiences are increasingly siloed."
At first glance, Stanborough's work is about a world that is hyper-connected. When you look again, it is about vulnerability, isolation and the desire to transcend what divides us.
"A metaphor in this show is a source of light that is both a search light and a spotlight," she says. "It is both an invitation and a more ominous gaze. Unless you are familiar with Katthy's oeuvre, you wouldn't notice but there are so many references to her work in the creative and aesthetic decisions that I've made."
Giselle Stanborough: Cinopticon is at Carriageworks, Sydney from March 27 to June 14.
Looking for more fabulous art?
From high art to the experimental and indie, here's your hit list.