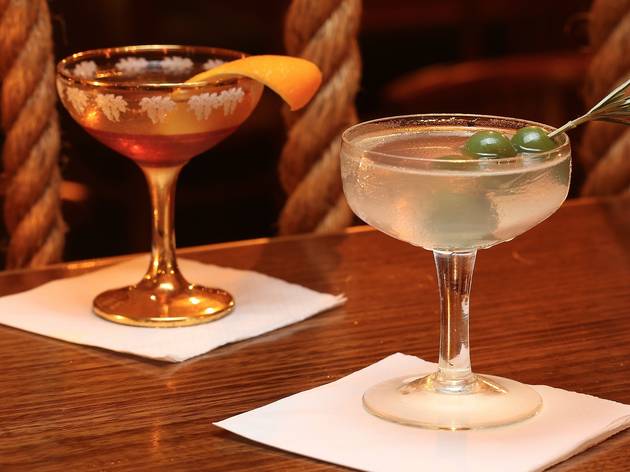 1/10
Photograph: Graham Denholm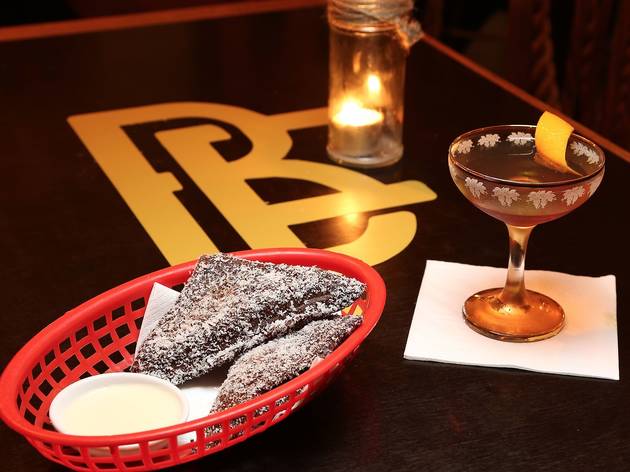 2/10
Photograph: Graham Denholm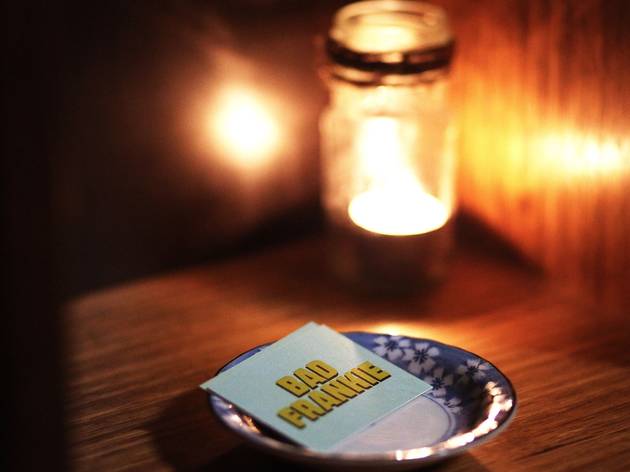 3/10
Photograph: Graham Denholm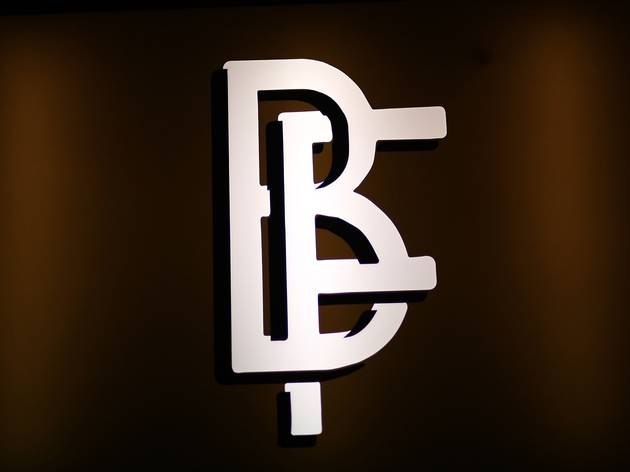 4/10
Photograph: Graham Denholm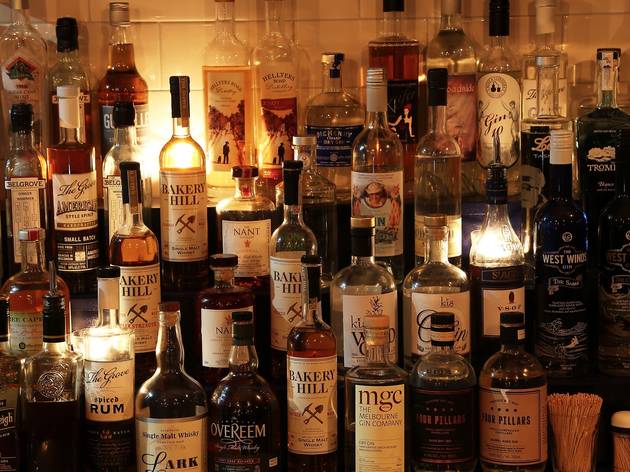 5/10
Photograph: Graham Denholm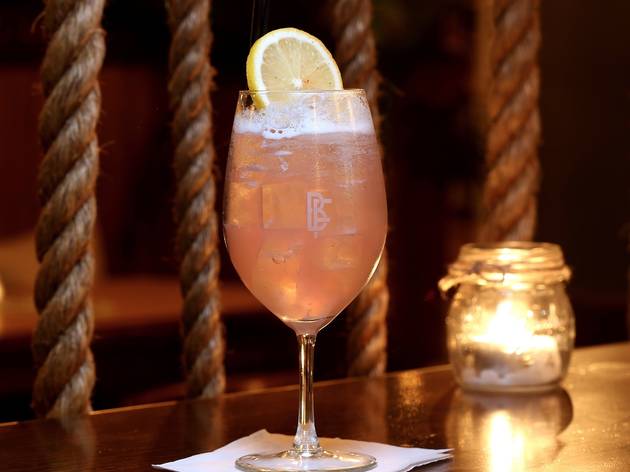 6/10
Photograph: Graham Denholm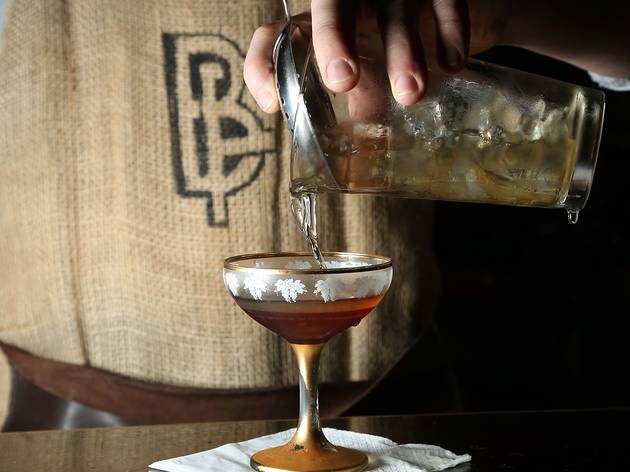 7/10
Photograph: Graham Denholm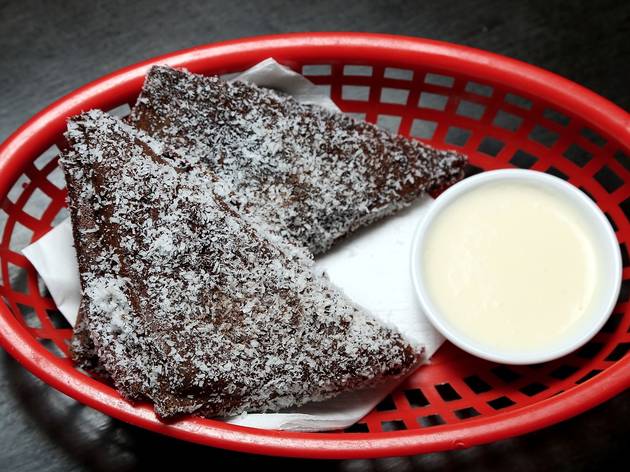 8/10
Photograph: Graham Denholm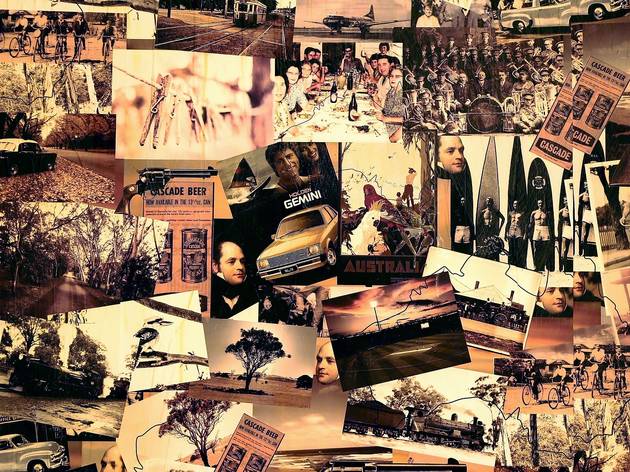 9/10
Photograph: Graham Denholm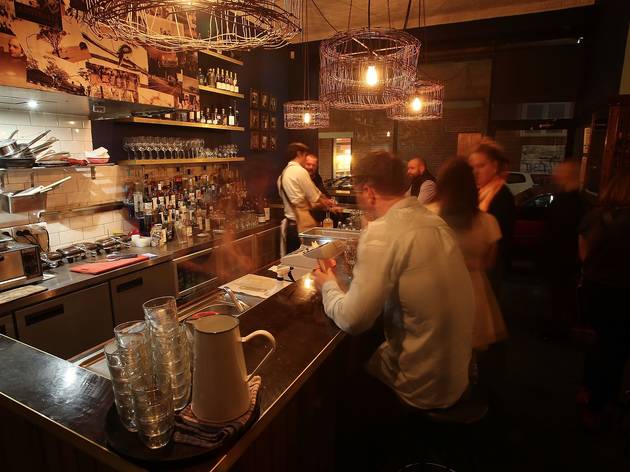 10/10
Photograph: Graham Denholm
This cocktail bar is makes a strong argument for drinking what's in our backyard
Native ingredients are so on trend right now. Finger limes, muntries, quondongs and hashtags have been used and abused in the name of championing local produce. But Seb Costello, owner of Bad Frankie's – a cocktail bar stocking only Australian spirits – had been on the native train years before a certain great Dane decided to explore our scorched land, appropriating his findings with his nomadic restaurant concept.
Bad Frankie isn't some interpretation of what Costello thinks native Australia is, though. Instead, Bad Frankie is Costello's Australia; a true-blue Aussie bar that puts jaffles, community sporting trophies and smart spirits utilising native ingredients next to each other. Since the bar's inception, there's been a gin boom, and the back bar has grown to match. They've collected 200 and counting, some with nuances of native pepper berry, others with macadamia or lemon myrtle, to list a few. This can be seen at play in the Married Martini, a dirty Martini made with Collingwood-distilled Artemis gin containing hints of eucalyptus chilled down with olive brine and Maidenii dry vermouth; thick with strawberry gum, wattleseed, sea parsley and river mint.
For a house original, Green Nuts and Muntries is sweet, nutty and refreshing due to Kangaroo Island Spirits' green walnut liqueur being stirred down with muntrie jam and brandy before being served on the rocks alongside the unconventional but winning garnish of an Arnott's Mint Slice biscuit. It gets extra points for being presented in a runner's up tumbler from the Southern Squash League circa 2001 – the team Costello's wife plays for.
A lack of kitchen doesn't stop Bad Frankie from dishing up a heavy dose of vintage Australiana: Costello has collected a range of jaffle irons for his jaffle-only menu. We can't go past the Classic at $8, overflowing with molten vintage cheddar and mozzarella for that X-rated cheese-pull and served with your choice of tomato chutney or Vegemite in a ramekin. There are more adventurous flavours filled with butter chicken sauce or bangers and mash, but sometimes old school is the way to go. Desserts don't get overlooked here either, with a choice between a lamington-flavoured or hot jam donut-flavoured jaffle to finish off the night. Beware the hot jam burn.
It's the unpretentious and anything-goes nature of Bad Frankie's that makes it great. Unlike others who chose to play in the natives game, they're not assuming they have all the answers, but are simply showing you what they've learned. Thankfully for us, it's not a fumble of bush-tucker clichés, but a slice of their Aussie upbringing.
Venue name:
Bad Frankie
Contact:
Address:
141 Greeves St
Fitzroy
Melbourne
3065

Opening hours:
Sun, Tue, Wed 3-11pm; Thu-Sat 3pm-1am