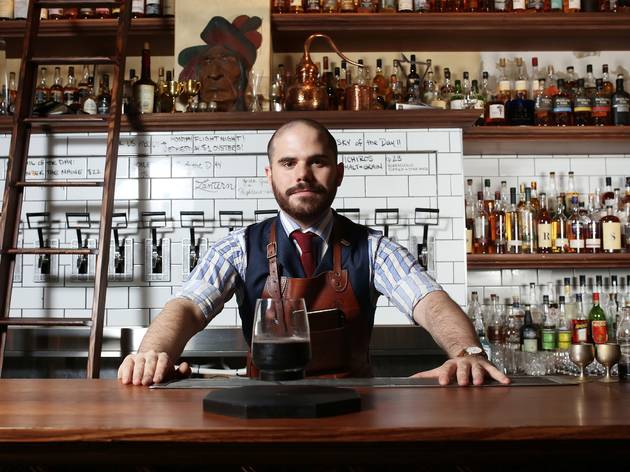 Drink like a 19th-century steel worker at the CBD's new shrine to whisky
If you'd worked a long, hard day in a 19th-century Pittsburgh steel mill, you probably wouldn't want to quench your thirst with a Sex on the Beach. What you'd want is a Boilermaker: one shot whisky, one pint beer. 

Melbourne might not be a magnet for Yankee steel workers, but it does serve their liquid medicine of choice now, at Boilermaker House. This brown-as-a-Brazil-nut bar on Lonsdale Street is the city's second temple to whisky, joining sister bar Eau de Vie, which has been getting Melburnians elegantly imbibed on aptly named Malthouse Lane since 2014.


As soon as you step inside the House, you know you're home. Trimmings are fashionably tatty – curtained, tasselled booths and a bunch of miscellaneous old shit that includes tobacco tins, framed busty temptresses in various states of undress, a deep-sea diver's helmet, leather-bound copies of New Complete Woodworking Handbook and the ilk – but the operation is hipster slick.
It's the fourth offering from the Speakeasy group – joining EDV in Melbourne, and EDV and the Roosevelt in Sydney. So the dapper staff decorated with tatts and suspenders, rolled-up shirt sleeves and nifty vintage hats might not surprise you, but we'll wager they'll charm you. On our visit, we're wooed by a big-haired American rockabilly babe and a cheeky London geezer – it's a winsome mix.
Talking of winsome mixes, look at the bar menu. As the cheese and charcuterie counter on the left signposts, it's not just about beer+whisky. A serve of sobrassada (Spanish sausage) is as smoky as the blues voices in the background, sweetened up by tiny apple cubes and honey-candied almond slivers. Chargrilled aubergines get a mustard aioli kick from the accompanying green sauce; but wallaby is woeful, emerging from its pan as rubbery as calamari. There are lists of cured meat and cheeses as long as our arms, and even the Boilermakers come with flavour-paired snacks that a steel worker would smirk at.
If you're a beginner boilermaker, the Wax On/Wax Off is a sensible baptism of fire: a shot of Japanese Hibiki Harmony whisky, served with a pint of sunny König Ludwig Weissbier, plus dinky maple-glazed banana chips. The whisky smells of honey and tastes just as sweet, with an added Kalashnikov to the throat; the beer is light and refreshing, dousing those flames. If smoke is your thing, opt for the Islay Cure All: a peaty whisky shot (Scottish Caol Ila from Isle of Islay) that's like breathing in a bonfire, plus a mad fruity Feral Hop Hog beer. Pause to get your bearings with a nibble on the accompanying prosciutto-topped toast.


You don't have to stick to Boilermakers. There are some accomplished cocktails, including a mint-green Tea House Daiquiri (apple, rum, anise) that's like biting on a boozy Granny Smith. The double-sided A5 drinks list also spans a roller coaster of craft beers from New York to New Zealand, plus whiskies that will whisk you from the highlands of Scotland to the mountains of Yamanashi, Japan.
If you really want to make like the boilermakers of old, plonk your whisky shot in your beer and knock the two back in one. Just don't operate heavy machinery afterwards.
| | |
| --- | --- |
| Venue name: | Boilermaker House |
| Address: | 209 - 211 Londsdale St |
| Opening hours: | Mon-Wed 4pm-3am; Thu-Sun noon-3am(soon to be noon-3am all days) |
You may be interested in:
Rating Breakdown
5 star:

1

4 star:

0

3 star:

0

2 star:

0

1 star:

0
Professional fun staff behind the bar and on a floor, great atmosphere and music, huge selection of cocktails presented in a very cool little booklet yet easyley upon a request could mix up anything to a customer taste . Definitely on a list of my favourite bars In Melbourne from a first visit!