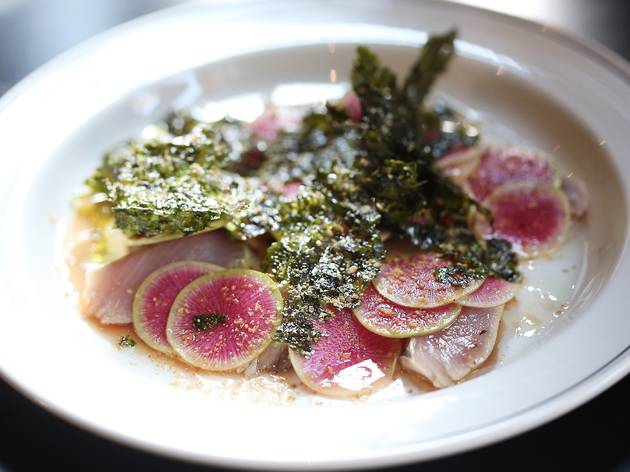 1/12
Photograph: Graham Denholm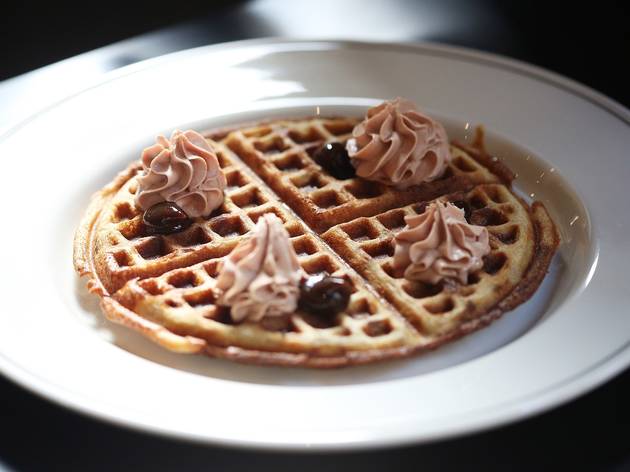 2/12
Photograph: Graham Denholm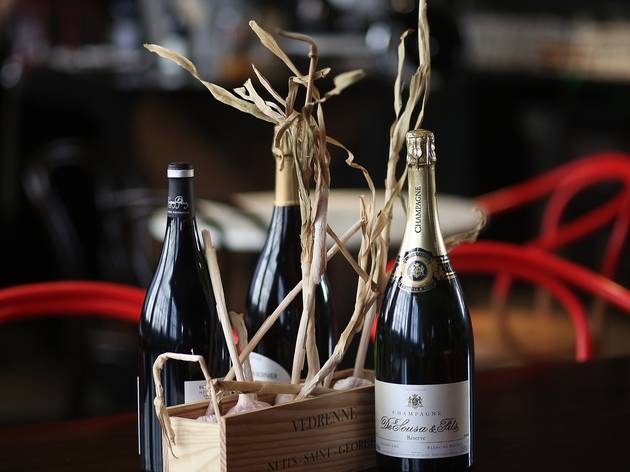 3/12
Photograph: Graham Denholm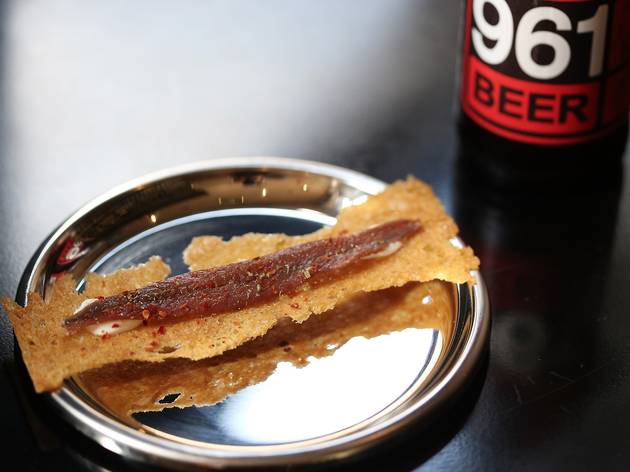 4/12
Photograph: Graham Denholm
5/12
Photograph: Graham Denholm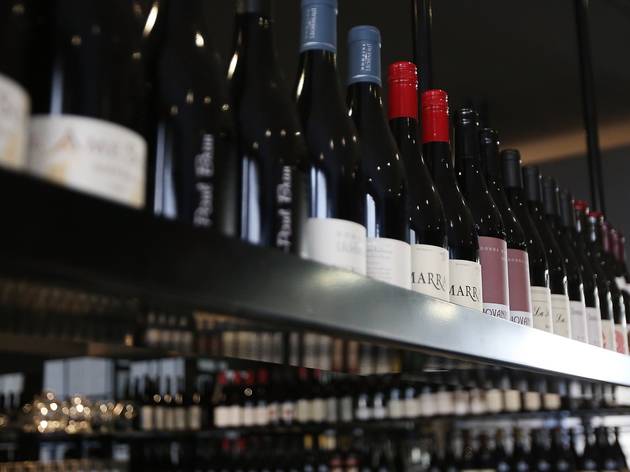 6/12
Photograph: Graham Denholm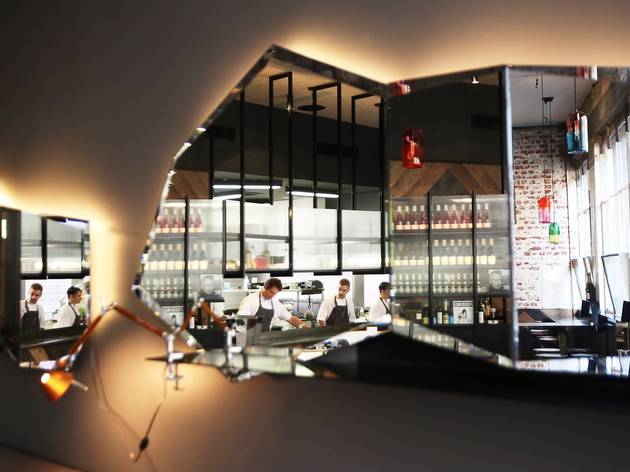 7/12
Photograph: Graham Denholm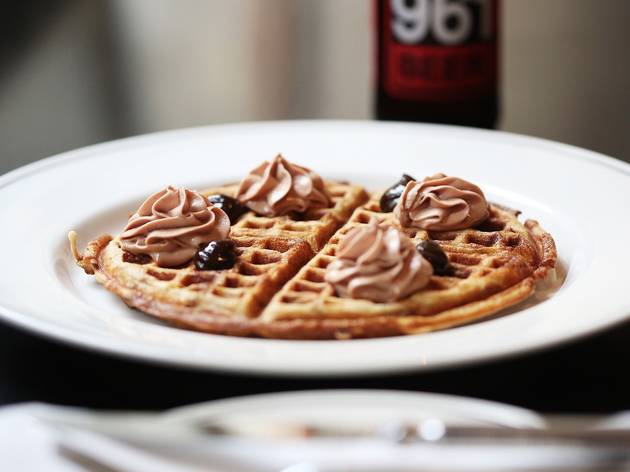 8/12
Photograph: Graham Denholm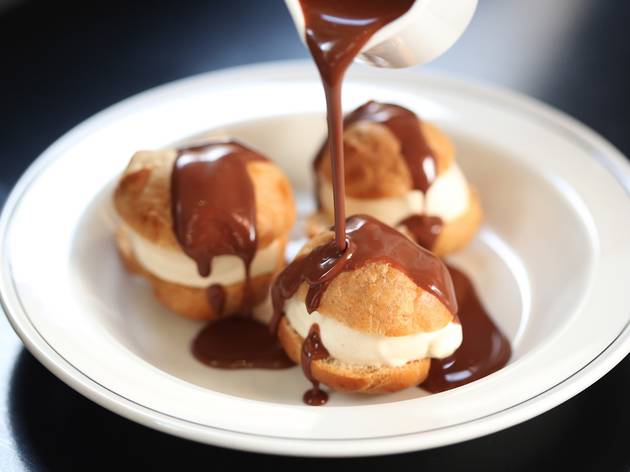 9/12
Photograph: Graham Denholm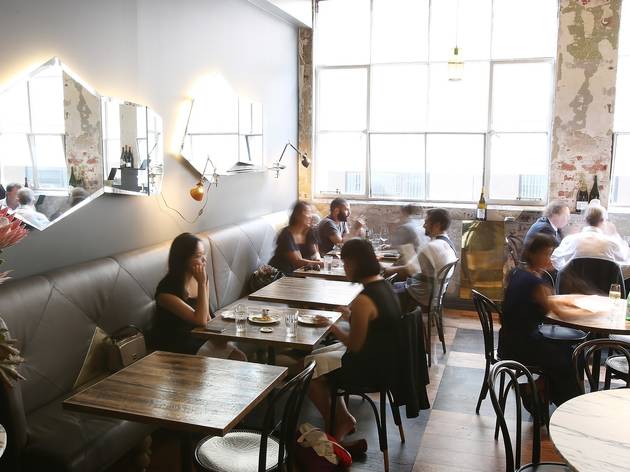 10/12
Photograph: Graham Denholm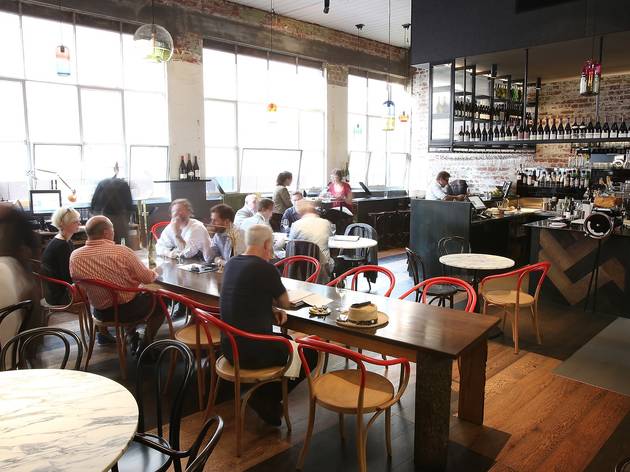 11/12
Photograph: Graham Denholm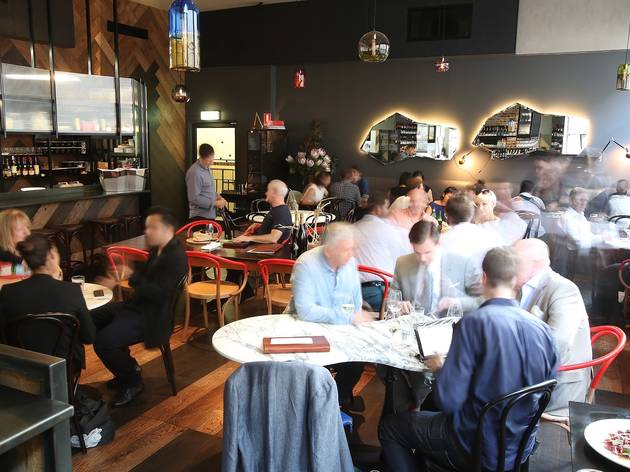 12/12
Photograph: Graham Denholm
We always suspected Andrew McConnell would do good bar, and he's proved us deliciously right
So Andrew McConnell has opened a wine bar, and it's amazing. Which will come as a shock to approximately no-one. The chef-restaurateur crafts the kind of refined, relaxed snacks (see: Cumulus' anchovies on toast) that beg for a casual sip and sit situation, and that's precisely what Cumulus Up provides.
Go kitchen bench or window side. Frock-up, or don't. Drop in or stay long. The eats range in seriousness from pickled veg and olives to an unquestionable eyes-on-a-long-night 800g rib eye steak on the bone. And praise the gods of late night delicious, it's open until 1am.
You'll find this excellent bar right above Cumulus Inc in Flinders Lane. Co-owner and super-architect Pascal Gomes-McNabb has put together a polished, industrial space with just the right amount of gloss, making it look as easy as doing a two-piece jigsaw puzzle. A charcoal canvas is offset with a flash of mirrors, a dash of sky through the windows and gently glowing blown-glass bells. It's as simple and slick as what's on the plates.
McConnell's no stranger to flights of fanciful genius. Take the shreds of confit duck pressed into a meat waffle for smearing with foie gras parfait and a sweet dollop of plum sauce - that's some benchmark bar snacking right there. But paring things back to a few simple ingredients that just taste good together is his stamp. There's the carpaccio of fresh striped trumpeter, golden with lemon oil, and buckshot by hot and salty hits of chilli flakes and tiny capers. And profiteroles! Fresh baked pastry puffs sandwiching churned-to-order vanilla ice cream with a jug of warm couverture chocolate for a make-it-all-melt-together dousing.
That's what we like about this bar. There's no sense of anyone trying too hard. You know that they know what they're doing and it makes for a really relaxing time.
Sure, sommelier Andrew Joy's full ledger is a leather-bound book of gamut-ranging French, Italian and Australian bottles with nods to natural and orange gear (for those who like the grip of whites that have seen some skin action). But you only need focus on the concise by-the-glass list. Those five whites and reds, with a rosé and Champagne thrown in, cover serious ground at non-serious prices ($7-$12 a glass).
There's the bone-dry, sherry-like 2009 Jacques Puffeney Arbois blend of savagnin and chardonnay. Or the Les Hauts de Milly 2011 chablis that's musty and just a bit dirty. Both are delicious, and put wine drinking back in the realm of an adventure sport. And hey, craft beer fans – they're breaking ground with 961 Beer from Lebanon's first and only microbrewery too.
The floor team know their wines. They know what we have coming from the kitchen, and they offer us a cleansing gin and tonic to close the night.
That's the definition of good drinking right there.
---
Venue name:
Cumulus Up Wine Bar
Contact:
Address:
Cumulus Inc, Lvl 1
45 Flinders Ln
Melbourne
3000

Opening hours:
Sun-Thu 5pm-late; Fri, Sat 4pm-late
Transport:
Nearby stations: Parliament