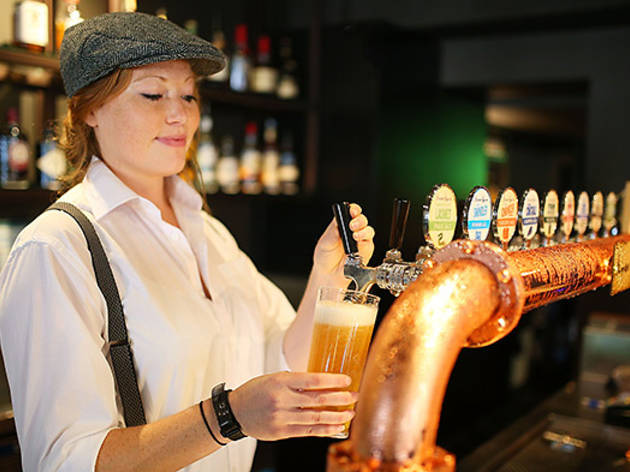 Five reasons to make the Crafty Squire your new local
Have you checked out your local neighbourhood pub conveniently located in the CBD?
Looking for a drink in the CBD? As far as bars go Melbourne is hardly in an undersupply, but if you're after something a bit more casual the options narrow. But right in the heart of the city the Crafty Squire is pouring beers, cooking Aussie-inspired meals, helping locals unwind and generally doing its own thing with a hearty dose of local pub hospitality.
---
1. The food
On the Crafty Squire's ground floor menu you'll find your classic, high quality pub grub: cheesy parmas, wedges and steaks. But the level one menu is where it gets really interesting. Here the dishes rework favourites feeds with native Australian ingredients and some inspiration from beer. Choose from a few of the smaller eats like crocodile sausage rolls with lemon myrtle and caper mayonnaise and emu and venison mini meatloaves, or go for something more filling like wallaby gnocchi ragù or beer can chicken.
2. The beer
There's nothing sadder than a pub with no beer but thankfully the Crafty Squire does not have that problem. They have the full range of James Squire beer on tap. There's something for the social beer drinker all the way up to the full blown hops enthusiast. Try one of the hand-crafted ales from the onsite James Squire Brewhouse for something different or get one of their six beer tasting paddles to decide on your favourite brew.
3. The vibes
If you're looking for somewhere laid back for after work dinner and drinks, the Crafty Squire has you sorted. It's right in the heart of the city but feels more like the beloved local establishment in a regional town – the kind of place you can brings your mates to watch the footy but just as easily host a function at.
4. The sports
Melbourne is sports mad and the Crafty Squire is all too happy to indulge the fanaticism. On the pub's big screens you can catch all the action of the AFL (naturally), the NRL, the EPL, the A-League, the rugby union, the cricket and all the world's biggest sporting events.
5. The functions
Party season is quickly approaching and the Crafty Squire is happy to help you host your next function. They offer semi-private and private function areas with drinks and food packages to suit every occasion. Plus it's easy as to get to and from the pub – trams are about a two minute walk in every direction.
Best selling Time Out Offers