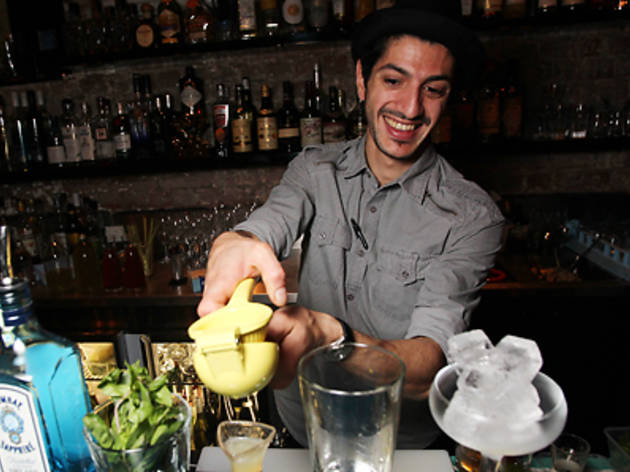 1/14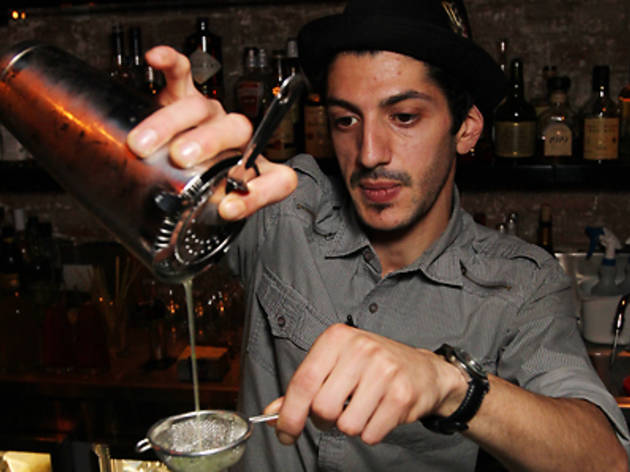 2/14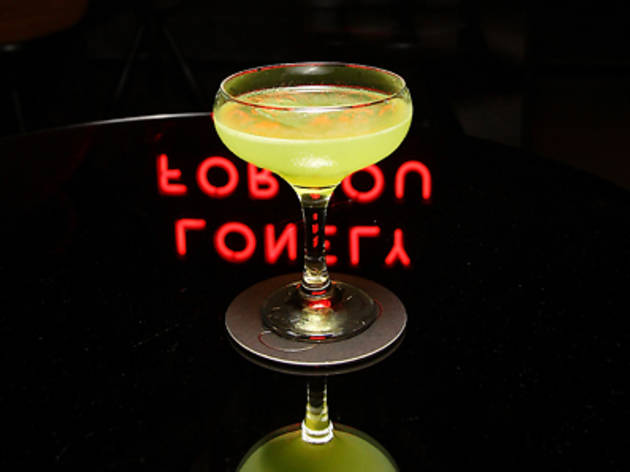 3/14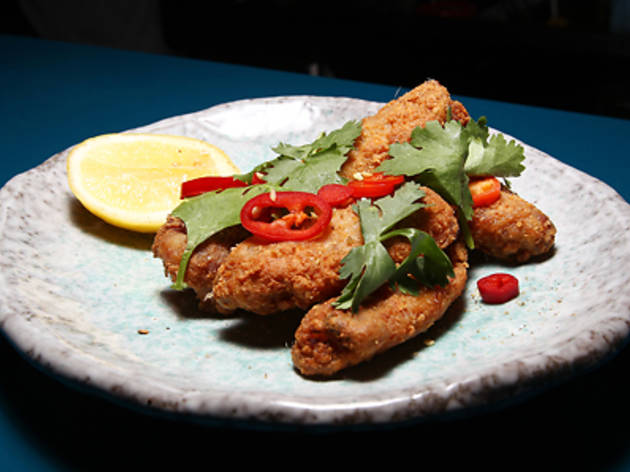 4/14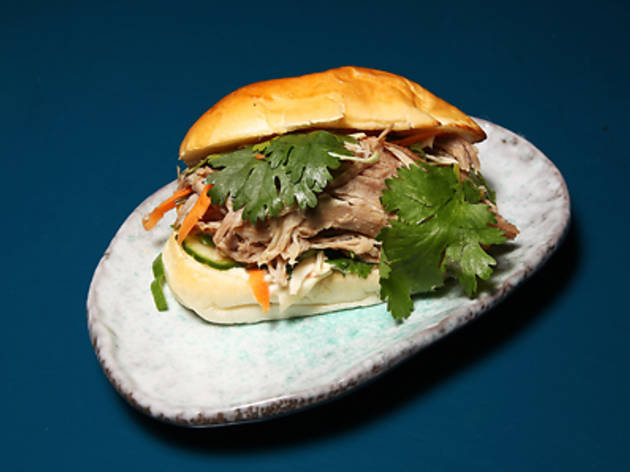 5/14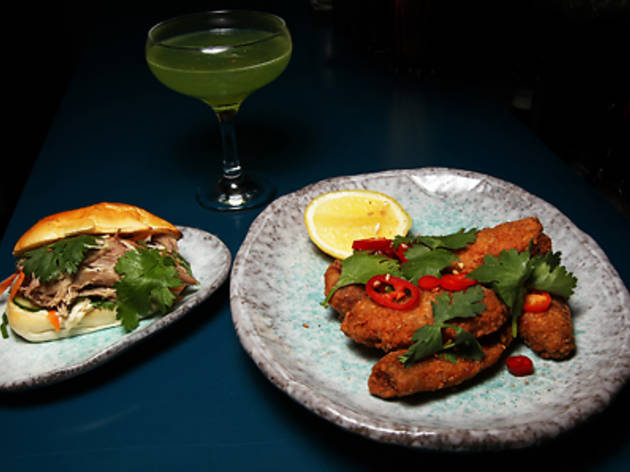 6/14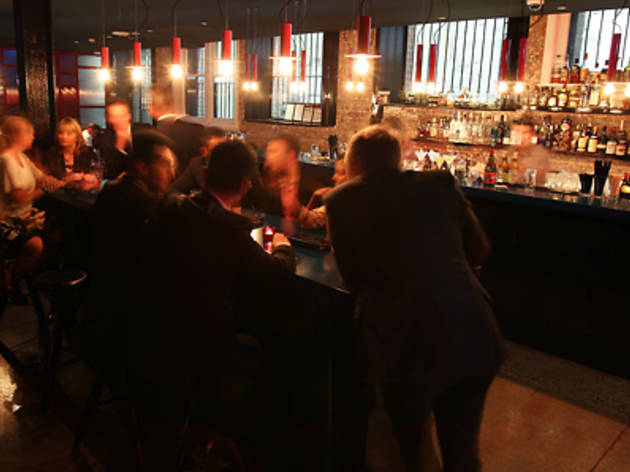 7/14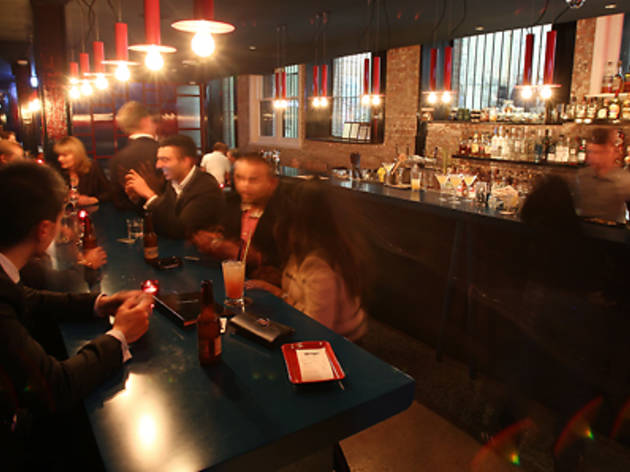 8/14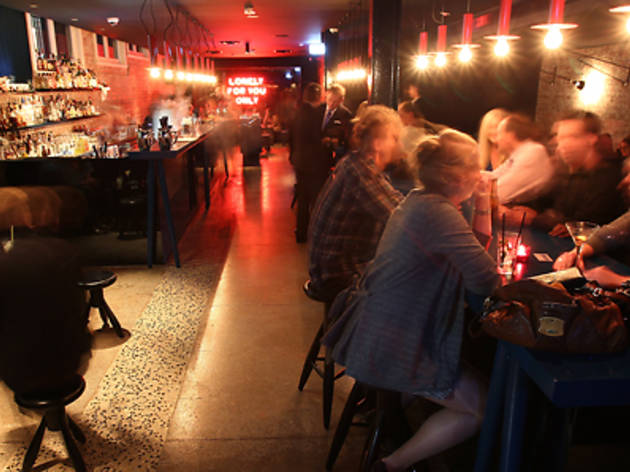 9/14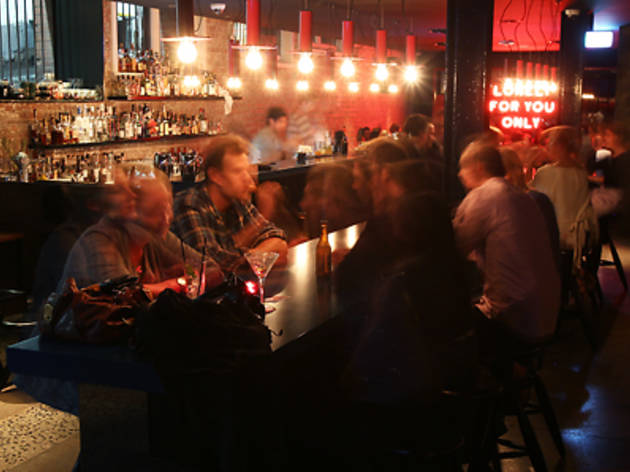 10/14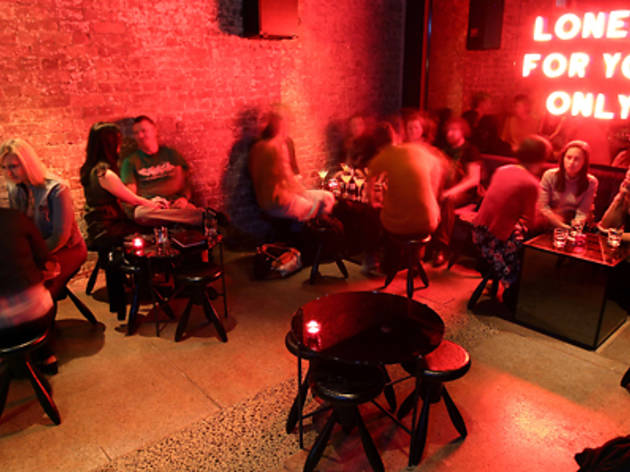 11/14
12/14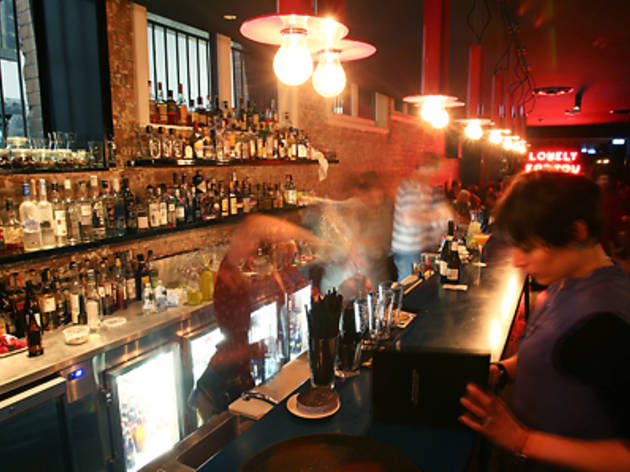 13/14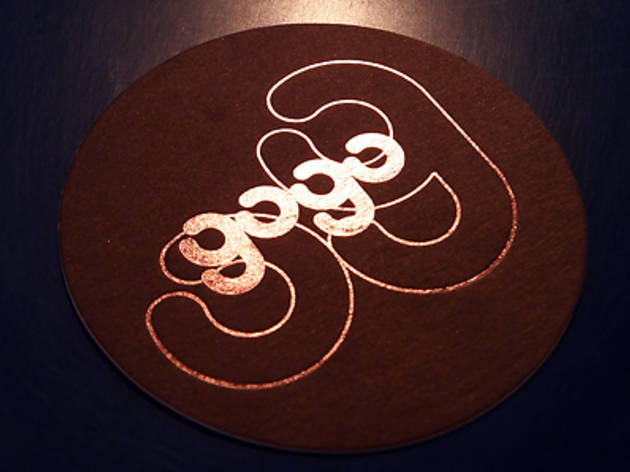 14/14
Get ready, get set, and Go Go, go!
Drinks a go go! Snacks a go go! Everything is better when you add some go go, which makes the addition of this bar to spice den Chin Chin a happening of note. The expansion means that lengthy wait times for a table at the oh-so-popular Flinders Lane restaurant can now be endured with drinks and snacks in hand – the only respectable way to queue in our opinion. But Go Go Bar isn't intended simply as a holding pen for the overflow of dining enthusiasts. This dark, subterranean bar is a drinking destination in its own right.
Décor wise, it's the yin to the yang of the blazing bright, airy and white upstairs space despite being designed by the same crew at Projects of Imagination. With an entirely black paint job, minimal light coming from naked bulbs, and a scattering of tea lights in red glasses, it's like the Chin's goth cousin. You'll see the family resemblance in the 'lonely for you only' neon sign that matches the kitsch pink bunny upstairs. The darkness doesn't make for the cosiest of vibes, but with a Thai flavoured custom cocktail list, some weekend DJ action, and a make-a-meal-of-it snack menu, you could do worse than to find yourself starting – and finishing – the night here.
The menu is divided into seasons, spruiking a few cocktails, wines and beers to suit the weather for each. Summer has crisp lagers and long cocktails (try an icy highball of lemongrass, Tromba tequila, creme de cassis, lemon and palm sugar with a ginger beer float) while the winter section pimps dark and cosy drinks. Think invalid stouts and cinnamon heavy cocktails. Whichever end of the spectrum takes your fancy, brace yourself for the same style of 'FLAVOURS!' as you get in the sweet, salty'n'sour pan-Asian cooking upstairs. Try the Thai Basil cocktail – it's a full frontal assault of gin, kaffir lime, lemon and palm sugar shaken over ice and served with a floating Thai basil leaf. The first sip is like being zapped with a cattle prod, delivering an intense shock of citrus and sugar to the taste buds before balancing out with the savoury kaffir and basil. If you're eating upstairs, it will set you up just right. But if you're planning on going hard all night, the palate-punching flavours might spell ruination – it's a great kickstarter, but not a longevity drink. For something a little easier on the tongue, they have a short but sharp collection of beers that favour local dudes and Asian brews. Doss Blockos is their local poster child beer for summer, but if you want to stick with the Asian theme, grab a rice-based Beerlao longneck for $14.
If hunger panic sets in, get the stuffed and grilled roti with gado gado (an Indonesian salad) and peanut dipping sauce. A jumble of potato, beans and cabbage (we'd call this a samosa mix over gado gado) comes wrapped in a crisp shell of the grilled, tissue thin roti bread – it's not bad for a potato sandwich. Crunchy, chilli-salt wings are crisp of coat, tangy in taste and are a finger-lickin' good beer snack if you find yourself still a go-going at an indecent hour.
Loud, dark and packing potent drinks and snacks, this is no shrinking violet of a bar. Go hard or Go home. Just go go!
Venue name:
Go Go Bar
Contact:
Address:
Lower Ground
125 Flinders Ln
3000

Opening hours:
Sat-Thu 5pm-late; Fri 4pm-late
Transport:
Nearby stations: Parliament; Flinders Street