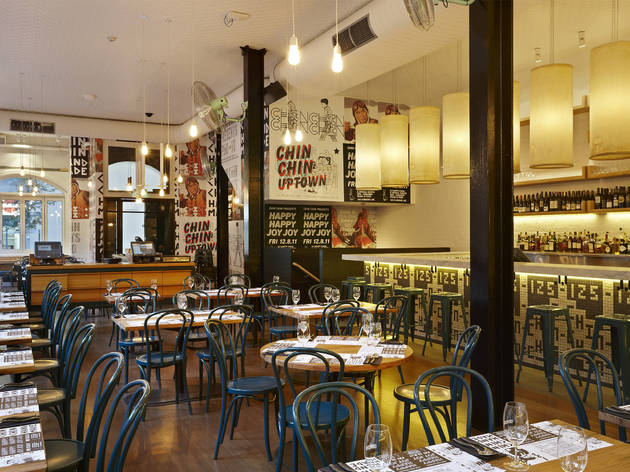 1/5
Photograph: Dianna Snape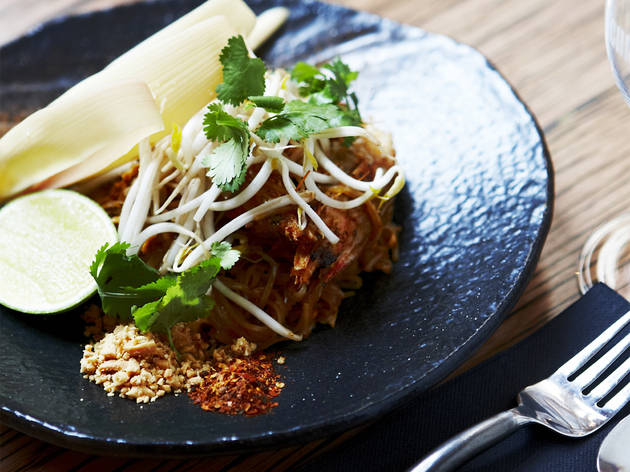 2/5
Photogapher: James Braund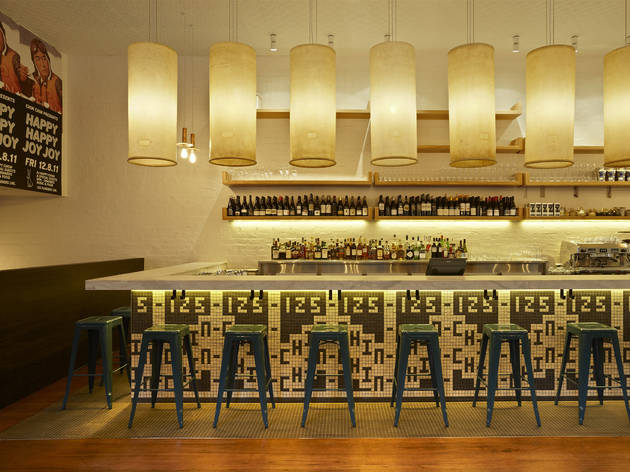 3/5
Photograph: Dianna Snape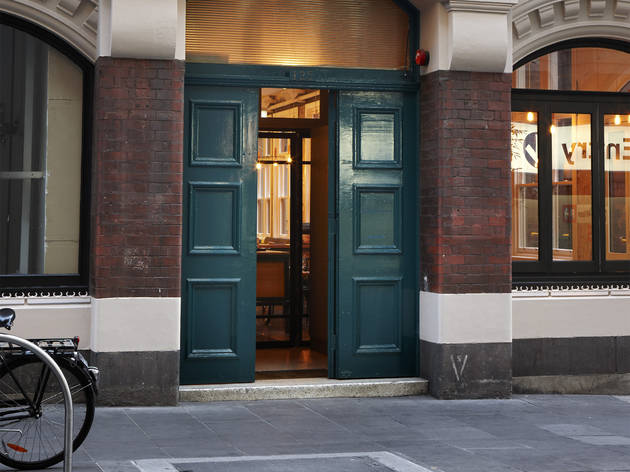 4/5
Photographer: Dianna Snape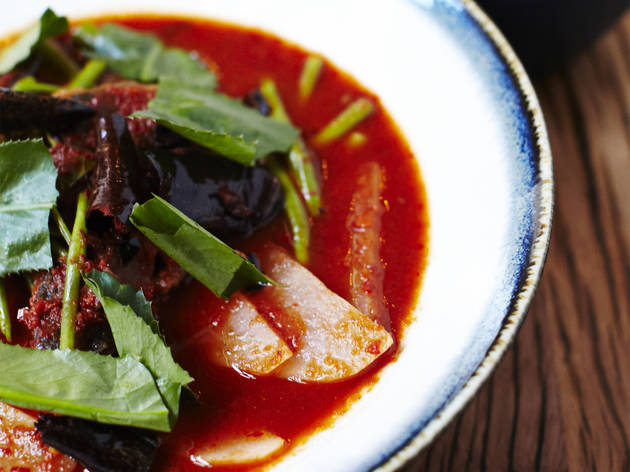 5/5
James Braund
Hot foot it into Chin Chin for some happy happy joy joy
Chin Chin arrived in Melbourne to sticky pork muffled howls of approval, and some slightly immature poking out of tongues in Sydney's direction. Chefs Ben Cooper and Andrew Gimber (who helped set the restaurant up before moving on in September) have both worked with Sydney's Emperor of Thai, David Thompson, so big things were expected in the taste department. The conclusion? While this is a fun environment that has Melbourne lining up around the block Mamasita style, we're not quite ready to extend a challenge to our Sydney Thai rivals yet.
Fitted out by design gurus Projects Of Imagination, the venue is casual-chic with kitschy fun bits. The lengthy marble bar and the vastness of the space make it swanky enough to impress but they've kept it cool, trading uniforms and spaceship sized dinnerware for casual tees and rustic glazed share-platters. Cartoon poster-art is plastered around the entrance, luring the hip to the happenings scheduled in the Go Go bar downstairs, and a giant, pink bunny neon light installation adorns the wall- y'know, just for fun.
The Asian mash-up menu is printed on disposable place mats, implying a regular changeup of dishes, and encouraging some playful mess-making as you scoop up spicy bits and sauces from a fairly extensive list of Pan-Asian snacks. Kingfish sashimi ($14) is a safe bet lifted by a piquant combination of chilli, angel hair strips of kaffir lime leaf, fresh lime segments and juice, and tempered by judicious dabs of coconut cream. Pork roll ups ($18) are a cool idea – roll-your-own pulled pork pancake wraps crunched up with a mix of coriander, mint and bean sprouts. The sauce on the side isn't particularly memorable (sweet'n'red) and some juicier, better seasoned pork could really lift the dish. From the bigger dishes, play the field with at least one salad, a curry, and something from the barbecue section. The barramundi and caramelised pork salad ($24) is a winner: salty, crisp chunks of fish hide among a bracingly fresh mint, coriander and apple salad, which is teamed with a side of outrageously sweet, gooey pork all smashed together like a flavour bomb. Sadly, the same can't be said for the cuttlefish and vermicelli number, which hammers home a whole lot of sour and not very much else. 'Neil's wagyu salad' (Neil Prentice is the sommelier - he raises beef) is a sweet and creamy mix of tomato, tiny slices of eggplant, leaves, roasted rice and thin slices of rare beef. The problem with serving wagyu beef this rare is all the delicious fat remains unrendered so you get all the tenderness and none of the flavour. And that makes us sad - especially at $33 a pop. Mandarin duck is tender and sweet, if a little awkwardly large to handle with the wooden chopsticks provided, and the shredded barbecue goat dish with long threads of hot ginger proves a welcome smoky departure in taste for mouths tired of 'sour'.
Backed by crafty cocktails, an informed Australian wine list with an option of a $20 litre of house white or red wine, it's not hard to have a good old knees up at the 'Chin. But, this is more fun dining than fine dining, which perhaps the price should reflect.
BAR REVIEW:
It's loud, it's brash, it's unapologetically chi-chi. There's a giant neon pink bunny silhouette etched into an enormous mirror. Everything is streetwize! Staff are all wearing angular haircuts and piercings. The kitchen crew are all sporting Chin Chin T-shirts. This is the restaurant/bar where drinks are made with plenty of vodka, spice and fruit (there's a coconut slushie on the list, which you can order either with vodka or without. We think it'd be pretty damn good with a slug o' rum. Just call us urban pirates) and the food is all amped up to eleven. Coriander, fish sauce and lime are the dominant flavours at work here, which can be a little tiring on the palate without the benefit of a little balance from say, chilli and sugar. It's kind of like Longrain without the benefit of a chef like Martin Boetz. But, whatever: go for the drinks, eat some deep-fried chicken wings and a roll-your-own pork bun, and be prepared to line up with the rest of Melbourne. Chin Chin might miss the mark on some of its dishes, but they've got an entire city gagging for their take on mod-Asian. Just wait till they open Go Go - the cocktail bar that's going to be under the restaurant. All-in-brawl-in is just the tip of the iceberg.
Venue name:
Chin Chin
Contact:
Address:
125 Flinders Ln
3000

Opening hours:
Mon-Sun 11am-late
Transport:
Nearby stations: Flinders St; Parliament