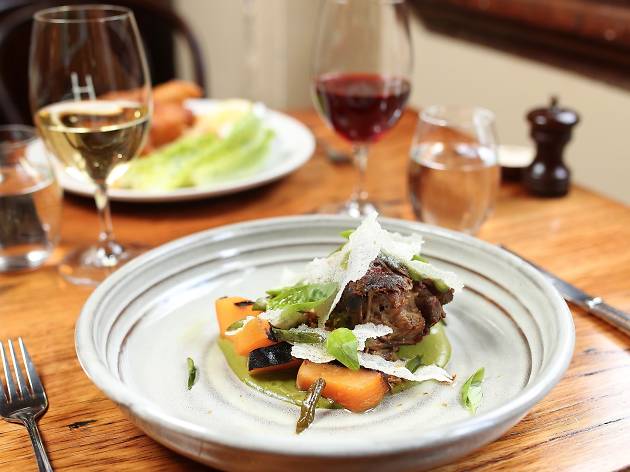 1/9
Photograph: Graham Denholm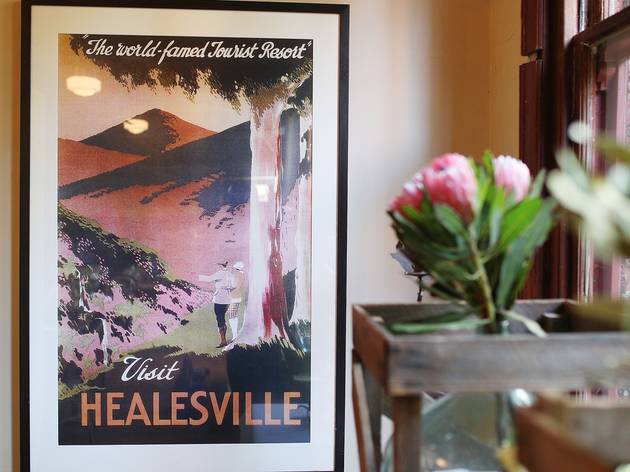 2/9
Photograph: Graham Denholm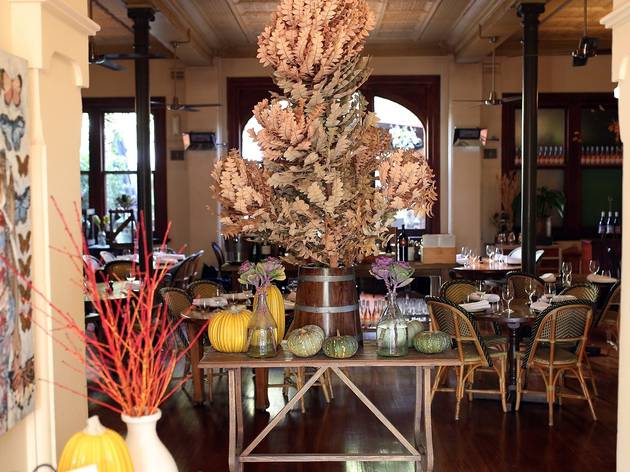 3/9
Photograph: Graham Denholm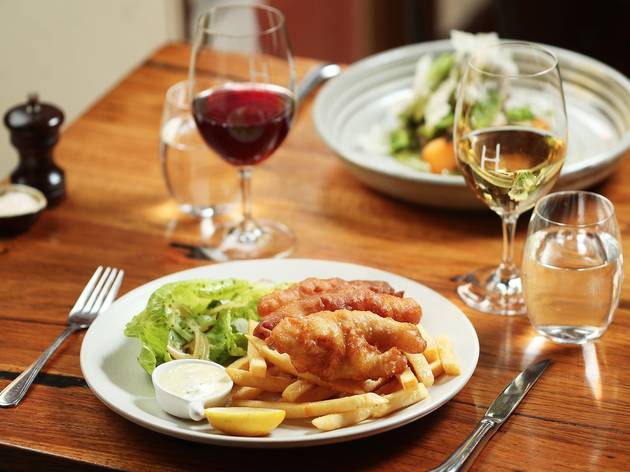 4/9
Photograph: Graham Denholm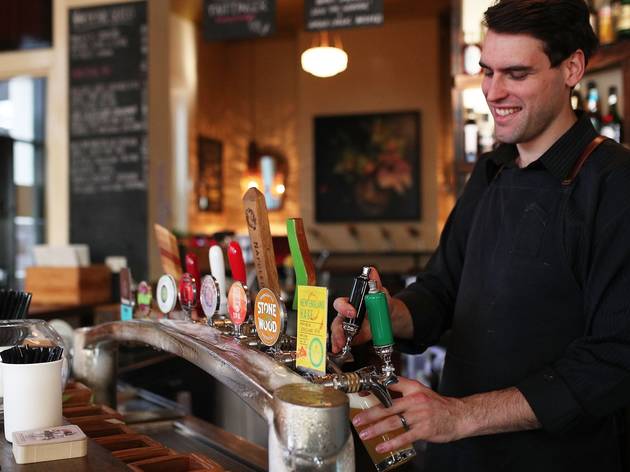 5/9
Photograph: Graham Denholm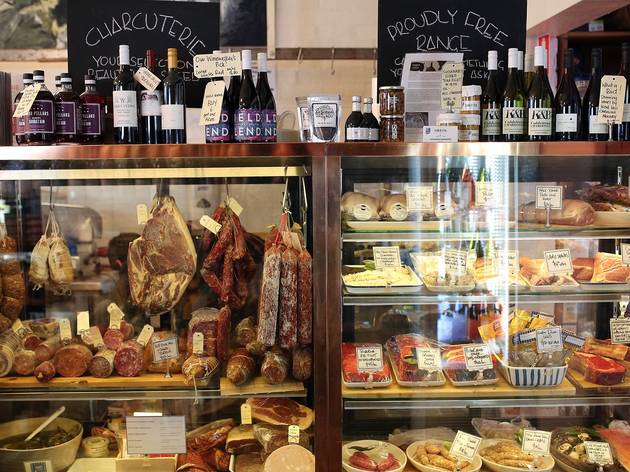 6/9
Photograph: Graham Denholm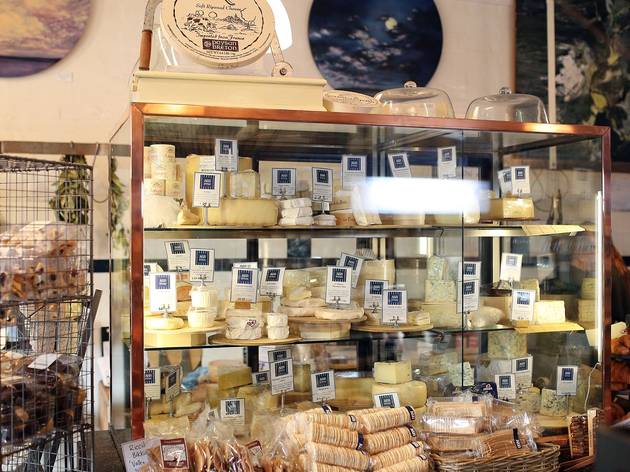 7/9
Photograph: Graham Denholm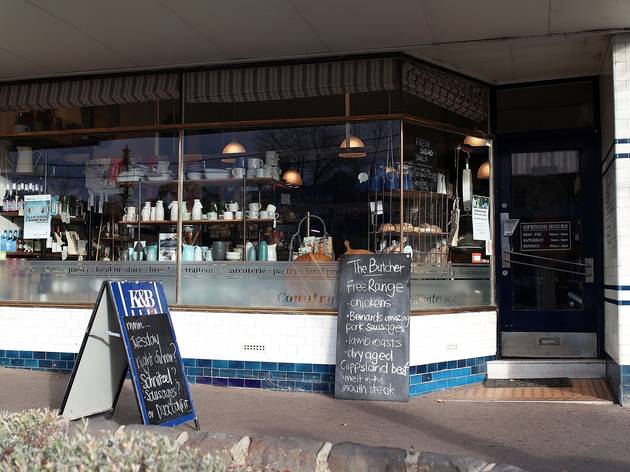 8/9
Photograph: Graham Denholm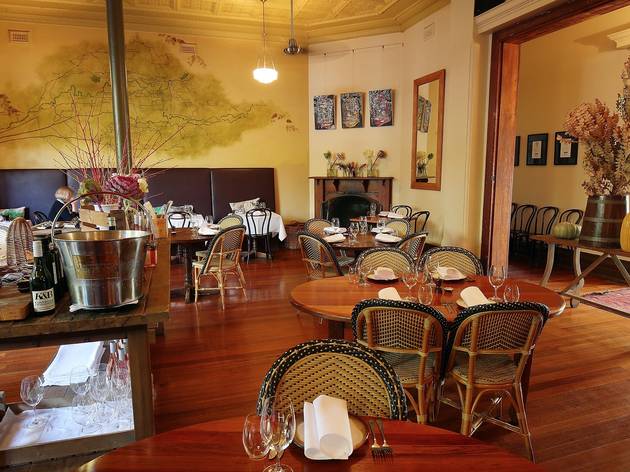 9/9
Photograph: Graham Denholm
In the Yarra Valley, they're taking the country pub experience up a notch
Given Melbourne is rich in pubs, it's a big call to suggest any watering hole is worth driving an hour out of the city to visit. But the Healesville Hotel in the Yarra Valley warrants the travel time. It's also just a short drive away from some of the best wineries in the region, so it's an ace destination when you've had enough wine tastings.
The sprawling pub, split into a public bar, dining room, and garden area, has an old-world country charm. In winter, you can draw wicker chairs up to the fireplace, but when the weather's more forgiving the garden has the best seats in the house; in the outdoor kitchen garden you can let the kids run around through the lemon trees and herb bushes while the grown ups knock back a pint or two.
The weekend barbecues at Healesville Hotel run from summer until autumn, and the smell of ribs, grilled chicken, and if you're lucky, a whole hog, wafts through the entire pub when the coals are fired up. The smoky grilled lemon and thyme chicken served with homemade crisps and 'slaw in summer is switched up with winter vegetables mid-year. The beef ribs with a thick dry spice rub are served with a simple potato salad with mayo and chives, and smoky chutney. Too bad they're only available for half the year.
Among the year-round highlights is the 12-hour slow roasted lamb shoulder – a formidable hunk of fall-apart meat which on our visit was served with a side of roasted swedes and a bright green, spinach and coconut curry sauce that tastes like a mild Thai green curry. Lamb shoulder is a fatty cut perfect for roasting so this alternative to gravy, fragrant with lemongrass, coriander and coconut milk is a fresh take on the classic pub roast. There's extra crunch from the garnish of fried shallots and thin shards of rice crackers, a nice throw back to those $1 prawn crackers you get in suburban Chinese restaurants.
The gurnard fish and chips, battered with the fruity Helles lager from the nearby Napoleone Brewers is a crowd-pleaser for diners after an old-school fish supper. Instead of tartar sauce it comes with a lemony buttermilk dressing with parsley that's tangy enough to cut through all the fried. The beer for the batter might change from time to time, so ask what the chef used and order a pint as a pairing.
Being a country pub, the Healesville Hotel serves as a one stop shop for out-of-towners. Next to the pub's side door is the Healesville Harvest café owned by the same proprietors, while the Kitchen and Butcher speciality grocer is a great spot to scout country produce from roasting meats from local farms to spice rubs and locally made sauces to bring back to the big smoke. They'll tide you over until your next visit.
Venue name:
Healesville Hotel
Contact:
Address:
256 Maroondah Highway
Healesville
3777

Opening hours:
Daily noon-11pm