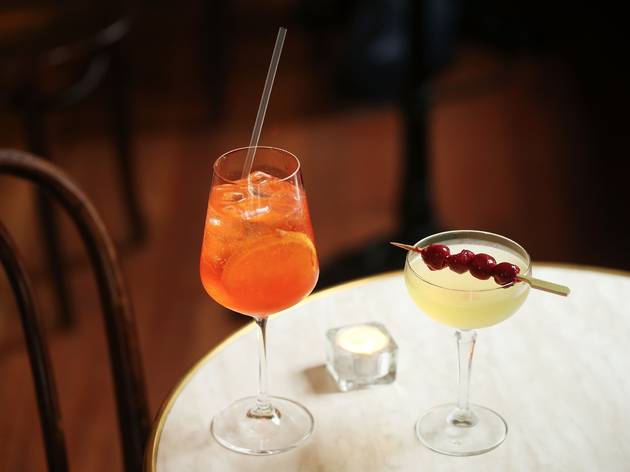 1/9
Photograph: Graham Denholm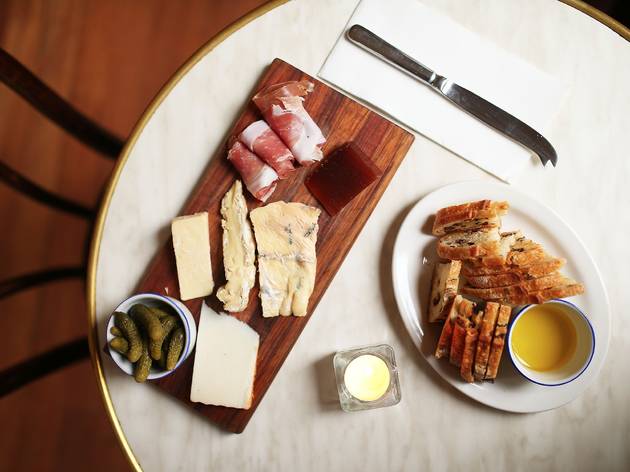 2/9
Photograph: Graham Denholm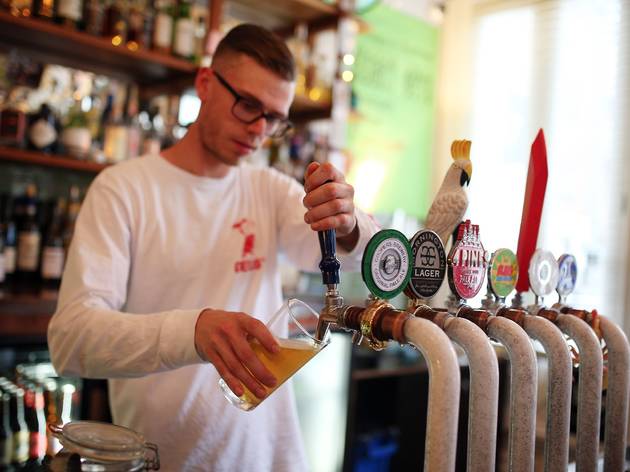 3/9
Photograph: Graham Denholm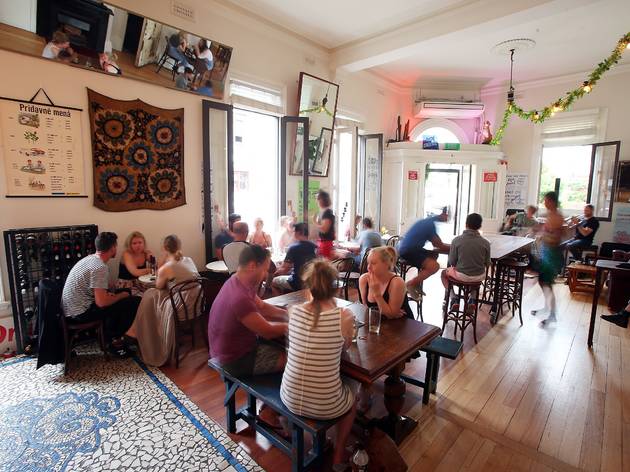 4/9
Photograph: Graham Denholm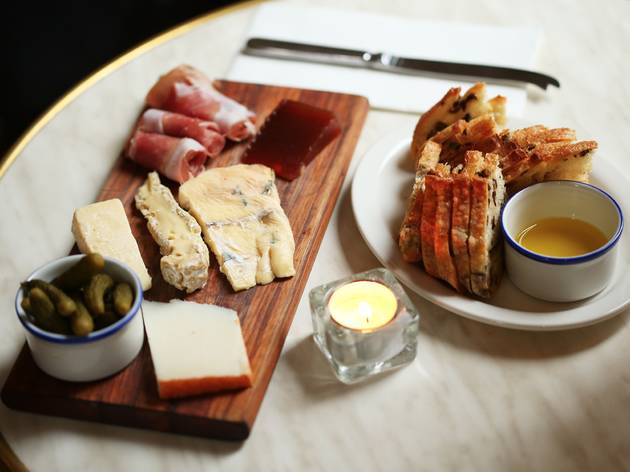 5/9
Photograph: Graham Denholm
6/9
Photograph: Graham Denholm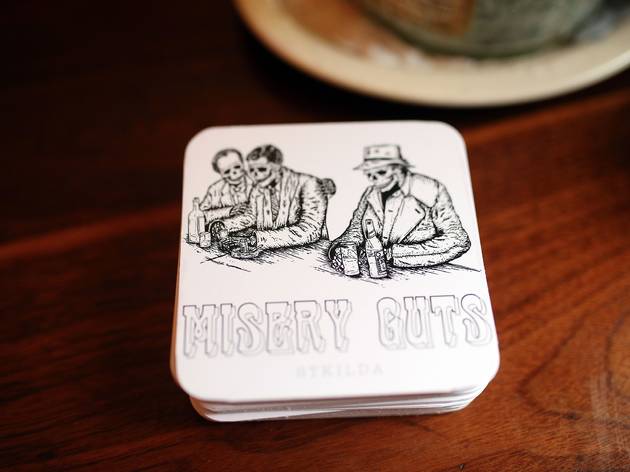 7/9
Photograph: Graham Denholm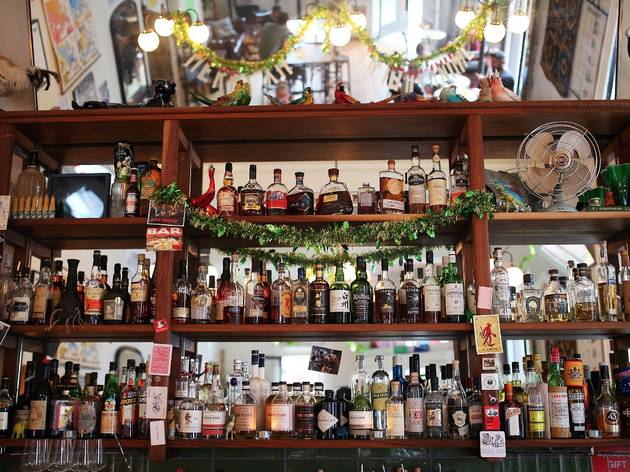 8/9
Photograph: Graham Denholm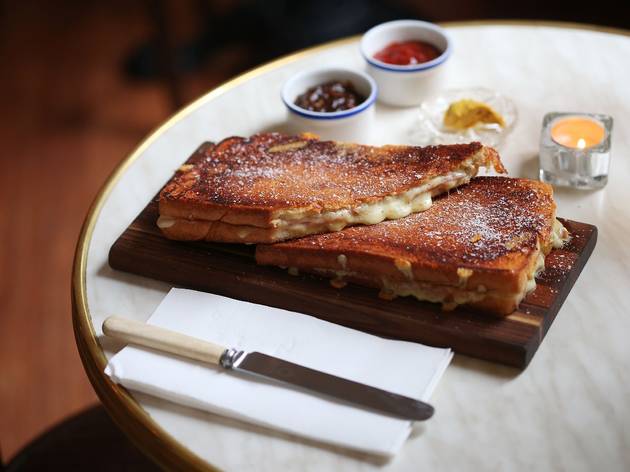 9/9
Photograph: Graham Denholm
Time Out says
This light, laidback watering hole in St Kilda goes from good to great thanks to some supreme cocktail making skills
This neighbourhood bar has a bit of a share house feel to it. The window shutters and front door are left wide open and there's a world globe behind the bar along with some vinyl records. And in an age where dingy dive bars are a dime a dozen in Melbourne, walking into Misery Guts, which is filled with natural light, feels like going on a holiday to up north.
George Harrison sings 'While My Guitar Gently Weeps' as we order our drinks (classic hits are another share house requirement), and there are the usual suspects on tap including Coopers pale, Mornington lager and 4 Pines pale ale. Maybe this really is just your mate's place in disguise. The wine list covers familiar, easy-drinking territory, but it's the cocktail list of American classics that deserves your attention.
The Last Word is an under-the-radar gin cocktail with a fascinating origin story. It was invented in Prohibition-era Detroit by a vaudeville performer and after enjoying a moment in the spotlight, it lay dormant for decades. A Seattle-based bartender resurrected it in 2004 after finding it in an old cocktail book titled Bottoms Up!, and soon the Last Word was back on cocktail menus everywhere. Here it's made with Prairie organic gin and served with sour maraschino cherries, and their execution is flawless. It's sweet, sour and slightly herbaceous. Though it might not have the same jazzy backstory, but the Aperol Spritz delivers a punch of summer citrus – the perfect salve for a balmy night in St Kilda.
There's an obvious need for another hand behind the bar but the friendly owner does a great job of staying cheerful while running things by herself. How she manages to pull pints, whip up cocktails, arrange tasting plates, and operate a sandwich toaster all at once is an impressive mystery, but it does mean there's a bit of a wait on orders.
Without a full kitchen, the menu is limited to bar snacks and toasted sandwiches. The meat and cheese tasting plate consists of chorizo, cornichons, three cheeses and bread with balsamic olive oil. It's a damn good spread with not a dud cheese among the selection – the double cream blue from Tarago River takes line honours. The Sicilian olives are also good but then again, we've never met a Sicilian we didn't like.
You've got a few solo drinkers sitting at the bar reading books, and it's easy to see why Misery Guts is a go-to for locals in need of some down time, a toastie and an ale on a Thursday night. After all, misery loves company.
Details
Address:
19 Grey St
St Kilda
3182

Contact:
Opening hours:
Wed 4-11pm; Thu 4pm-midnight; Fri, Sat 2pm-1am; Sun 2pm-midnight