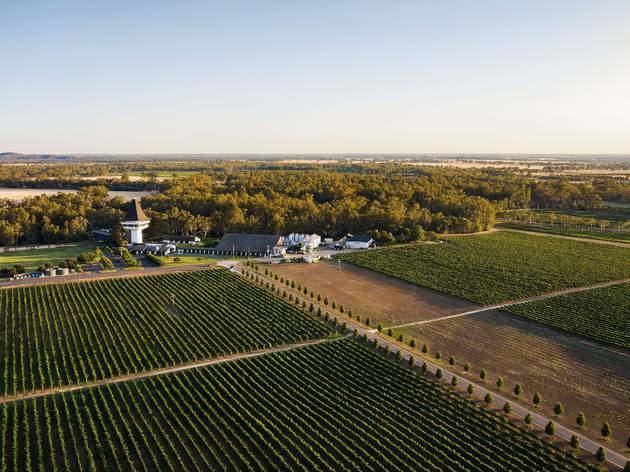 1/5
Photograph: Supplied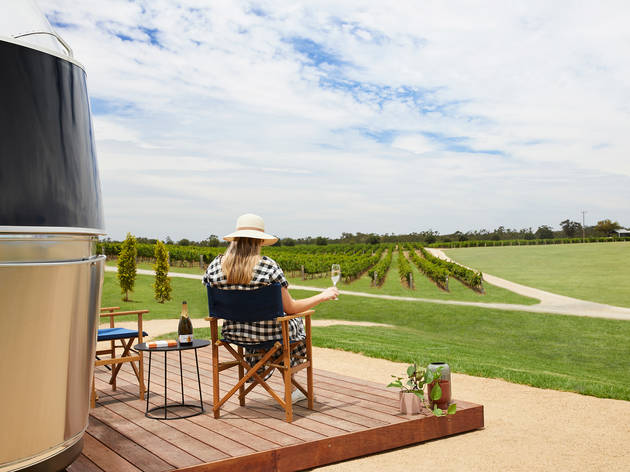 2/5
Photograph: Brett Goldsmith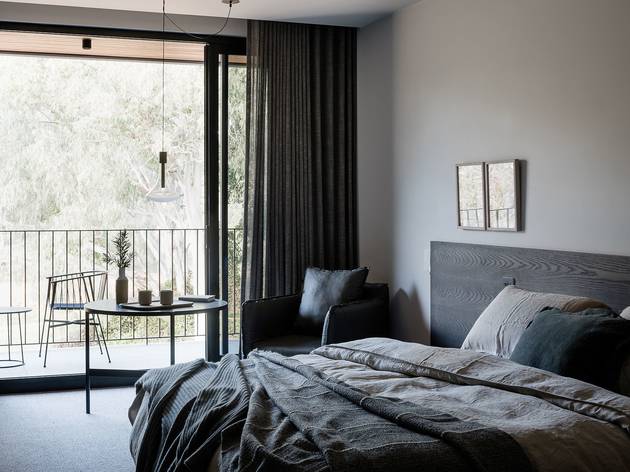 3/5
Photograph: Tom Blachord/Supplied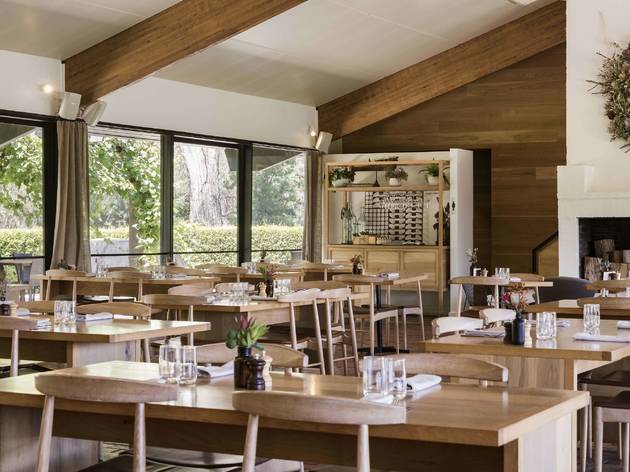 4/5
Photograph: Mitch Lyons
5/5
Photograph: Tom Blachord/Supplied
Time Out says
Head north to play and stay at this incredible winery estate
It's clear we've all been sleeping on Nagambie. This small town, located in the serene Goulburn Valley, is only 90-minutes drive north of Melbourne and has a lot to offer for Melburnians seeking a tree change. Maybe the biggest drawcard is the beautiful Mitchelton Winery estate which, natch, boasts a cellar door and primo wine varietals, but also a swish hotel, restaurant and art gallery.
The winery has been around since the late '60s, having developed a reputation for its riesling and shiraz varietals and picking up a few dozen awards over the years. It was in 2017 that the Mitchelton estate was developed into what we see today: a sprawling property on the banks of the Goulburn River, surrounded by grapevines and distinguished by the 55-metre tall tower that features on Mitchelton's wine bottles.
Mitchelton is known for its production of high-quality shiraz and riesling wines that show off the Heathcote grapes that wine lovers know well. Visit the cellar door and you'll be able to try six wines of your choosing, making your way from a buttery smooth chardonnay towards a fun sparkling shiraz or even a more intense, oak-y shiraz.
The property is also home to a daytime providore for great coffee and snacks, as well as a restaurant, the Muse. The Muse focuses heavily on sustainability, only using seasonal produce from around the region and cooks most of its food on the in-house wood-fired grill and roasting pit. Get amongst this great cooking style by ordering the chargrilled octopus or the whole roasted chicken that's served with wild mushroom and smoked bacon. The triple cooked potatoes are a must-try, too, as is the kangaroo tartare that's served with native spices, mountain pepper mayo and wattleseed lavosh.
All that food and drink will make you pretty snoozy, so we'd suggest booking an overnight stay at the adjoining hotel. Mitchelton has 55 beautiful guest rooms to book, each stylish, comfortable and cosy. It'll feel like you've stepped into the pages of a design book with luxurious linens, premium bathroom products and even a picture-perfect outdoor pool to lounge in. And yes, Mitchelton's mini bar is complimentary (everything except the booze) which is quite the boon to visitors.
Guests also have the option of staying in Mitchelton's airstream cabins which were installed in early 2021. The cabins sit just beside the vineyards and come equipped with all the luxuries of the hotel – but with the added quirk of an intimate converted caravan. Never fear though – there is plumbing and plenty of room to relax, especially with the airstream's own dedicated deck out front.
Don't leave the property without checking out both the in-house day spa or the underground Aboriginal art gallery. Step into Mitchelton Day Spa and you'll be greeted with the signature scents of USPA, a locally made skin and spa range, before wrapping yourself in a cosy bathrobe and enjoying the view from the relaxation lounge.
Lastly, Mitchelton's gallery of Aboriginal art displays the work of some of the most prolific Indigenous artists currently working today. Works on display are often on loan (and on sale) from different art centres and communities across Australia, including the local Taungurung community. The centrepiece of the gallery is the Message Stick Vehicle, a transformed Vietnam War Ambulance that was painted by over 200 Aboriginal artists over several decades. It's a must-see.
Details
Best selling Time Out Offers