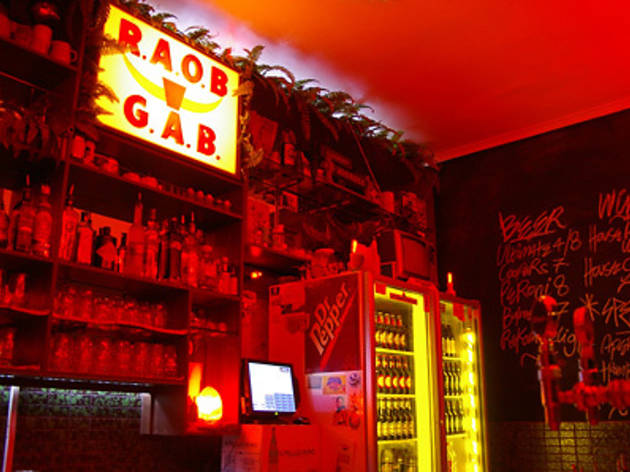 No secret handshakes are required at this offbeat lodge-turned-club
The Royal Antediluvian Order of Buffaloes sounds a lot like the lodge Fred Flintstone belonged to, but it is in fact a real live fraternal organisation. Its Melbourne headquarters have stood in one of the quieter CBD laneways for over 50 years, and would probably have continued to do so unnoticed by most were it not for the newcomers who have taken over the bar.
The Buffalo Club is an electronic and live music venue that makes the most of its incongruous setting; most of the décor is original, including the lodge banners that line the walls and the portrait of the Queen, which overlooks the dance floor. A pair of antlers crowns the bar, which is cluttered with a pawn shop's-worth of amusing junk. It's a gloriously, authentically daggy venue – wandering along the hallways and past the locked offices on the ground floor brought back memories of gymnastics classes, blue light discos and 21sts.
The Buffalo Club is technically a social club; proprietor Hugo Atkins joined the Royal Antediluvian Order of Buffaloes (Grand Australian Banner) in order to operate out of their building, which qualified the venue for a RSL-style license. This means that anyone who wants to drink at the Buffalo Club has to either become a member ($20 a year, which entitles you to a discount at the bar) or sign the register upon entry. Thursday and Friday are dedicated to progressive dance music; Saturday is for live bands. Although the doors open at 5pm, there's not a lot of point arriving that early; things don't kick off until a fair bit later, and the bar isn't currently very conducive to just dropping past for a drink. In fact, the staff seemed a bit put out when we tried it. As a music venue though, The Buffalo Club has a strange, off-centre charm that makes it very attractive.
Venue name:
The Buffalo Club
Contact:
Address:
22 Sutherland St
Melbourne
3000

Opening hours:
Thu-Fri 5pm-5am; Sat 7pm-12 midnight
Transport:
Nearby stations: Melbourne Central; Flagstaff