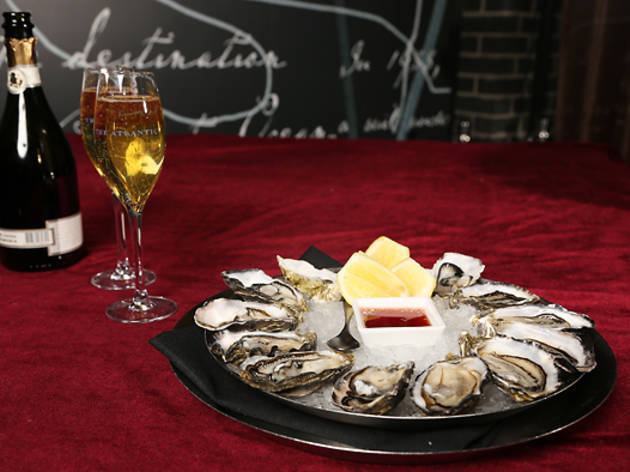 Crown Casino has more to offer than big-wig restaurants, there's a great bar in the basement, too
A seafood restaurant in the casino run by the formidable Donovan Cooke has a boat-themed, basement bar- and we're talking lavish, luxury cruise-styles, here. What could possibly go wrong? Evidently, not much. There are very few venues in Crown that get away with themes and not look like they're just catering for the high rollers and tourists, but the Den does just that, despite the questionable styling choice of the white leather banquettes and artificial fireplace.
It's a bit of a song and dance making your way to the bar, as it is customary to go past the host of the Atlantic to get to the Den. The host is the gatekeeper and despite being welcoming and polite, she inspires a sense of dread at having to feign sobriety on your way out because the drinks are strong and she's so professional. And let's face it, when you're drinking in the casino, you're not just having one. The Den has a more welcoming atmosphere than the black and grey restaurant with assertive, masculine lines, thanks to the ornamental bookshelves, red motif running through the bar, deliberately mismatched furniture and a few over-the-top velvet embellishments such as the piano cover, curtains and upholstery.
The Den houses the overspill from busy nights, acts as a holding pen when the restaurant is fully booked, and assists out-of-town businessmen with sorrows-drowning nightcaps. It's all that and more, thanks to the expertise of the bartenders. Service is impeccable: the bartenders provide table service and every drink order comes with a ceramic carafe that needs a little inspection for you to discover the mixed, roasted nuts, and cucumber-flavoured water poured over a large, single cube of ice. Mind you, when the average price of a house cocktail is $20, you'd expect nothing less.
The drinks list is broken up by flavour profile and characteristics of the cocktails with categories such as Soft & Subtle, Bold & Firm and Innovative. We order a Nouveaux Carré from the Bold & Firm section, a play on the classic Vieux Carré, which replaces whisky with tequila and the vermouth with Lillet Blanc. The resulting drink is still complex and rich, and much like most modern twists, is lighter than the original.
The Den is like finding a pearl in a proverbial World of Entertainment oyster if you don't mind mixing it with the internationals, interstaters on business, tourists and celebrating couples. The crowd is a mixed bag, but they're harmless. Let go of your preconceptions and visit this underground boat in the world of pineapple handshakes, where everyone is a VIP.
Venue name:
The Den
Contact:
Address:
Crown Entertainment Complex, The Atlantic
8 Whiteman St
Southbank
Melbourne
3006

Opening hours:
Daily 5.30-late
Transport:
Nearby stations: Southern Cross