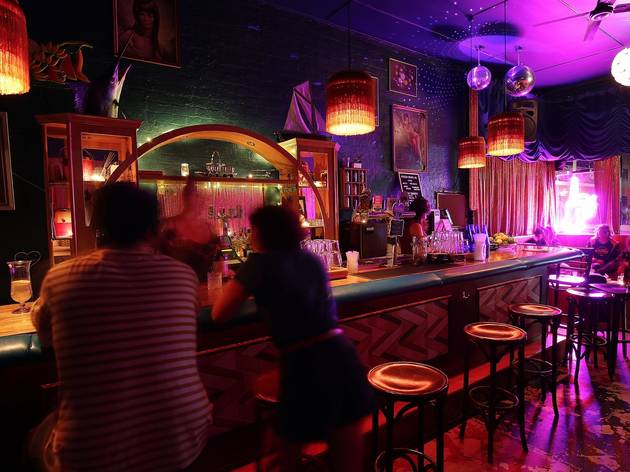 1/10
Photograph: Graham Denholm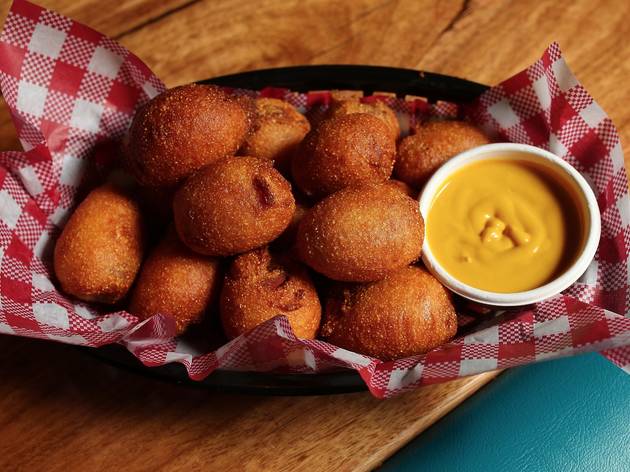 2/10
Photograph: Graham Denholm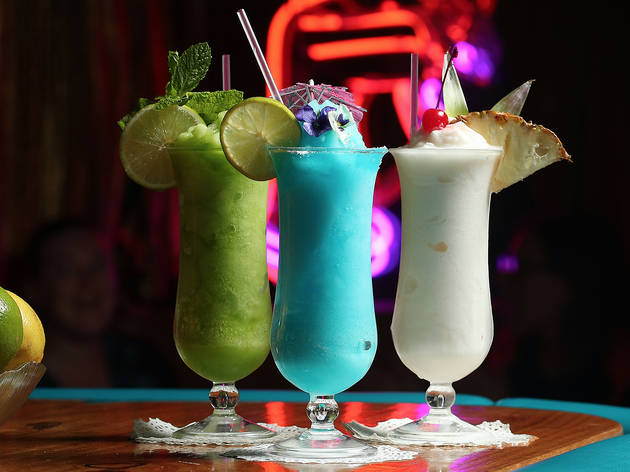 3/10
Photograph: Graham Denholm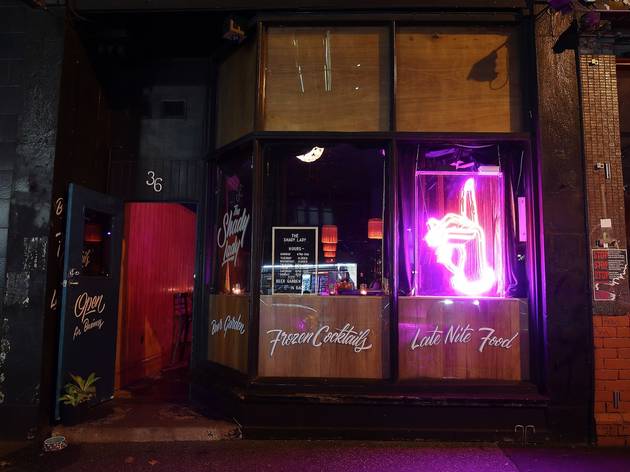 4/10
Photograph: Graham Denholm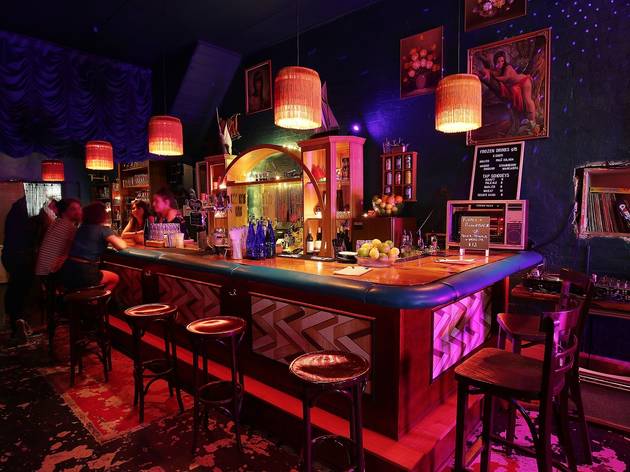 5/10
Photograph: Graham Denholm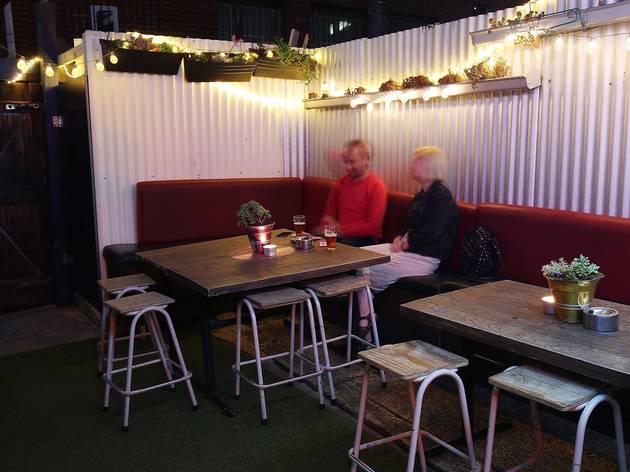 6/10
Photograph: Graham Denholm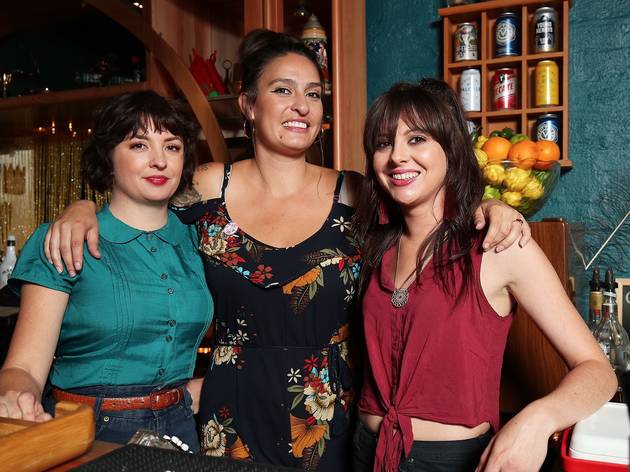 7/10
Photograph: Graham Denholm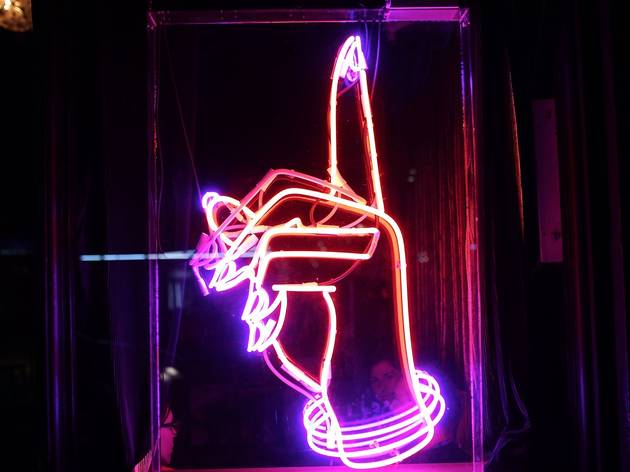 8/10
Photograph: Graham Denholm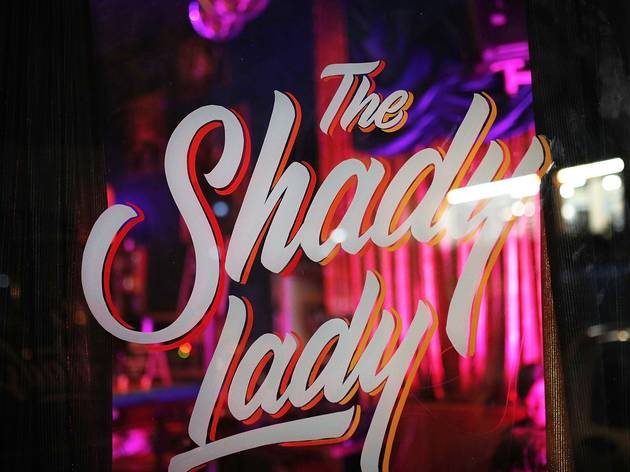 9/10
Photograph: Graham Denholm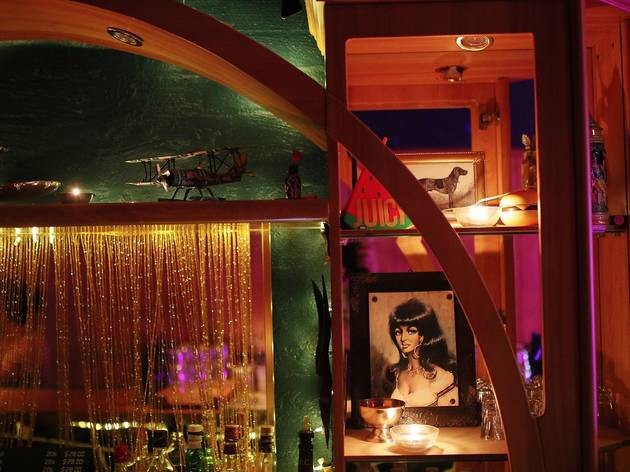 10/10
Photograph: Graham Denholm
Time Out says
Nothing shady about this lady
The best bars are the bars made for the owners themselves, which is the case for The Shady Lady. Owned and operated by Mandyjo Reinier, Rosie Maughan and Georgina Maughan, The Shady Lady has transformed the old Houndstooth on Johnston St to be a self-proclaimed vegan-friendly, dog-friendly, LGBTI-welcome, dive bar with a glam-shab décor. Orange tassel-covered lampshades, blue painted brick, disco balls and cabaret curtains are a refreshing change from the minimalist blonde wood and prohibition-style bars littered around Fitzroy.
The Shady Lady knows it is different and encourages boatloads of fabulous, daggy fun. And what is more daggy than a good, ol' frozen cocktail? Just because people stopped making them, it doesn't mean people stopped enjoying them. The ones at The Shady Lady don't come out of a Slurpee machine, each is made to order out of a blender and will set you back $15. You can get a frozen mojito with generous amounts of cooling mint, or a deliciously unfashionable coconut-laden pina colada with just enough rum garnished with an amazingly tacky paper umbrella, or the ubiquitous tequila-heavy margarita next to a mango creamsicle.
In a time where it is seen as childish to put fruit in your cocktails, The Shady Lady damns the notion, thrusts your guilty pleasure to the fore and then blends it. There is also a stable of interesting local craft brews from Colonial, Bodriggy, Stomping Ground and Young Henrys and a presence of all the must-haves in the back bar that can mix up any classic you desire, just ask nicely. Wine is available, but it isn't the focus, with red, white, rose and bubbles on by the glass. Bites are more stop gaps than meals, all under $11 and can be made vegan if you alert your bartender. The corndog bites are fine; a crumbly soy sausage encased in a golden, thick, sweetened cornmeal batter, where the filling and shell give a dry, same-same texture, but is rescued by a mustard and ketchup dipping sauce.
On paper, another dive bar isn't what Melbourne needs, but The Shady Lady nails it; the vibes are sassy and unpretentious, the drinks are cheap, the tunes are kitschy and it's the place to get rowdy five nights a week.
Details
Address:
36 Johnston St
Fitzroy
Melbourne
3065

Contact:
Opening hours:
Mon-Sat 4pm-1am; Sun 4pm-11pm
Users say